Angels have momentum after first-half finish
Halos hope to strengthen offense to complement dominant pitching staff
The Angels' first half included a substance-abuse relapse from their high-priced left fielder, a sudden resignation from their general manager and a continual struggle from their star-studded offense, which heightened the urgency for a trade and left many to wonder if they had what it takes to repeat as division champs.
But all that matters is how it finished: with seven wins in nine games and a half-game lead in the American League West.
Below is a look back and a look ahead.
FIVE KEY DEVELOPMENTS
1. Awkward situation has been handled
The Angels spent the early part of their season with the contentious Josh Hamilton situation looming overhead, from the start of Spring Training to the end of April, when he was dealt back to the Rangers.
2. Front-office change
After more than three years of persistent discord with longtime manager Mike Scioscia -- topped off by a contentious meeting that proved to be the final straw -- Jerry Dipoto abruptly stepped down as general manager on July 1, leaving Bill Stoneman to come out of semi-retirement and take over in the interim.
3. Dominant duo carried the offense
The Angels' offense didn't inspire much hope in the regular season's first three months, but the dominance of Mike Trout and Albert Pujols nearly made up for it all. The two became just the fourth set of teammates with more than 25 home runs at the All-Star break, and they started the Midsummer Classic together.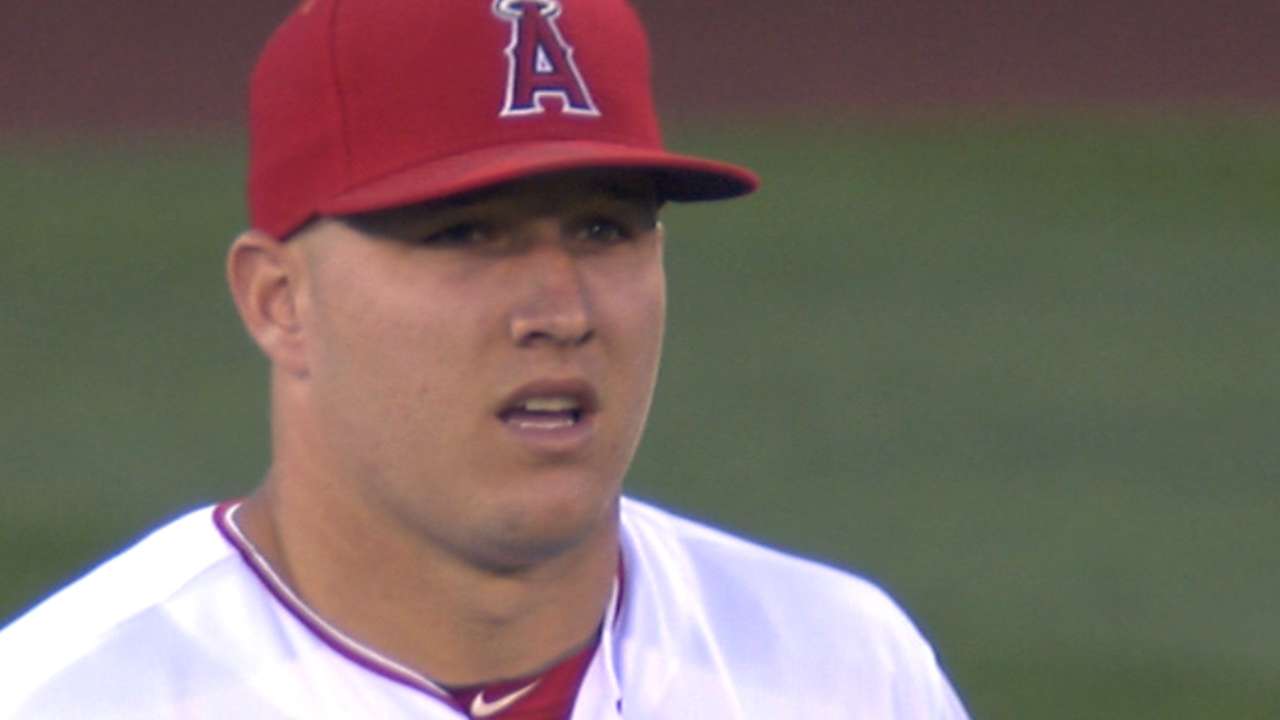 4. Pitchers kept the team afloat
The bats were cold from the start of April until the end of June, but the pitching staff kept the Angels afloat. Joe Smith and Huston Street (combined 2.50 ERA) locked down the back end of the bullpen, while starters Hector Santiago (2.33 ERA), Garrett Richards (3.53 ERA) and C.J. Wilson (3.83) boosted the rotation.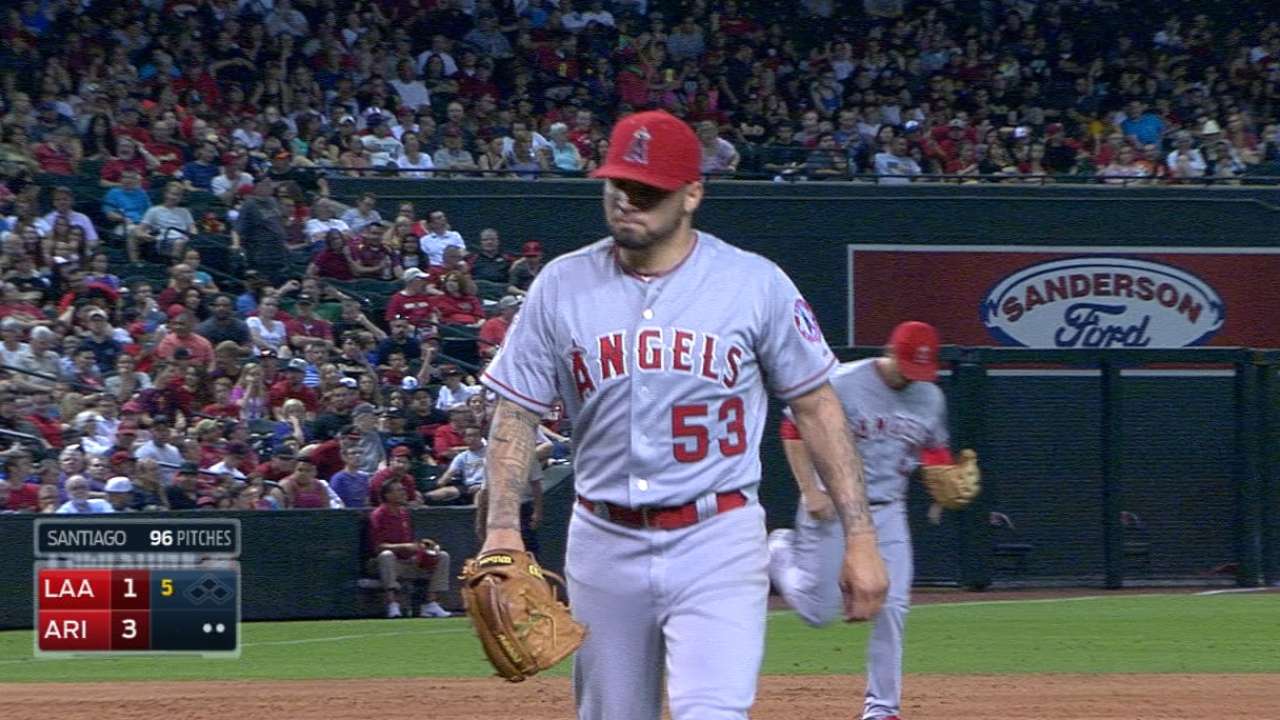 5. Angels enter the second half on a hot streak
The breakout the Angels had long been anticipated finally came just before the All-Star break, when they won 11 of 14 and made up 5 1/2 games on the Astros in a span of 10 days. In the nine-game road trip that closed out the first half, they tallied 65 runs. In the nine-game homestand that preceded the trip, they scored 24 runs.
FIVE STORYLINES TO WATCH
1. Will the Angels gain a strong batter before the non-waiver Trade Deadline?
Stoneman, a conservative GM while running the Angels from 1999 to 2007 (winning the franchise's only World Series, in '02), is a little more than two weeks away from the non-waiver Trade Deadline. And the current Angels he's suddenly been put in charge of could still use a bat. The 71-year-old former pitcher has admittedly been out of the loop while filling an advisory role the past eight years, so he'll rely on Dipoto's two assistants, Matt Klentak and Scott Servais, and Scioscia will certainly have input.
2. With Weaver's return, should they shift the rotation or trade a starter?
Top prospect Andrew Heaney showed why the Angels gave up Howie Kendrick to get him when he came up to temporarily fill Jered Weaver's rotation spot in late June, going 3-0 with a 1.32 ERA in four starts. With Weaver nearing his return from a hip injury, the Angels have a tough -- albeit ideal -- decision to make with their rotation. Or perhaps there is no decision at all, if the Angels trade one of their starters to improve the offense.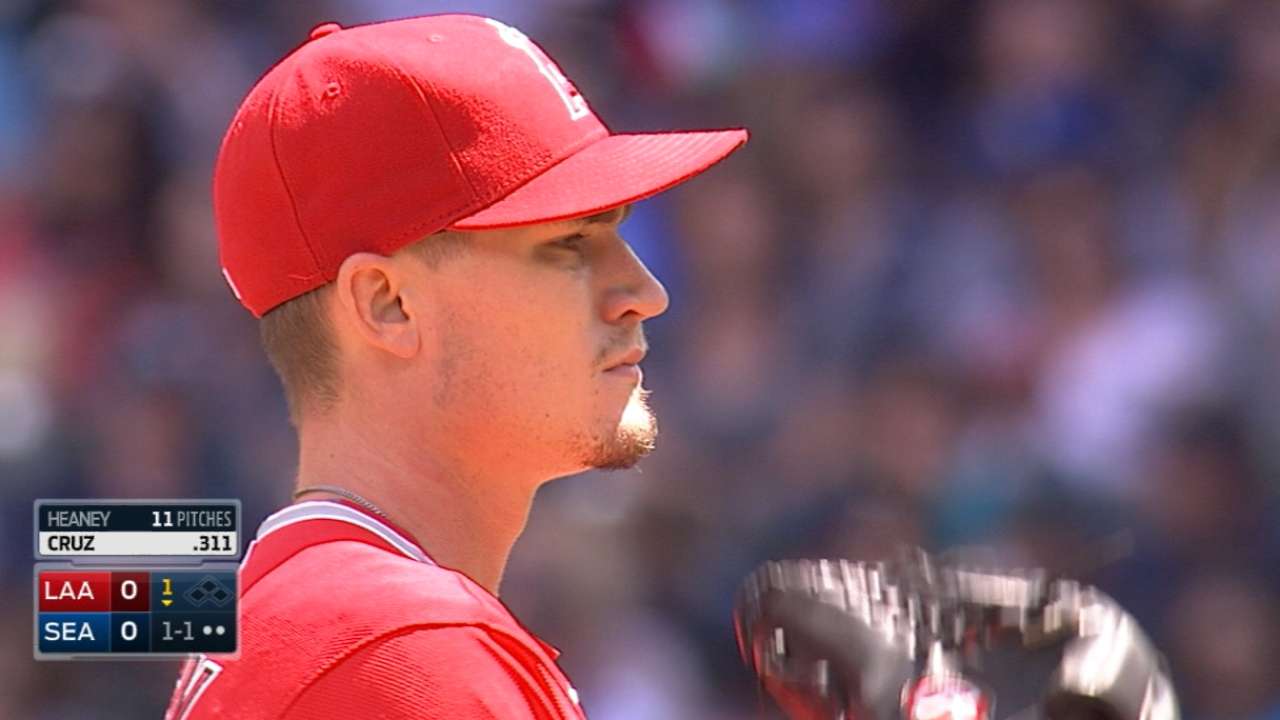 3. Can the Freese-Iannetta-Joyce trio get hot?
Third baseman David Freese, catcher Chris Iannetta and left fielder Matt Joyce are approaching their final months before free agency, and they can go out by taking the Angels' offense into another gear. Iannetta and Joyce each had brutal Aprils, and Freese, who has spent most of the year batting behind Pujols, hasn't been very consistent. Because of that, the Angels' offense finished June ranked 22nd in OPS. If the trio gets going, it can change everything.
4. Will Trout and Pujols finish strong or fizzle out?
Where will Trout and Pujols end up? Trout finished the first half ranked first in the AL in Wins Above Replacement -- 5.6, per FanGraphs -- and sporting a 1.019 OPS that would be a career high if the season ended today. He should challenge for a second straight AL Most Valuable Player Award. Pujols, meanwhile, is on pace for 48 home runs, a total he hasn't reached since 2006. And the Angels' first baseman is doing it while playing half his games at a spacious Angel Stadium.
5. Can unforseen forces push the Angels to the top once again?
The Angels didn't run away with the division last year until the middle of August, right around the time when Richards' knee buckled and everyone expected they'd be done. They enter the second half 48-40, four games off last year's 98-win pace. But all that matters is where they stand in the current division. It could come down to what moves they make this season -- or, if last year is any gauge, something completely unforeseen.
FIRST-HALF AWARDS
MVP: Trout. Pujols is having a very solid year, but Trout is on pace for his best season OPS-wise -- and that's saying something.
Cy Young: Santiago. From competing for the final rotation spot in Spring Training to sporting the third-lowest ERA in the AL and being named an All-Star.
Rookie: Heaney. Their top prospect came up in late June and showed why he was so coveted, going 3-0 with a 1.32 ERA.
Top reliever: Street. A 2.27 ERA and 24 saves in 27 chances for Street, who's one save away from 300 for his career.
PLAYERS TO WATCH IN SECOND HALF
Weaver: The Angels' longtime ace showed flashes of his dominant self in May, then struggled in June and landed on the DL with a hip injury.
C.J. Cron: He came in looking like the everyday DH, then struggled mightily, got sent down twice and finally found his stroke right before the break.
Trevor Gott: The Angels' bullpen could use a seventh-inning reliever with a power fastball, and the 22-year-old Gott can be that guy if he keeps making strides.
Alden Gonzalez is a reporter for MLB.com. Read his blog, Gonzo and "The Show", and follow him on Twitter @Alden_Gonzalez. This story was not subject to the approval of Major League Baseball or its clubs.