Vogt, Gray share All-Star experience in Cincy
Catcher, pitcher thrilled to be at Midsummer Classic together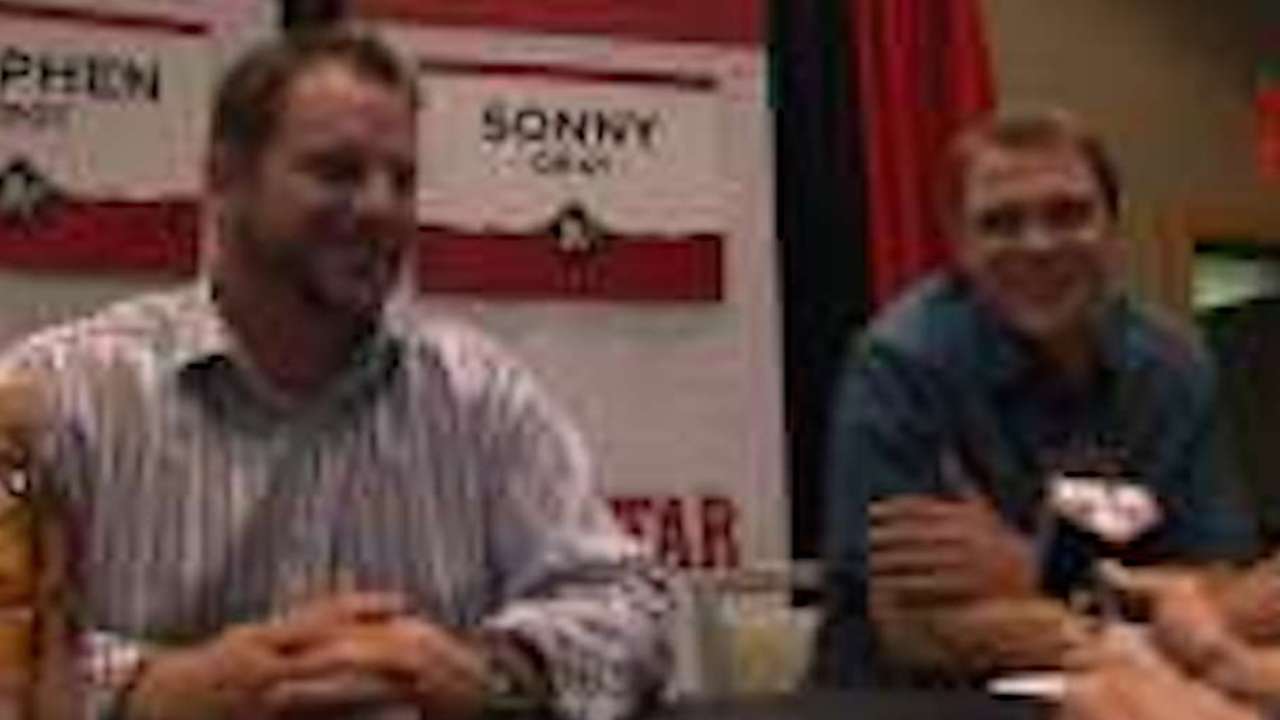 CINCINNATI -- Stephen Vogt has caught for Sonny Gray since he was traded in 2013, and had Gray not pitched on Sunday, the two A's could have been part of a special pitcher-catcher tandem on one of baseball's biggest stages.
The A's will be represented by a pair of All-Star Game rookies on Tuesday when Gray and Vogt suit up for the American League in their first Midsummer Classic. The two A's have shared a number of personal experiences together, including Vogt catching for Gray with Triple-A Sacramento, making Tuesday's All-Star Game presented by T-Mobile another special moment for the duo.
"There's nobody else I'd rather share this moment with than Sonny," Vogt said. "He was the first person I caught when I was traded to the A's organization. We've kind of worked together the majority of the last couple years. He's just such a young, talented phenom and good friend of mine. I'm just so happy to be here with him."
Gray won't be active Tuesday since he pitched Sunday against the Indians and was replaced by the Angels' Hector Santiago, ruling out the chance of the two friends appearing on the diamond together. Gray said he is still excited about the opportunity to attend the All-Star Game.
"Maybe during the game there might be some wishing I was able to pitch, but as of now, I'm just trying to enjoy everything," Gray said. "The whole All-Star experience has been awesome so far."
The two friends took different paths to this milestone moment, with Gray reaching the All-Star Game at 25 years old and Vogt at 30 years old. While Gray, who is 10-3 with a 2.04 ERA this season, has been successful since he made it to the Majors, Vogt has seen his ups and downs.
Vogt is hitting .287 with 14 home runs and 56 RBIs in 85 games this season, but up until this year hadn't been the everyday catcher for the A's. As the driving force in the A's lineup, Vogt credits his ability to enjoy the game more as a reason why he's made the big jump to where he is now.
"I really feel like I'm just playing baseball," Vogt said. "I'm not playing in the Major Leagues, I'm not playing against these guys, I just feel like I'm playing baseball. I feel like I'm a kid again. For those three hours a day, I'm a 12-year-old kid playing Little League, and I really think that's what I would attribute to."
"I'm smarter, I know a lot more now than I did say a year ago. More experienced but really the confidence is what has really helped me turn the corner."
During the All-Star Game presented by T-Mobile in Cincinnati on Tuesday, fans can once again visit MLB.com to submit their choice for the Ted Williams Most Valuable Player Award presented by Chevrolet. Voting exclusively at MLB.com, online and via their mobile devices in the 2015 All-Star Game MVP Vote presented by Chevrolet, the fans' collective voice will represent 20 percent of the overall vote that determines the recipient of the Arch Ward Trophy.
MLB.TV Premium subscribers will be able to live stream the All-Star Game via MLB.TV through FOX's participating video providers. Access will be available across more than 400 supported MLB.TV platforms, including the award-winning MLB.com At Bat app.
The 86th Midsummer Classic will be televised nationally by FOX Sports (coverage begins 4 p.m. PT), in Canada by Rogers Sportsnet and RDS, and worldwide by partners in more than 160 countries. ESPN Radio and ESPN Radio Deportes will provide exclusive national radio coverage of the All-Star Game. MLB Network and SiriusXM will also provide comprehensive All-Star Week coverage. For more information, please visit allstargame.com.
Robert Bondy is an associate reporter for MLB.com. This story was not subject to the approval of Major League Baseball or its clubs.