All-Star experience educational for Archer
Rays righty learning from other pitchers; Boxberger soaking it all in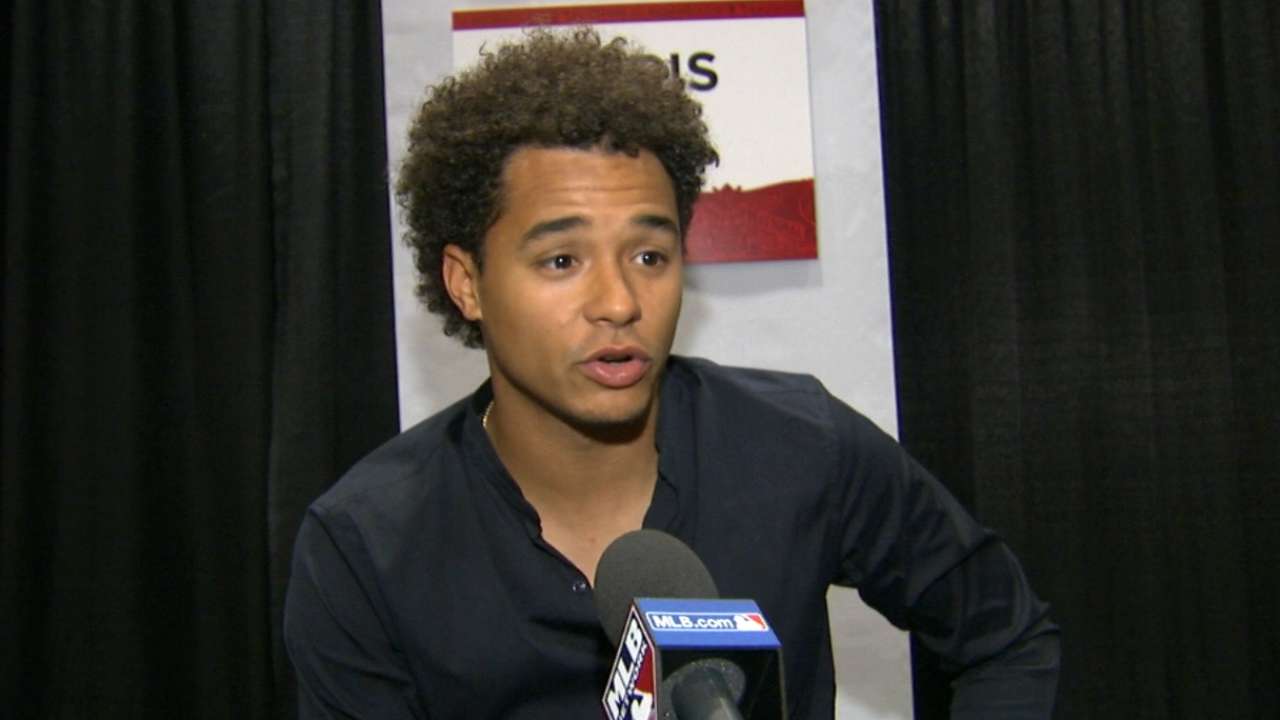 CINCINNATI -- Rays right-hander Chris Archer likes to watch and learn from other pitchers. So making his first All-Star Game presented by T-Mobile (Tuesday at 7 p.m. ET on FOX) is a little like a baseball smorgasbord for him.
"I definitely watch [the A's] Sonny Gray. I watch [the Astros' Dallas] Keuchel. I watch Chris Sale [of the White Sox]. I see, not necessarily the stuff, because all the stuff is different," said the 26-year-old, who is in just his second full big league season. "But how they approach the game. Their mentality when they're attacking hitters. Just the small things that go beyond the physical element of the sport.
"If I can implement something Keuchel does or Sale does, even though they throw from the other side of the rubber, it's going to make me better. And then there are some great relievers who can really spin the ball, like [the Royals'] Wade Davis, Dellin Betances [of the Yankees]. So I can learn some things."
Archer has already learned enough to be one of Tampa Bay's two representatives at the Midsummer Classic, along with reliever Brad Boxberger. And the guy he's learned the most from was also sitting in the same room during Monday's media availability: former teammate David Price, now with the Tigers.
"One of the things that made me me was the ability to watch David Price on a nightly basis. Play catch with him regularly, watching me throw my bullpens. I've been his little sidekick all day," Archer said. "He's been very critical in my development as a human being and a pitcher."
Boxberger, also a first-time All-Star, appeared content just to soak it all in.
"I'm definitely getting a feeling for what it is to be an All-Star. Just enjoying what it is," he said. "It's just exciting to be here and be a part of everything that goes along with the game."
Coincidentally, Boxberger was a first-round pick of the Reds in the 2009 Draft, but he was traded to the Padres and then to the Rays.
"It's cool to be back in this city. I love the city of Cincinnati. It's a great baseball town," Boxberger said. "It's definitely fun to come back and be an All-Star here and experience everything that goes along with it."
Archer seemed to be having the time of his life. He fielded questions from Nickelodeon and the Cartoon Network. When a question was prefaced by, "You're one of the youngest, best pitchers in the league ..." He interrupted and feigned shock. "I am?" he said with a smile. When asked about former Rays manager Joe Maddon, now with the Cubs, he correctly guessed the reporter was from Chicago.
Archer was a candidate to start the game. He won't, in part because he's well rested after making his last start last Wednesday and can give American League manager Ned Yost some length.
"By length he means two innings. No more than that," Archer said. "I don't care when, where or how I pitch. If I can pitch in the game it would definitely be a dream come true."
During the All-Star Game presented by T-Mobile in Cincinnati on Tuesday, fans can once again visit MLB.com to submit their choice for the Ted Williams Most Valuable Player Award presented by Chevrolet. Voting exclusively at MLB.com, online and via their mobile devices in the 2015 All-Star Game MVP Vote presented by Chevrolet, the fans' collective voice will represent 20 percent of the overall vote that determines the recipient of the Arch Ward Trophy.
MLB.TV Premium subscribers will be able to live stream the All-Star Game via MLB.TV through FOX's participating video providers. Access will be available across more than 400 supported MLB.TV platforms, including the award-winning MLB.com At Bat app.
The 86th Midsummer Classic will be televised nationally by FOX Sports (coverage begins 7 p.m. ET), in Canada by Rogers Sportsnet and RDS, and worldwide by partners in more than 160 countries. ESPN Radio and ESPN Radio Deportes will provide exclusive national radio coverage of the All-Star Game. MLB Network and SiriusXM will also provide comprehensive All-Star Week coverage. For more information, please visit allstargame.com.
Paul Hagen is a reporter for MLB.com. This story was not subject to the approval of Major League Baseball or its clubs.