Pujols has 'blast' in reaching HR Derby semis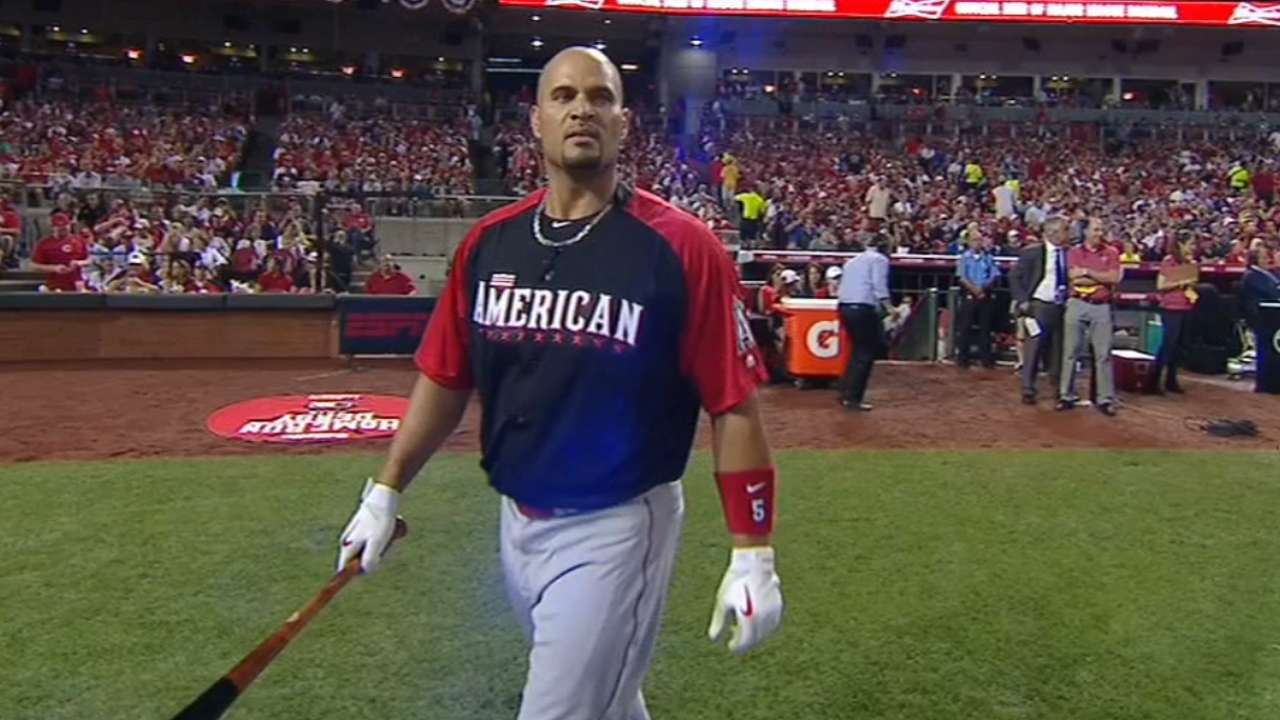 CINCINNATI -- Albert Pujols stood silent in the middle of the visiting clubhouse at Great American Ball Park late Monday night, an ice pack wrapped around his lower back and an ear-to-ear smile covering his face as he watched Todd Frazier celebrate a victory at the Gillette Home Run Derby presented by Head & Shoulders.
"You should be happy, man!" Pujols playfully hollered at teammate Mike Trout as he scampered into the room. "Your boy won!"
Trout, a native of New Jersey just like Frazier, shook his head.
"I had you winning," he told Pujols.
Trout was close.
Pujols fell one home run shy of eliminating Dodgers rookie Joc Pederson to advance into the final round against Frazier, the Reds third baseman who won the event in front of his home fans.
"But it's all about having fun," Pujols said after his fourth Derby, "and I had a blast."
Pujols calmly navigated through the first round to beat Cubs rookie Kris Bryant, 10-9, on a second-deck home run with one second remaining on the clock. But he lost to Pederson, 12-11, and was left wondering what he could've done with one last pitch.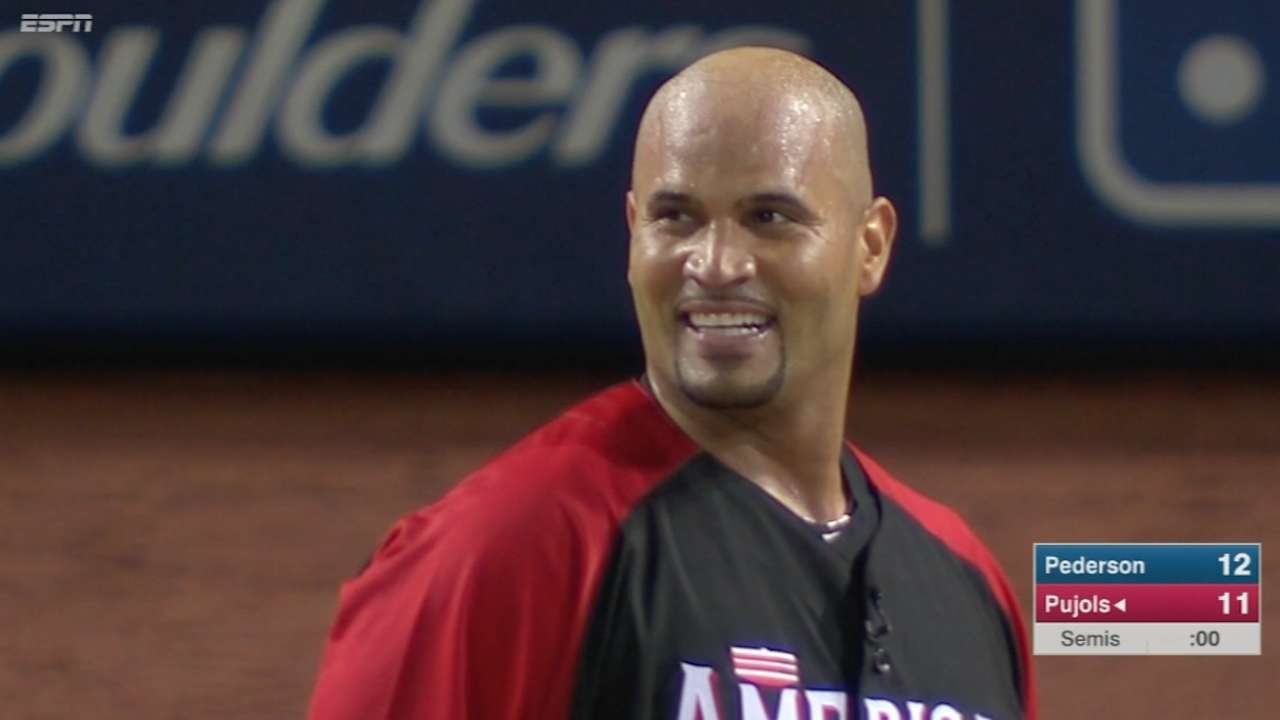 Home Run Derby pitchers aren't allowed to throw until the ball hits the ground, and Pujols' last fly ball stayed up just a tad too long for Angels bench coach Dino Ebel to fire one more. It landed on the grass in deep center field immediately after the clock struck zero.
"I thought I was going to get another hack in there," Pujols said. "But you know what, it wasn't meant to be. If I would've advanced, [Frazier] would've beaten me in the finals, because it's his night. He deserves it."
Pujols remembers what it was like to compete in the '09 Derby in St. Louis while he was with the Cardinals, though he finished fourth that year. He beamed at the sight of watching Frazier win and he smiled at the thought of competing against Pederson, the 23-year-old center fielder who lost, 15-14, in the championship round.
"Man, he did an outstanding job for his first Derby," Pujols said of Pederson. "It's not easy. And to be able to perform at this stage, that tells you everything you need to know about that kid."
The Home Run Derby turned into a bracket-style competition this year, with eight players given four minutes -- and some potential bonus time -- to hit as many home runs as possible.
Pujols, the No. 1 seed by virtue of his 26 first-half home runs, perspired heavily because of it.
Midway through the first and second round, he lost complete grip of his bat with his bottom hand, forcing him to beat several pitches into the ground. He trailed Pederson, 12-10, after his four-minute round, but was given 30 seconds of bonus time because he hit two balls more than 425 feet.
Pujols dabbed the rosin bag to his bat, got toweled off by Mariners slugger Nelson Cruz and received another pep talk from his two sons, A.J. and Ezra, who convinced Pujols to do the Home Run Derby for perhaps the final time.
The Angels' first baseman stepped back into the box and hit an early home run to keep it interesting, but he couldn't muster one more to force a tie.
He congratulated Pederson, then got a bear hug from Pederson's older brother, Champ, who has Down syndrome -- the same condition that affects Pujols' daughter, Isabella. Champ is one of thousands who have benefited from the Albert Pujols Family Foundation. He's often called Pujols his favorite player, but he rooted hard for Pederson this night.
"Hey, man, why didn't you tell your brother to take it easy on me?" Pujols said as Champ jumped on him.
"That shows what type of man he is," Joc Pederson said. "He's an unbelievable human. Means a lot. Really shows it wasn't necessarily about winning. You go out there to compete. He's got a warm heart. I tip my cap to him."
Alden Gonzalez is a reporter for MLB.com. Read his blog, Gonzo and "The Show", and follow him on Twitter @Alden_Gonzalez. This story was not subject to the approval of Major League Baseball or its clubs.