J.D. rises to All-Star heights among his idols
Martinez credits watching Miggy, Pujols, Braun for reworked swing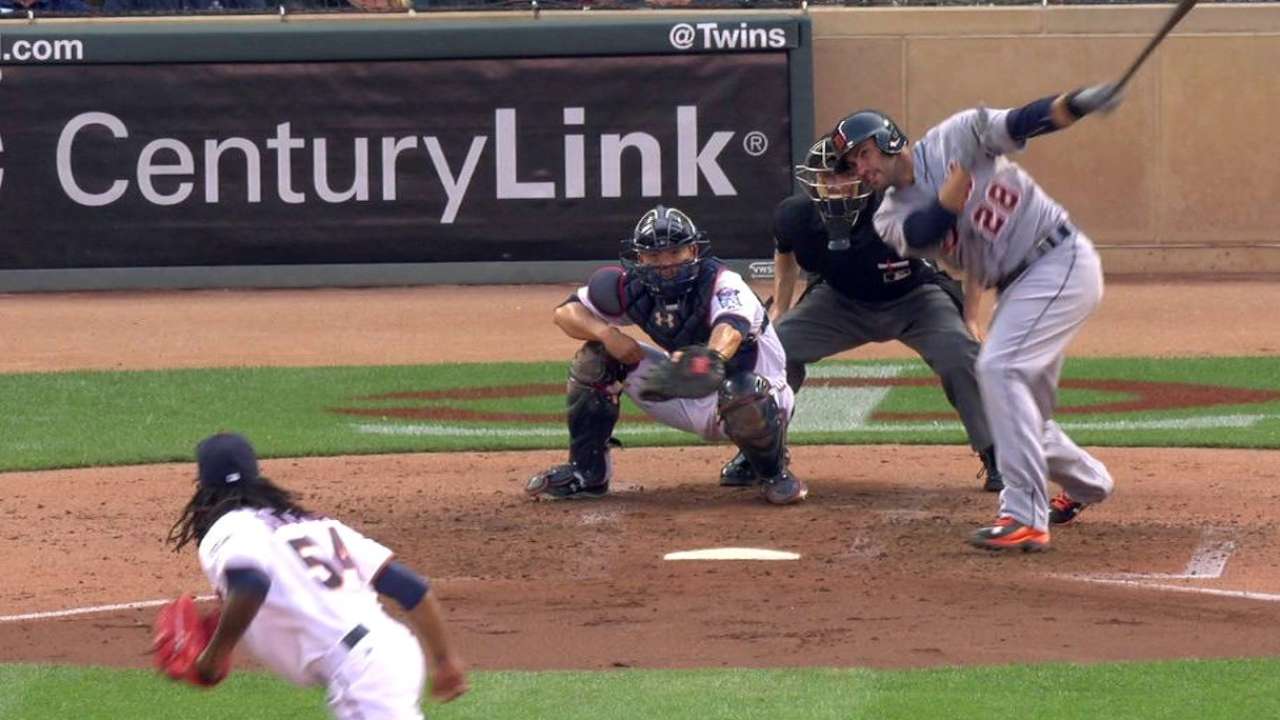 CINCINNATI -- J.D. Martinez looked around the ballroom at the hotel where most of the All-Stars are staying and saw many of the guys who got him here. They just didn't know it.
"These are the guys that I remodeled everything after," Martinez said. "Just to be here in the same room as them, talking to them, it's cool. It's different."
These are the guys he watched on video when he overhauled his swing a year and a half ago.
"[Albert Pujols] and [Ryan Braun], for two," he said. "[Miguel Cabrera], but he's not here. Those guys are the three main guys."
Pujols was a hitter Martinez grew up idolizing. Then he became a hitter Martinez emulated. He looked at footage of Pujols and Braun and saw how they kept their bat in the hitting zone longer, enabling more solid contact. He didn't talk with them; he just watched.
After showing he belonged in the big leagues last year with a 23-homer season, he began talking with players. Now that he's an All-Star himself with 25 home runs at the break, he arrives with plenty to talk about.
He's still learning, he said. Now, however, the lessons are different. When he talks with All-Star hitters, he doesn't talk about the swing.
"It's about the approach," he said. "I think a lot of these guys, they're so good and so natural that they just do it. It's almost like when you talk mechanics with them, it's a little bit foreign to them. They're so natural, like Miggy.
"I talk to Miggy because I'm with him all the time. You see Miggy, he's just so natural with everything that he does. You talk about mechanics and he's like, 'No, I just go up there and I hit it.' I'm like, 'Yeah, if only it was that easy.'"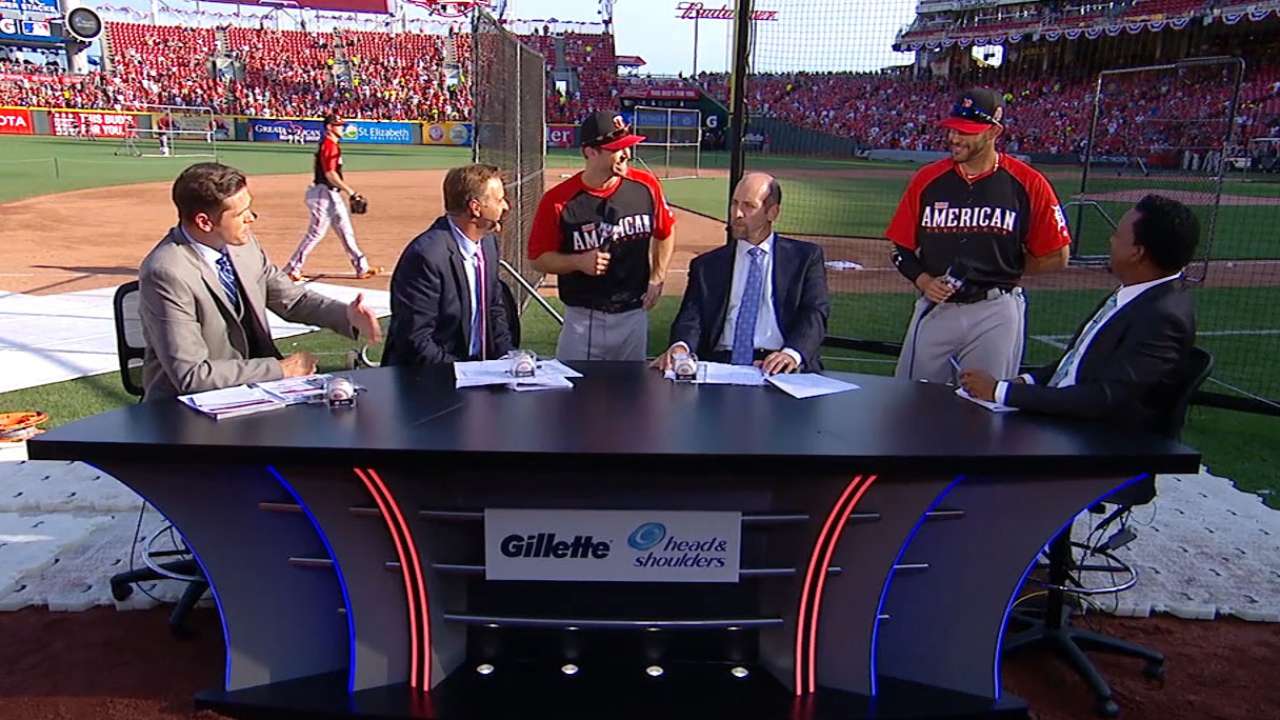 Martinez had to work to get here. He had to change. In many ways, he had to fail, getting released by the Astros in Spring Training last year. Of all the All-Stars, Martinez arguably had one of the longest paths here.
Now that he has arrived, he's still working to stay.
"I think now, the mental change that they can help me with is going to be the biggest step," he said.
His approach, he said, has already changed. His focus when he came up last year, he said, was to get on base. Now, his focus is to swing for power. Part of that reflects his role. Even before Cabrera went on the disabled list, the Tigers needed Martinez to hit for power, for production. Now, Martinez is the most dynamic hitter the Tigers have, at least until Cabrera comes back.
J.D. takes a selfie....with a bat. #ASG pic.twitter.com/mwqC7xaA81

— Detroit Tigers (@tigers) July 13, 2015
The resulting tear from Martinez the last few weeks earned him a spot here. It didn't come easy. Now he wants to take advantage of his time here to set up the next step.
"To be here with them is really, really cool," he said.
During the All-Star Game presented by T-Mobile in Cincinnati on Tuesday, fans can once again visit MLB.com to submit their choice for the Ted Williams Most Valuable Player Award presented by Chevrolet. Voting exclusively at MLB.com, online and via their mobile devices in the 2015 All-Star Game MVP Vote presented by Chevrolet, the fans' collective voice will represent 20 percent of the overall vote that determines the recipient of the Arch Ward Trophy.
MLB.TV Premium subscribers will be able to live stream the All-Star Game via MLB.TV through FOX's participating video providers. Access will be available across more than 400 supported MLB.TV platforms, including the award-winning MLB.com At Bat app.
The 86th Midsummer Classic will be televised nationally by FOX Sports (coverage begins 7 p.m. ET), in Canada by Rogers Sportsnet and RDS, and worldwide by partners in more than 160 countries. ESPN Radio and ESPN Radio Deportes will provide exclusive national radio coverage of the All-Star Game. MLB Network and SiriusXM will also provide comprehensive All-Star Week coverage. For more information, please visit allstargame.com.
Jason Beck is a reporter for MLB.com. Read Beck's Blog, follow him on Twitter @beckjason and listen to his podcast. This story was not subject to the approval of Major League Baseball or its clubs.