Fielder excited to be back among All-Stars
Slugger has regained power stroke following surgery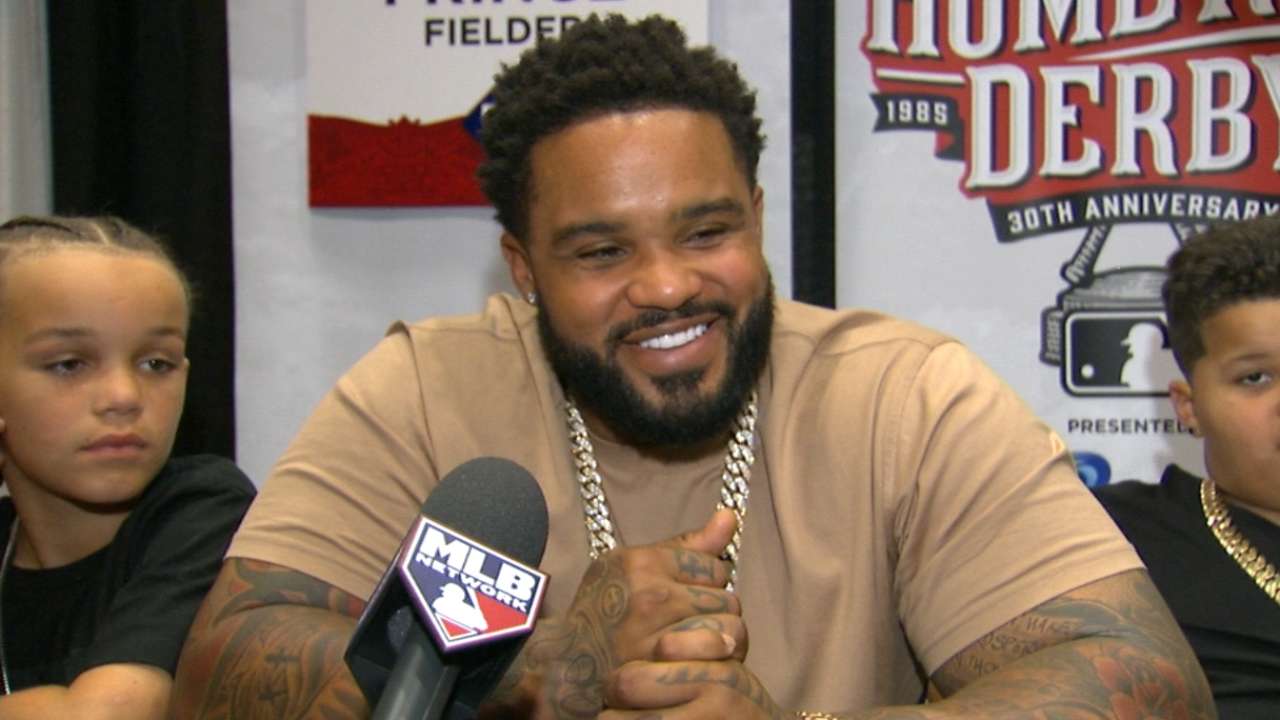 Instead of at Target Field for last year's All-Star Game festivities, Prince Fielder was recovering from neck surgery far away from the Midsummer Classic.
"We were in, what, Bahamas?" Fielder asked Monday.
"No," 10-year-old son Jadyn reminded him. "Jamaica."
Now, Fielder is back at the All-Star Game as a Texas Ranger, along with Jadyn and brother Haven, perhaps exceeding expectations a year removed from the cervical fusion of his C5-C6 disks in his neck. Fielder, who also participated in Monday's Gillette Home Run Derby presented by Head & Shoulders, entered the break as the American League leader in hits with 114 and with the AL's second-highest batting average at .339.
• Fielder falls to local hero Frazier in Derby
"A little bit," Fielder said when asked if he'd overperformed after surgery. "My whole expectation this year was just to try to be healthy and do everything I can to be healthy, and besides that, I've been able to have a pretty decent first half. I didn't have any personal goals, but I'm definitely glad that everything's been working out."
Fielder was shut down in May last season, relegated to rehabbing the neck in hopes of making the second half of his career as productive as the first. In that rehabilitation, though, Fielder said he gained a new perspective on his game and career.
"I think definitely the injury helped as far as my approach to the game and everything," Fielder said. "When you lose something, you realize that you liked it a lot. You try to enjoy it as much as you can when you come back."
It's an approach that hasn't gone unnoticed.
"The thing I enjoy most is the passion and the energy he brings every day," Rangers manager Jeff Banister said. "He is having a lot of fun out there and it rubs off on his teammates. You can see players just gravitating toward him and enjoying being around him."
Part of that approach is savoring the festivities in Cincinnati. This is Fielder's sixth go-round at the Midsummer Classic, so conventional wisdom suggests the luster of being selected has perhaps worn off.
Not for Fielder, who called the selection gratifying, but was adamant this wouldn't be any more emotional than his other five appearances.
When Banister called Fielder to inform him he'd been selected, Jadyn was at skateboarding camp, leaving Haven with his father to celebrate and begin planning his sixth trip alongside his father.
"He started jumping up and down, smiling and laughing and just really excited," Fielder remembered. "So I'm excited, too."
During the All-Star Game presented by T-Mobile in Cincinnati on Tuesday, fans can visit MLB.com to submit their choice for the Ted Williams Most Valuable Player Award presented by Chevrolet. Voting exclusively at MLB.com, online and via their mobile devices in the 2015 All-Star Game MVP Vote presented by Chevrolet, the fans' collective voice will represent 20 percent of the overall vote that determines the recipient of the Arch Ward Trophy.
MLB.TV Premium subscribers will be able to live stream the All-Star Game via MLB.TV through FOX's participating video providers. Access will be available across more than 400 supported MLB.TV platforms, including the award-winning MLB.com At Bat app.
The 86th Midsummer Classic will be televised nationally by FOX Sports (coverage begins 6 p.m. CT), in Canada by Rogers Sportsnet and RDS, and worldwide by partners in more than 160 countries. ESPN Radio and ESPN Radio Deportes will provide exclusive national radio coverage of the All-Star Game. MLB Network and SiriusXM will also provide comprehensive All-Star Week coverage. For more information, please visit allstargame.com.
Chandler Rome is an associate reporter for MLB.com. This story was not subject to the approval of Major League Baseball or its clubs.