Scherzer awed by Harper's continued ascent
Dynamic duo to represent Nats at All-Star Game, but right-hander won't pitch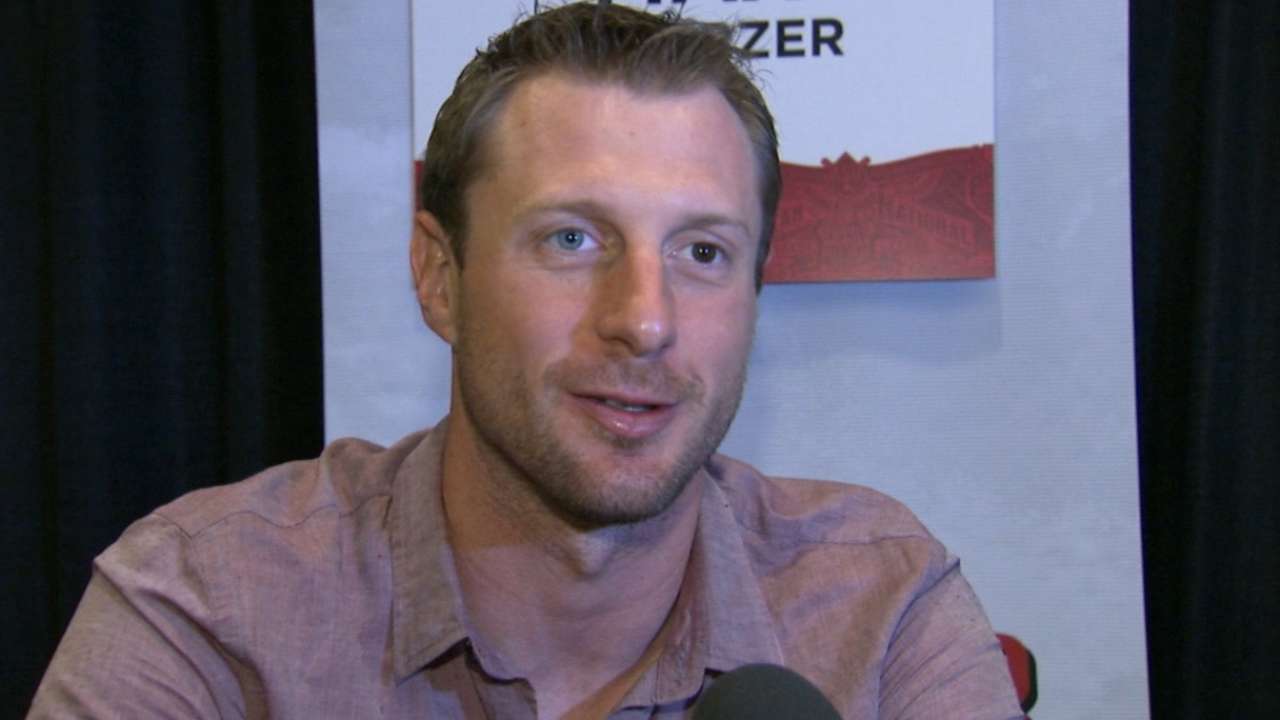 CINCINNATI -- From his vantage point as a newcomer to Washington, Max Scherzer has not had all that much time to process his opinion of Bryce Harper. He hasn't needed much, either, to see what everyone else does.
"I've really gotten to see Bryce grow, even from the beginning of the year," Scherzer said. "That's what makes him so scary is he's gotten better, and I feel like he has so much more room to get better. He has room to grow. He's not done."
Harper's improvement has not been gradual; far from it. Heading into his third career All-Star Game, the National League's best hitter -- he's still just 22 -- has already set career highs in home runs, walks and RBIs -- with two and a half months to go. The argument now is not whether he's the best hitter in the District or even in the NL, but whether Harper is the best player in the game, period.
"He's having an unbelievable season," said Angels outfielder Mike Trout, perhaps the only reasonable challenger for that title. "He's having an unbelievable career."
For those reasons, Harper will participate in the 86th All-Star Game presented by T-Mobile alongside Scherzer, who earned his third All-Star nod overall, and his first for the NL. Because he pitched 8 2/3 innings Sunday, improving to 10-6 with a 2.11 ERA, Scherzer will not appear in the game itself. But Harper certainly will, batting third and playing right field.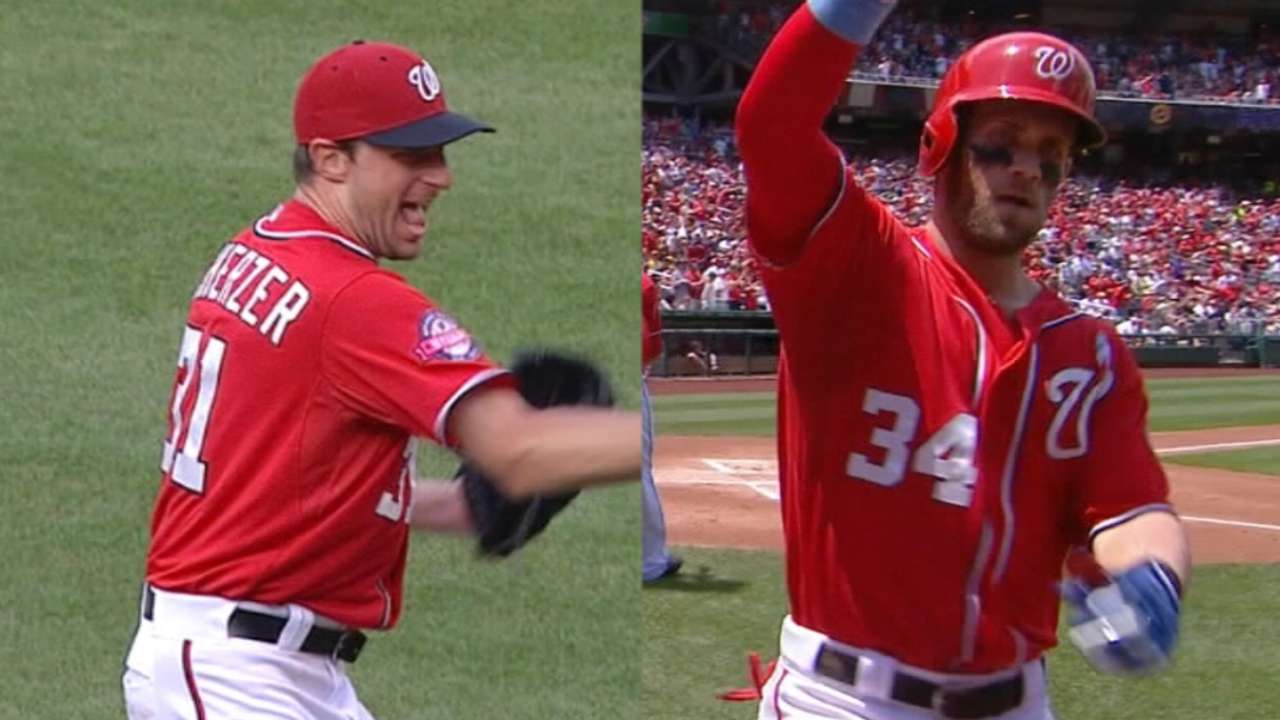 In Harper's opinion, this year's breakout has been due to nothing more than health. And it's true that he has so far avoided the disabled list for the first time since 2012, when Harper won the NL Rookie of the Year Award as a teenager.
But there seems to be more to his breakout than avoiding the doctor's office. At the break, Harper leads the league in on-base percentage and slugging, both of those figures miles beyond anything he's achieved before. Health is clearly not the only reason Harper has finally latched onto the Hall of Fame career arc so many have predicted for him; there's genuine development here, too.
"You can always improve every single year," Harper said. "I think mentally, just being able to go in there and have some fun and enjoy it, enjoy the game as much as I can, having the guys around me this year that I do, it's been a lot of fun also.
"This is the player I've been my whole life. I haven't been any different or anything like that. I'm just trying to stay healthy, trying to do the things I need to do."
The end goal, Harper insists, has little to do with All-Star accolades and everything to do with what comes later. That's why the Nationals invested so heavily in Scherzer last winter, and why what Harper is doing has a chance to be so impactful.
For the Nationals' All-Stars, three nights in Cincinnati simply provides a welcome diversion from much grander goals.
"These guys are so good," Scherzer said of his NL teammates. "Everybody has some type of talent that's just special. So to be able to see these guys compete against the best, it's stuff you never forget."
During the All-Star Game presented by T-Mobile in Cincinnati on Tuesday, fans can once again visit MLB.com to submit their choice for the Ted Williams Most Valuable Player Award presented by Chevrolet. Voting exclusively at MLB.com, online and via their mobile devices in the 2015 All-Star Game MVP Vote presented by Chevrolet, the fans' collective voice will represent 20 percent of the overall vote that determines the recipient of the Arch Ward Trophy.
MLB.TV Premium subscribers will be able to live stream the All-Star Game via MLB.TV through FOX's participating video providers. Access will be available across more than 400 supported MLB.TV platforms, including the award-winning MLB.com At Bat app.
The 86th Midsummer Classic will be televised nationally by FOX Sports (coverage begins 7 p.m. ET), in Canada by Rogers Sportsnet and RDS, and worldwide by partners in more than 160 countries. ESPN Radio and ESPN Radio Deportes will provide exclusive national radio coverage of the All-Star Game. MLB Network and SiriusXM will also provide comprehensive All-Star Week coverage. For more information, please visit allstargame.com.
Anthony DiComo is a reporter for MLB.com. Follow him on Twitter @AnthonyDiComo and Facebook, and listen to his podcast. This story was not subject to the approval of Major League Baseball or its clubs.