Dinged up Gordon happy to be part of ASG
Second baseman will be introduced and represent Marlins, but won't play in Midsummer Classic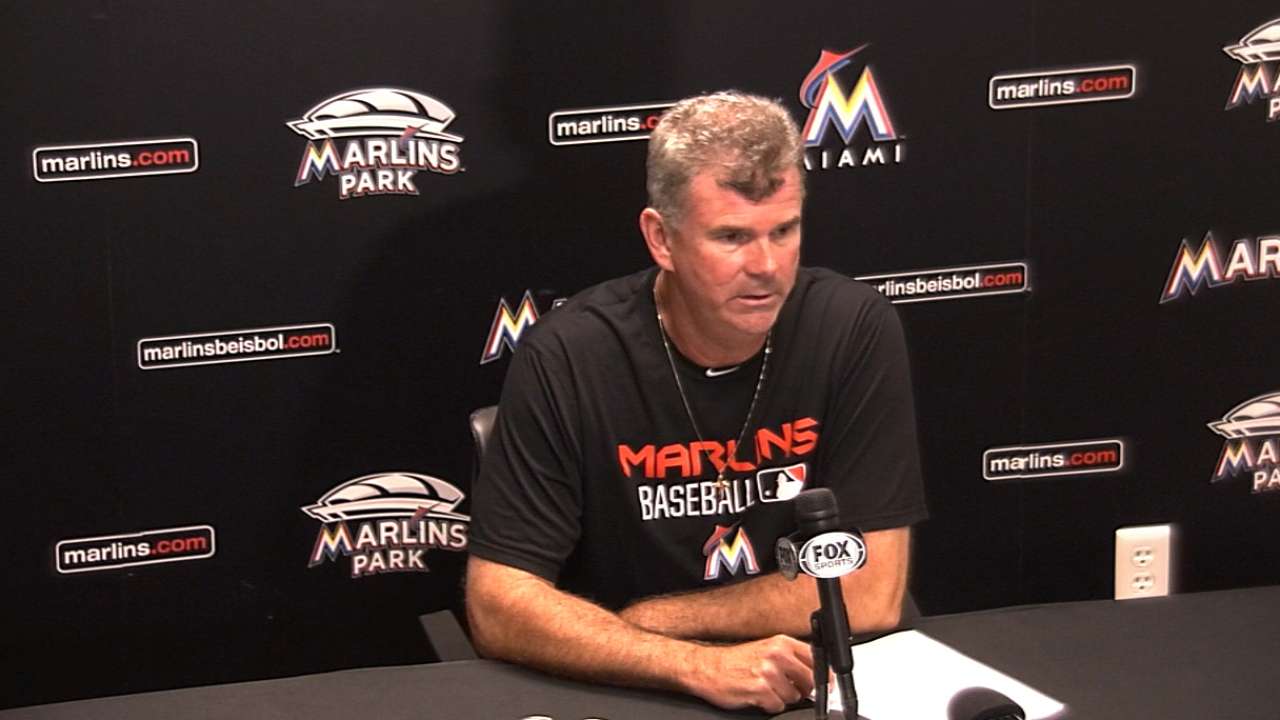 Miguel Tejada won the 2004 Home Run Derby at Minute Maid Park. At the same time, 16-year-old Dee Gordon was honing his skills at the wall, though he was eventually kicked off the field for trying to rob home runs during the competition. Tagging along with his father, Yankees reliever Tom Gordon, Dee shrugged off the hindrance and enjoyed the experience.
As a Philadelphia Phillie in 2006, Tom got another call to the Midsummer Classic as the leading vote-getter from fellow players. Dee again came along, but this time, he was able to skirt any trouble.
"I had just graduated from high school," Gordon said. "I thought I was a cool kid. I stayed in the stands."
Gordon is now permitted on the field.
Voted the National League's starting second baseman, Gordon will be in Cincinnati to get introduced and represent the Marlins at Tuesday's 86th All-Star Game presented by T-Mobile (7 p.m. ET, FOX), but he won't see game action after dislocating his left thumb on Saturday while sliding headfirst into first base.
Gordon was supposed to be alongside starting right fielder Giancarlo Stanton for a franchise first -- two All-Star Game starters voted in by fans -- but Stanton won't travel to Cincinnati after breaking the hamate bone in his left hand on June 26.
"He is our rock and he is the best player on our team," Gordon said of Stanton. "You just try to complement him. It's tough without him right now, but you just have to continue to pull together. I'm very excited for him -- that is a huge honor as well."
Miami is confident that Gordon, the Major League leader in hits (122) and owner of a .338 batting average (fifth overall), will avoid a disabled-list stint and potentially return after the Phillies series -- the team's first out of the All-Star break.
Now a two-time All-Star, Gordon is creeping toward his father's benchmark of three selections, so he knows a bit more of what to expect during the week's festivities, even though he won't participate.
"I'm definitely blessed. I thank God for the opportunity," Gordon said. "But I thank my teammates and my coaches for going out there and battling every day. This is more for them."
During the All-Star Game presented by T-Mobile in Cincinnati on Tuesday, fans can once again visit MLB.com to submit their choice for the Ted Williams Most Valuable Player Award presented by Chevrolet. Voting exclusively at MLB.com, online and via their mobile devices in the 2015 All-Star Game MVP Vote presented by Chevrolet, the fans' collective voice will represent 20 percent of the overall vote that determines the recipient of the Arch Ward Trophy.
MLB.TV Premium subscribers will be able to live stream the All-Star Game via MLB.TV through FOX's participating video providers. Access will be available across more than 400 supported MLB.TV platforms, including the award-winning MLB.com At Bat app.
The 86th Midsummer Classic will be televised nationally by FOX Sports (coverage begins 7 p.m. ET), in Canada by Rogers Sportsnet and RDS, and worldwide by partners in more than 160 countries. ESPN Radio and ESPN Radio Deportes will provide exclusive national radio coverage of the All-Star Game. MLB Network and SiriusXM will also provide comprehensive All-Star Week coverage. For more information, please visit allstargame.com.
Chandler Rome is an associate reporter for MLB.com. This story was not subject to the approval of Major League Baseball or its clubs.