Benintendi receives 2015 Dick Howser Trophy
Former Arkansas outfielder presented with prestigious college baseball award at T-Mobile All-Star FanFest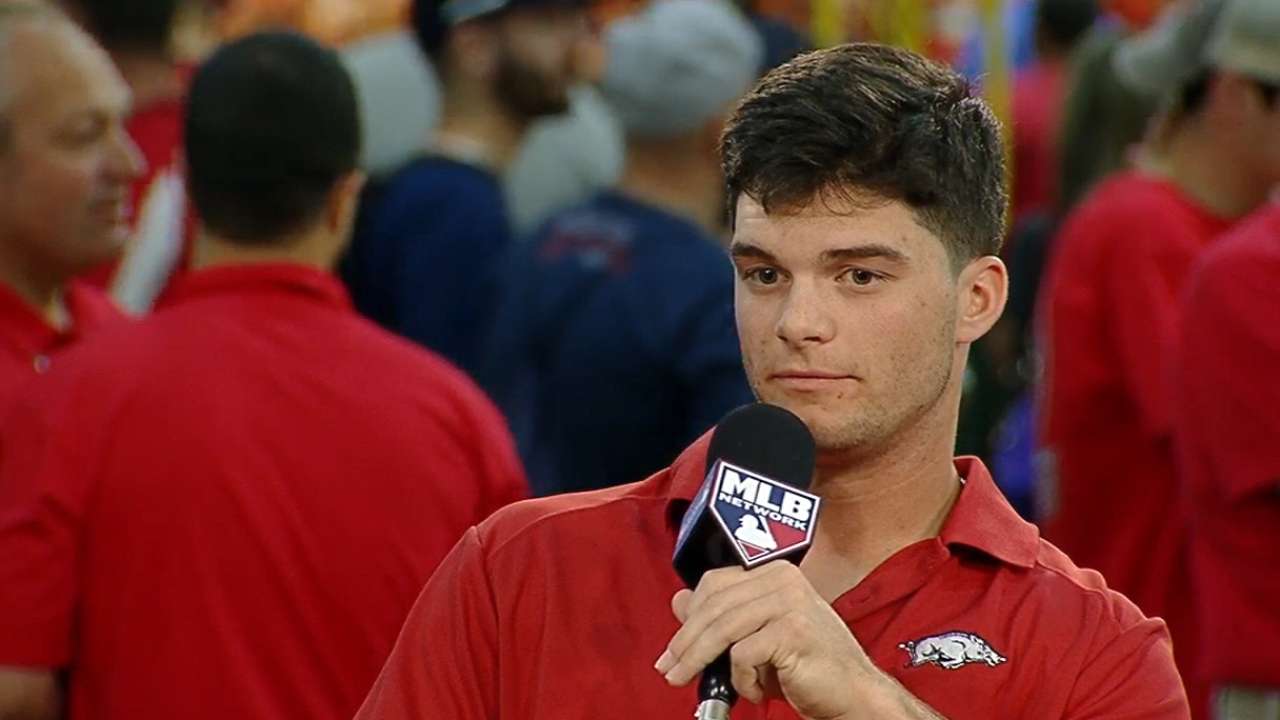 Andrew Benintendi, who was selected seventh overall by the Red Sox in the 2015 Draft, was presented the 2015 Dick Howser Trophy at the T-Mobile All-Star FanFest on Monday.
Benintendi was named the winner of the award -- college baseball's equivalent of the Heisman Trophy -- on June 12 while he was still playing for Arkansas in the College World Series. The fact that he was able to receive the award in his hometown of Cincinnati, among family and friends, and be a part of a panel that included Hall of Famer Frank Thomas made it even more special.
During his sophomore season at Arkansas, Benintendi batted .380/.489/.715 with 19 home runs, all of which led the Southeastern Conference.
While the award values on-field numbers, it also takes into account four cornerstones -- courage, character, leadership and performance -- according to Jana Howser, Dick's daughter, who presented the trophy.
"I was extremely honored and humbled," Benintendi said. "When you see some of the names on this trophy, it's unbelievable, really. To be known as somebody with those four characteristics, it really means a lot."
Benintendi became the first player from Arkansas to win the award, but a member of the SEC has won the award three of the past four years. That fact was not lost on Thomas, who played at Auburn and added that playing in the SEC would help prepare Benintendi for the increased competition in pro ball.
Thomas pointed out some of the similarities between him and Benintendi before offering some encouraging words.
"You're in for a ride," Thomas said. "You were the seventh pick, I was the seventh pick, high expectations. I've heard about your game. Just stay humble and keep working hard, because we'll be looking for you in the future."
Jamal Collier is a reporter for MLB.com. Follow him on Twitter at @jamalcollier. This story was not subject to the approval of Major League Baseball or its clubs.