Miller appreciative of All-Star nod with Braves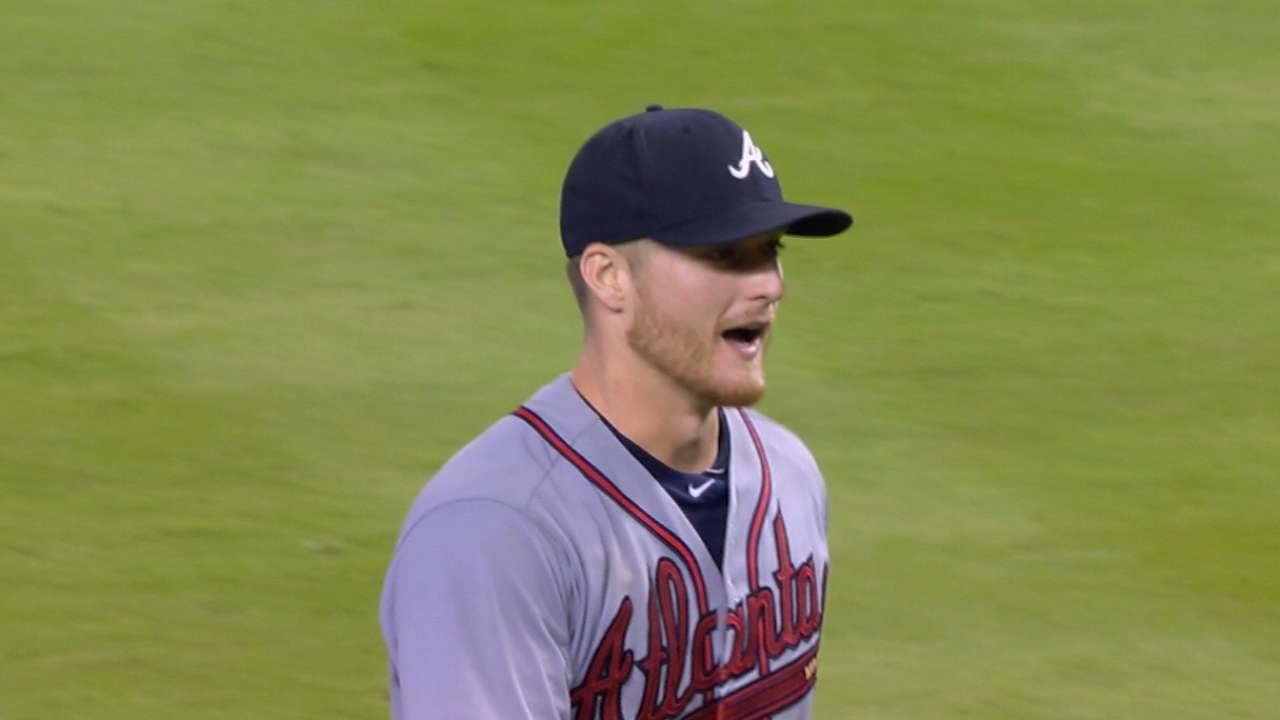 It is safe to say Shelby Miller has spent the past three months drastically changing the opinion some Braves fans had of the November trade that brought him to Atlanta and sent Jason Heyward to St. Louis.
Provided the opportunity to get away from some of the pressures he felt while coming up in the Cardinals' organization, Miller has provided the Braves with the legitimate ace they have been seeking for more than a decade, and he has established himself as one of the National League's top starting pitchers. As a result, he has come to Cincinnati this week to savor his first Midsummer Classic experience, with the 86th All-Star Game presented by T-Mobile set for Tuesday at Great American Ball Park (7 p.m. ET, FOX).
"It's pretty crazy. You get traded in the offseason and at first, I'm shocked because the only thing I knew was St. Louis," Miller said. "Then when I found out who I got traded to, I was pretty excited about it, simply because the Braves have been around forever. When you look at what they did from '92 to 2005, [it] was pretty unbelievable."
Miller, who said his transition to Atlanta was an easy one, is expected to complete at least one inning for the NL. But this experience will also give him a chance to reconnect with five of his former Cardinals teammates -- Carlos Martinez, Jhonny Peralta, Trevor Rosenthal, Michael Wacha and Yadier Molina -- who are on the NL roster.
"Wacha is one of my buddies," Miller said. "I work out with him in the offseason. I've always gotten along with him really well. We're both from Texas. But they're all great guys."
Miller has certainly drawn the respect of his peers -- as evidenced by the fact that he gained this selection via the Player Ballot. Max Scherzer, Gerrit Cole and Zack Greinke were the only NL pitchers to receive more votes.
Despite becoming one of Coors Field's latest victims on Friday, Miller ranks among the top 10 qualified NL pitchers in ERA (2.38) and batting average against (.227). He notched one of his two shutouts when he came within one out of completing a no-hitter against the Marlins on May 17. He positioned himself for this All-Star selection when he posted a 0.95 ERA and limited opponents to a .155 batting average in his five May starts.
The right-hander hasn't picked up a win since that May 17 shutout, but it's not due to a lack of consistency. Miller has posted six quality starts in his 10 outings during that span, while collecting six no-decisions and four losses.
For as much success as Miller has provided during the first half of the season, the Braves (42-47) haven't experienced the same accomplishments. But having been with a new team and in a new city for 89 games, Miller hopes he can be a catalyst for a second-half push.
"To have the year I had after getting traded and coming to Atlanta and trying to make a name for myself, it's been pretty cool," Miller said.
During the All-Star Game presented by T-Mobile in Cincinnati on Tuesday, fans can once again visit MLB.com to submit their choice for the Ted Williams Most Valuable Player Award presented by Chevrolet. Voting exclusively at MLB.com, online and via their mobile devices in the 2015 All-Star Game MVP Vote presented by Chevrolet, the fans' collective voice will represent 20 percent of the overall vote that determines the recipient of the Arch Ward Trophy.
MLB.TV Premium subscribers will be able to live stream the All-Star Game via MLB.TV through FOX's participating video providers. Access will be available across more than 400 supported MLB.TV platforms, including the award-winning MLB.com At Bat app.
The 86th Midsummer Classic will be televised nationally by FOX Sports (coverage begins 7 p.m. ET), in Canada by Rogers Sportsnet and RDS, and worldwide by partners in more than 160 countries. ESPN Radio and ESPN Radio Deportes will provide exclusive national radio coverage of the All-Star Game. MLB Network and SiriusXM will also provide comprehensive All-Star Week coverage. For more information, please visit allstargame.com.
Connor Smolensky is an associate reporter for MLB.com. This story was not subject to the approval of Major League Baseball or its clubs.