All-Star Papelbon hopeful for trade to contender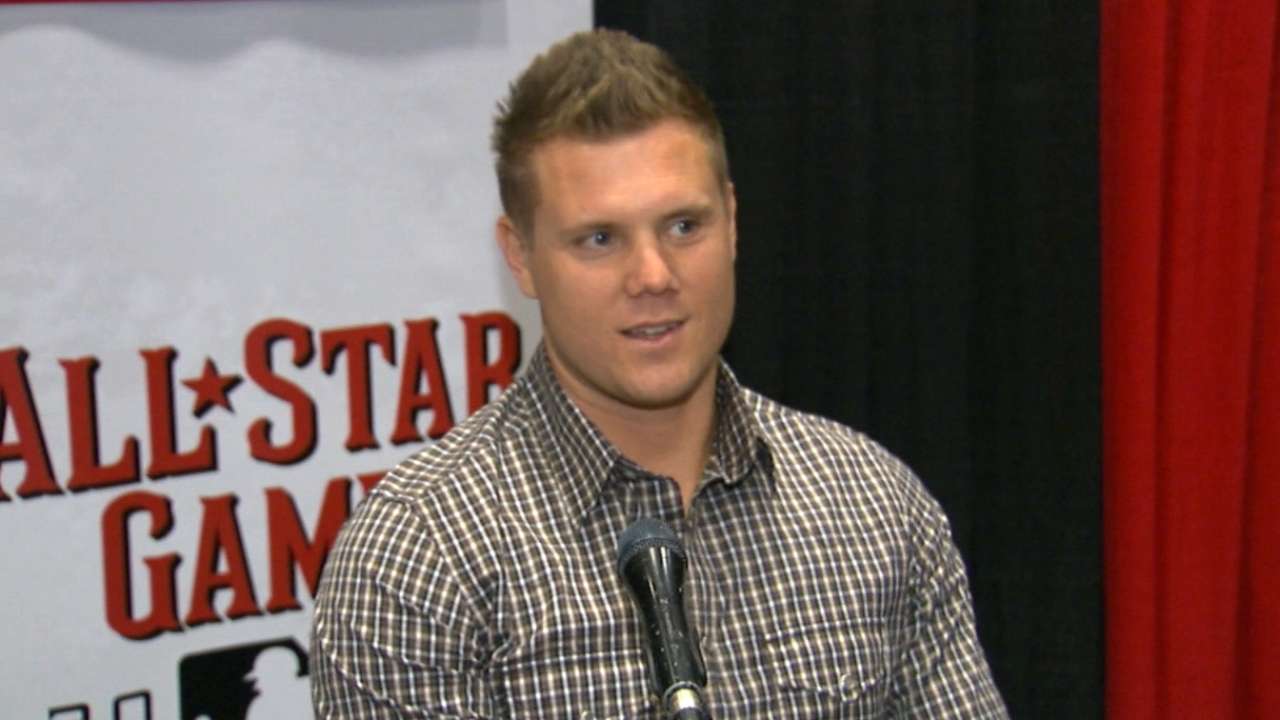 CINCINNATI -- Vocal and effusive about his desire to be traded, Phillies closer Jonathan Papelbon spent his sixth All-Star media day trumpeting his desire to move on from Philadelphia.
"I want to go to a contender," said Papelbon, the Phillies' lone representative at Tuesday's 2015 All-Star Game presented by T-Mobile (7 p.m. ET, FOX). "I do want to get out of Philly, but I need to make a smart decision. I'll make a decision that's best for me to go to a place to contend to win a championship. That's basically what my whole decision is going to be based on."
In many ways, the decision is not Papelbon's to make. The Phillies have been trying to deal their closer since before the 2013 non-waiver Trade Deadline, but so far, they have been unable to find a suitable match. Making $13 million this season, Papelbon owns a $13 million club option for 2016 that automatically vests if he finishes 48 games. He's on pace to do that, having gone 14-for-14 in save situations with a 1.60 ERA.
He's certainly pitched well enough not only to earn his sixth All-Star nod, but to make himself a very intriguing option to clubs in need of relief help.
Papelbon cannot negotiate his own trade. But he can veto deals with a partial no-trade clause, and he has said he would do so to avoid moving to a setup role or to a non-contending team.
Other than that, Papelbon said he would like to part ways with the 29-62 Phillies.
"This isn't what I signed up for," said Papelbon, who left the Red Sox for a four-year, $50 million deal with the Phillies before the 2012 season. "I signed up on a team that won 102 games, and was expecting certain things. Now, it didn't happen, and I tried to ride that ship as much as I can. I've tried to keep my mouth shut as much as I can.
"I feel like three years is plenty enough time to 'ride it out,' so to speak. If fans can't understand it, I can't really side with them on that. I'm getting older and I don't know how many more years I have left in this game. I don't know how many All-Star Games I have left. None of that's guaranteed. For me, I'm just trying to be on a winning ballclub and win as many rings as I can before it's all said and done, and I'm coaching [son] Gunner in Little League. That's really all I'm trying to do.
"From my perspective, I don't understand how a fan couldn't understand that. I understand that they wear their hearts on their sleeves and all that stuff, but for me, I'm in it to compete and to win. And I don't have that opportunity in this organization. And I also feel like I gave this organization as many opportunities as they can to put a winning ballclub out there and as many chances to keep me in this organization, and it just hasn't happened."
If Papelbon has his way, a trade is what will happen -- and soon. For him, this All-Star appearance is simply continued validation that he can be more useful elsewhere.
"I thought that I was going to come to Philadelphia and win two more rings," Papelbon said. "I honestly and truthfully did. And then the downward spiral happened, and it happened so quick. It's almost unexplainable."
During the All-Star Game presented by T-Mobile in Cincinnati on Tuesday, fans can once again visit MLB.com to submit their choice for the Ted Williams Most Valuable Player Award presented by Chevrolet. Voting exclusively at MLB.com, online and via their mobile devices in the 2015 All-Star Game MVP Vote presented by Chevrolet, the fans' collective voice will represent 20 percent of the overall vote that determines the recipient of the Arch Ward Trophy.
MLB.TV Premium subscribers will be able to live stream the All-Star Game via MLB.TV through FOX's participating video providers. Access will be available across more than 400 supported MLB.TV platforms, including the award-winning MLB.com At Bat app.
The 86th Midsummer Classic will be televised nationally by FOX Sports (coverage begins 7 p.m. ET), in Canada by Rogers Sportsnet and RDS, and worldwide by partners in more than 160 countries. ESPN Radio and ESPN Radio Deportes will provide exclusive national radio coverage of the All-Star Game. MLB Network and SiriusXM will also provide comprehensive All-Star Week coverage. For more information, please visit allstargame.com.
Anthony DiComo is a reporter for MLB.com. Follow him on Twitter @AnthonyDiComo and Facebook, and listen to his podcast. This story was not subject to the approval of Major League Baseball or its clubs.