Bochy sets All-Star lineup; Greinke to start
Four-time National League skipper praises talent on roster, shares strategy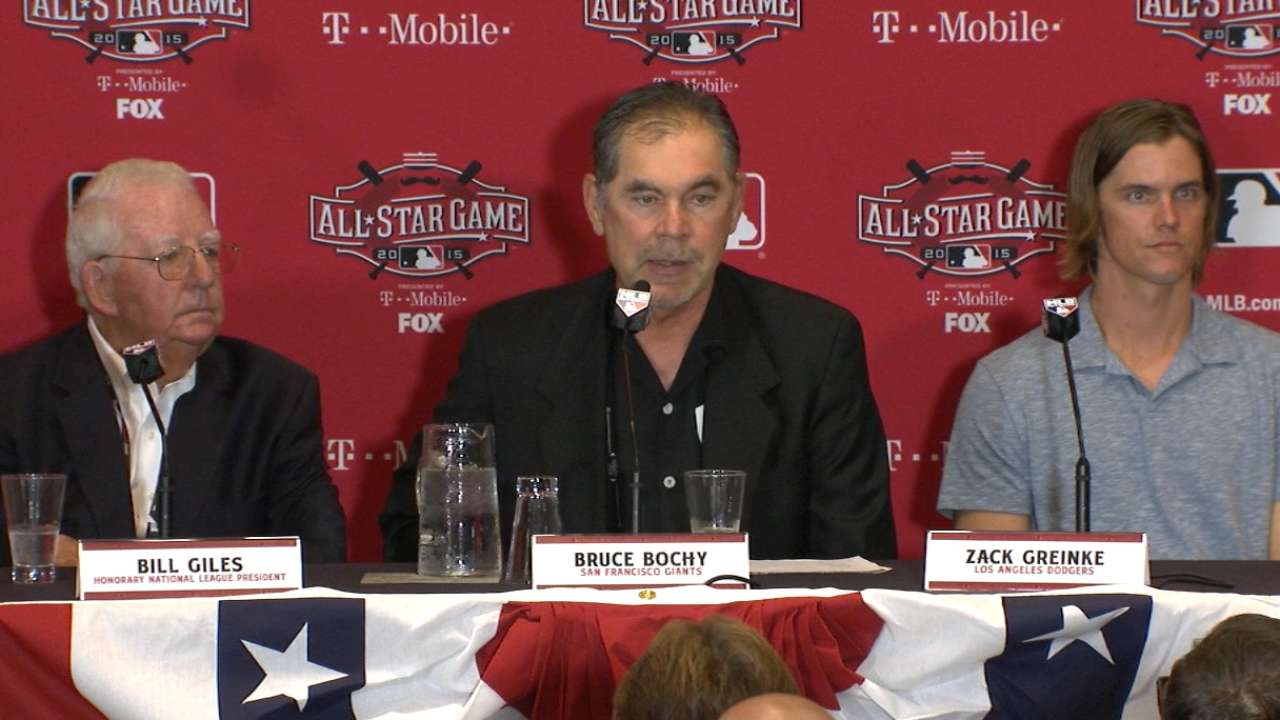 CINCINNATI -- Bruce Bochy has had the pleasure and endured the difficulty of finalizing four National League rosters for the Midsummer Classic, but the selection of the NL squad for the 2015 All-Star Game presented by T-Mobile, he said, was the toughest.
"It really was," Bochy said Monday. "A lot of guys had strong cases. There just wasn't room in there. Great pitchers and relievers, especially on that end. But when it was all picked over, I'm very excited and proud of the 34 guys that we brought here for the 2015 All-Star Game."
This is Bochy's starting lineup for tonight's 86th Midsummer Classic, which will be televised nationally by FOX Sports (coverage begins at 7 p.m. ET), in Canada by Rogers Sportsnet and RDS and worldwide by partners in more than 160 countries:
1. Andrew McCutchen, CF
2. Todd Frazier, 3B
3. Bryce Harper, RF
4. Paul Goldschmidt, 1B
5. Buster Posey, C
6. Anthony Rizzo, DH
7. Jhonny Peralta, SS
8. Joc Pederson, LF
9. DJ LeMahieu, 2B
SP: Zack Greinke, RHP
"It's mind-blowing," Bochy said, "to have the chance to work with and manage so much talent in one place."
Max Scherzer's Sunday start for the Nationals might have made Bochy's decision on a starting pitcher a little bit easier. But when all was said and done in the first half, Greinke, with a league-best 1.39 ERA, had a convincing case.
Bochy, of course, is all too familiar with what his NL West rival can accomplish on the mound.
"It's really, really amazing what Zack has been doing," Bochy said. "That's why he's our starting pitcher [Tuesday]."
Bochy said the All-Star Game has evolved quite a bit since he first managed the game in 1999. The World Series home-field advantage being on the line in the Midsummer Classic forces him to make more calculated decisions with his roster.
"Your priority is not to get everybody in as much as it used to be," Bochy said. "There is a lot at stake, and I think guys are getting two or three at-bats are getting stretched out a little bit more, because there's a lot at stake. The tough part is your lineup does change a lot. That's why I'll have my bench coach Ron Wotus [helping], and of course the pitching is all mapped out. You can't shoot from the hip in this game."
• Yost stacks power with Trout atop AL lineup
As for a possible return to his San Diego roots for next year's All-Star Game, Bochy is all for it.
"It's great to ever manage an All-Star Game," he said with a smile. "That means there's been some good news somewhere along the line."
ESPN Radio and ESPN Radio Deportes will provide exclusive national radio coverage of the All-Star Game. MLB Network and SiriusXM will also provide comprehensive All-Star Week coverage. For more information, please visit allstargame.com.
Anthony Castrovince is a reporter for MLB.com. Read his columns and follow him on Twitter at @Castrovince. This story was not subject to the approval of Major League Baseball or its clubs.