All-Star rosters boast 42 Arizona Fall League grads
Trout, Harper, Cutch among players who participated in prospect showcase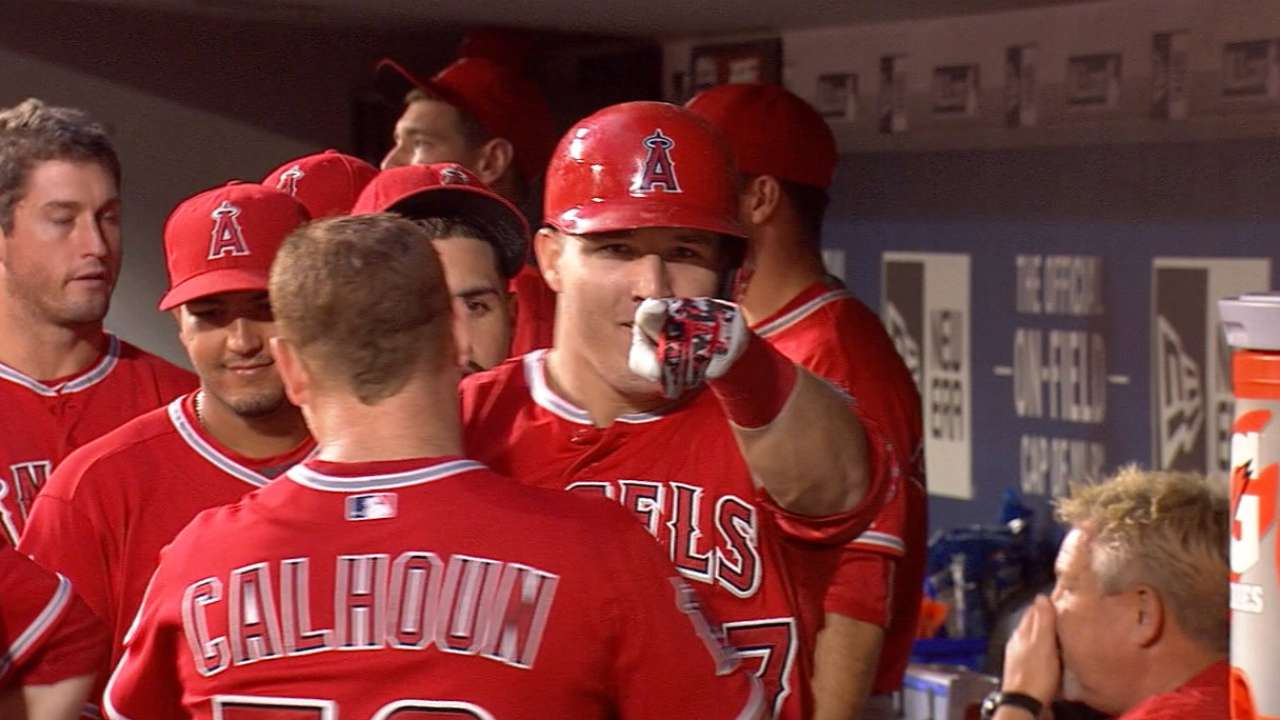 Forty-two players and an umpire with ties to the Arizona Fall League will participate in Tuesday night's All-Star Game presented by T-Mobile at Great American Ball Park. Six of the American League's starters and five of the National League's starters played in the Arizona Fall League.
Three players with AFL ties -- the Royals' Alex Gordon, the Marlins' Giancarlo Stanton and the Cardinals' Matt Holliday -- were chosen as All-Stars but will miss the Midsummer Classic due to injury. Nineteen of the 42 All-Stars with AFL ties will be playing in their first Midsummer Classic, bringing the league's total to 231 All-Stars since 1992.
The AL's All-Star starters who played in the AFL are Lorenzo Cain (2008 and '09), Josh Donaldson ('08), Alcides Escobar ('05), Adam Jones ('05), Salvador Perez ('10) Mike Trout ('11) and Albert Pujols ('00).
• All-Star skippers reveal starting lineups | Interactive ASG rosters
The Senior Circuit's All-Star starters with AFL ties include Bryce Harper (2010 and '11), DJ LeMahieu ('11), Jhonny Peralta ('02), Buster Posey ('09), Andrew McCutchen ('07) and Joc Pederson ('12).
Both teams have four pitchers with AFL ties. The AL pitchers are Brad Boxberger (2009 and '11), Glen Perkins ('05), Darren O'Day ('07) and Dallas Keuchel ('11), who got the starting nod. The NL roster includes Aroldis Chapman ('11), Gerrit Cole ('11), Max Scherzer ('07) and Francisco Rodriguez ('01).
• Full Arizona Fall League Coverage
The AL bench will be stocked with AFL vets, including Prince Fielder (2005), Brian Dozier ('11), Brett Gardner ('06 and '07), Brock Holt ('11), Jose Iglesias ('09 and '10), Jason Kipnis ('10), Russell Martin ('04), Mike Moustakas ('09) and Mark Teixeira ('02).
The NL reserves with AFL ties are Nolan Arenado (2011), Ryan Braun ('06), Kris Bryant ('13), Brandon Crawford ('09 and '11), Adrian Gonzalez ('03), Yasmani Grandal ('11), Joe Panik ('11 and '12), A.J. Pollock ('10) and Troy Tulowitzki ('06).
The most recent AFL grad at the All-Star Game is Bryant of the Cubs, who was named the AFL's Most Valuable Player in 2013. James Hoye, who will be the left-field umpire at the All-Star Game, was a part of the '01 and '02 AFL seasons. Eighteen former AFL stars were selected to participate in the SiriusXM All-Star Futures Game, and many of them may see action in the All-Star Game some day.
• Schwarber's 2-run triple jump-starts U.S. rout in Futures Game
Incredibly, nearly 2,300 of the 3,900 players -- 58 percent -- who have played in the Arizona Fall League have made it to the Major Leagues, and 13 players have won the Most Valuable Player Award. Four players with AFL ties have won the Cy Young Award, and 25 have won the Rookie of the Year Award.
During the All-Star Game presented by T-Mobile in Cincinnati on Tuesday, fans can once again visit MLB.com to submit their choice for the Ted Williams Most Valuable Player Award presented by Chevrolet. Voting exclusively at MLB.com, online and via their mobile devices in the 2015 All-Star Game MVP Vote presented by Chevrolet, the fans' collective voice will represent 20 percent of the overall vote that determines the recipient of the Arch Ward Trophy.
MLB.TV Premium subscribers will be able to live stream the All-Star Game via MLB.TV through FOX's participating video providers. Access will be available across more than 400 supported MLB.TV platforms, including the award-winning MLB.com At Bat app. MLB.com will provide extensive online coverage of the All-Star Week festivities, including the 2015 Gillette Home Run Derby presented by Head & Shoulders, part of Gatorade All-Star Workout Day on Monday. The Derby will feature a new format with brackets and timed rounds, and it will be broadcast live by ESPN and MLB.com beginning at 8 p.m. ET.
The 86th Midsummer Classic will be televised nationally by FOX Sports (coverage begins 7 p.m. ET), in Canada by Rogers Sportsnet and RDS, and worldwide by partners in more than 160 countries. ESPN Radio and ESPN Radio Deportes will provide exclusive national radio coverage of the All-Star Game. MLB Network and SiriusXM will also provide comprehensive All-Star Week coverage. For more information, please visit allstargame.com.
Spencer Fordin is a reporter for MLB.com. This story was not subject to the approval of Major League Baseball or its clubs.