Keuchel named AL starter for All-Star Game
Astros lefty helped cause with scoreless performance vs. Royals on June 30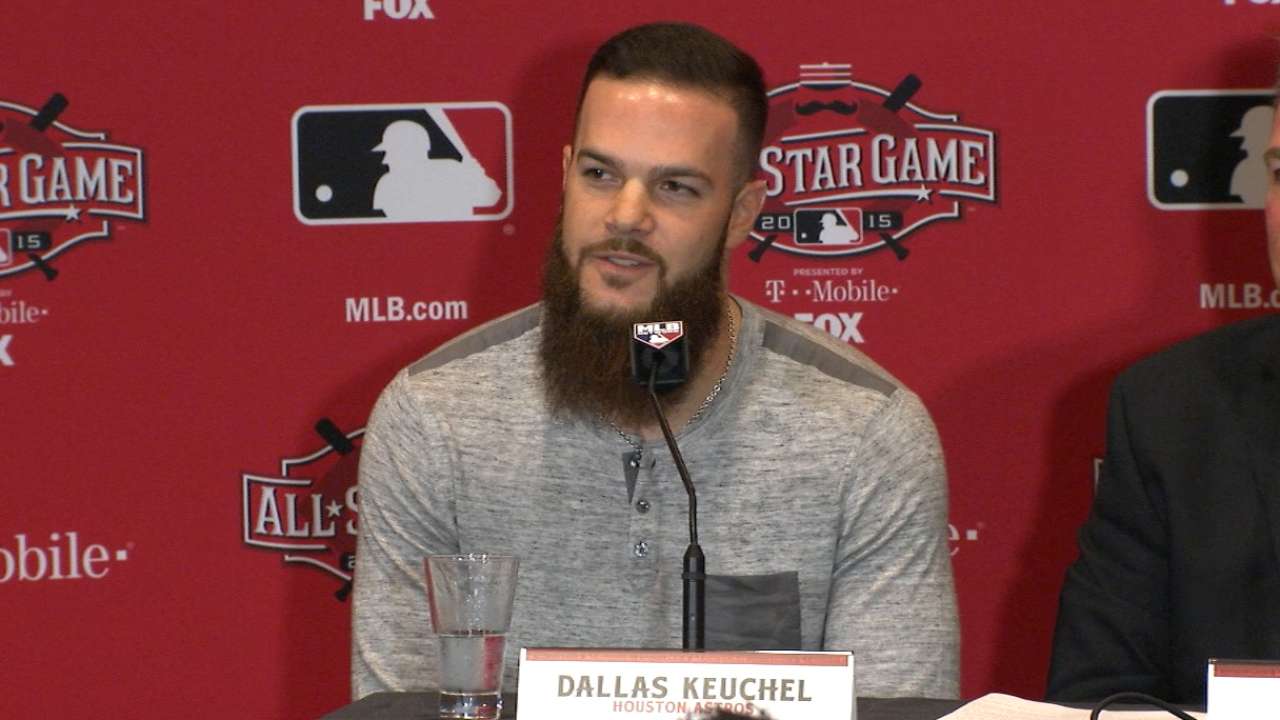 CINCINNATI -- The difficult decision of selecting a starting pitcher to represent the American League was on manager Ned Yost's mind when he filled out his lineup card for the Royals' battle against the Astros' Dallas Keuchel on June 30 in Houston, viewing that matchup as an audition of sorts.
Keuchel aced Yost's evaluation that night, hurling eight scoreless innings in a victory, and the AL will be looking for that same caliber of performance when Keuchel takes the ball to start tonight's All-Star Game presented by T-Mobile at Great American Ball Park (6 p.m. CT, FOX).
"It's definitely very exciting," Keuchel said. "I was able to tell my family but I couldn't tell many more, and even my family has loose lips so I was very thankful for them not telling anybody.
"I mean, I never expected this. Just to be on the team with some of the best players in the world is truly an honor. That's the way I'm going to approach it, is just to have as much fun as I possibly can."
Instantly recognizable for his trademark beard, Keuchel has picked up where he left off last year, when he enjoyed a breakout season that established him as one of the best southpaws in the game.
The 27-year-old has logged 11 victories, which is tied for the AL lead, while compiling a 2.23 ERA in 19 starts. Keuchel has posted a 1.00 WHIP and 114 strikeouts over an AL-high 137 1/3 innings.
"He deserves it," said Astros teammate Jose Altuve. "For me, he's the best pitcher in the league right now, and I know he's going to do a really good job. He throws the ball really good and he's having a really good season. What can I say? To start that game, I feel good for him."
Yost will face a National League lineup comprised of Andrew McCutchen, Todd Frazier, Bryce Harper, Paul Goldschmidt, Buster Posey, Anthony Rizzo, Jhonny Peralta, Joc Pederson and DJ LeMahieu.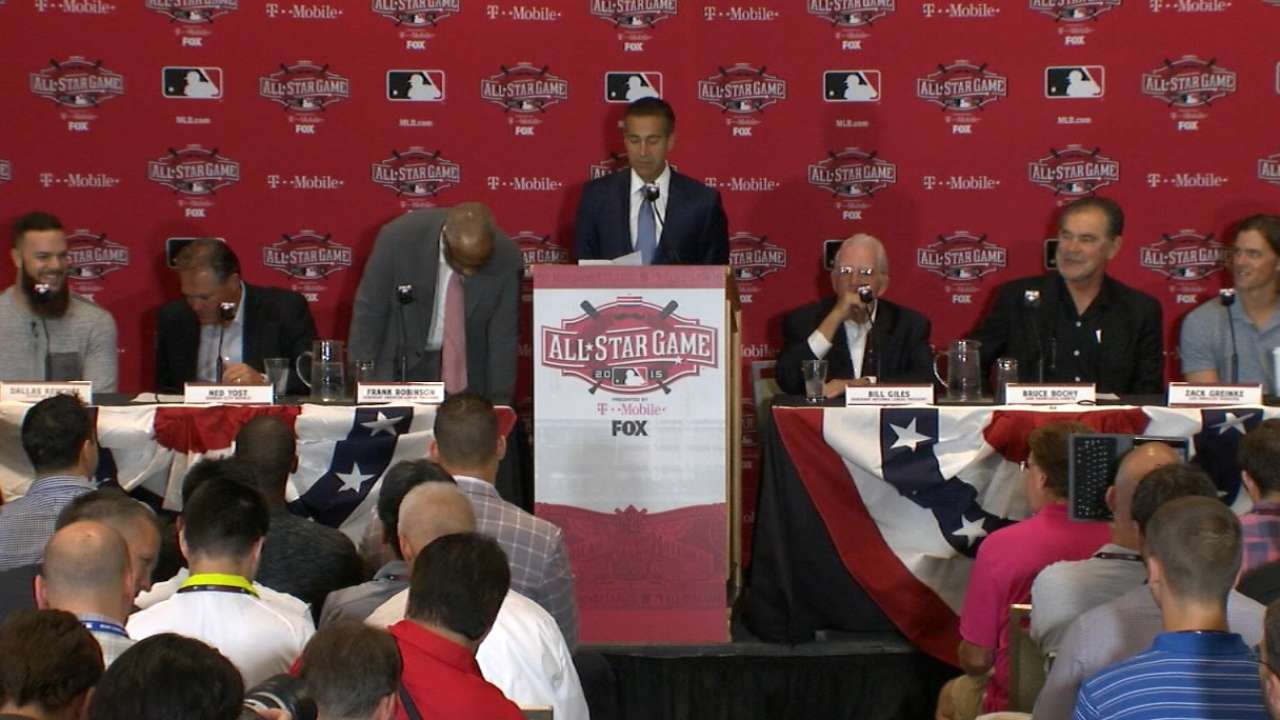 "Dallas is left-handed, doesn't have a ton of velocity, relies heavily on movement and deception," Astros manager A.J. Hinch said. "Dallas gets soft contact. He gets the ball hit on the ground. He throws strikes. He doesn't walk people. That can be a very impactful starting pitcher."
Chris Sale of the White Sox, Sonny Gray of the Athletics, Chris Archer of the Rays, David Price of the Tigers and Felix Hernandez of the Mariners were among the other hurlers considered by Yost, who said that he endured some sleepless nights wrestling with the decision before settling upon Keuchel.
Keuchel's ERA is the second-best in the AL to Gray (2.04), who is ineligible to pitch because he started for the A's on Sunday, and White Sox manager Robin Ventura had said that he'd prefer that Sale not pitch in the All-Star Game after throwing 115 pitches against the Cubs on Saturday.
Keuchel received 381 votes from the players, which was more than any other pitcher in either league, and Yost said that factored into his thinking.
"It was a tough decision," Yost said. "I kind of looked at numbers and studied numbers. I looked at the players' votes. I settled on Dallas Keuchel and that was a tough decision, too, with all of these guys.
"I kind of set forth the criteria for him when he pitched against us [on June 30], I thought to myself, 'OK, if he can just go out and show me what he's got for five good innings and then give it up, he's going to probably be my starter.' He threw a wrench into that deal because he shoved it for eight innings."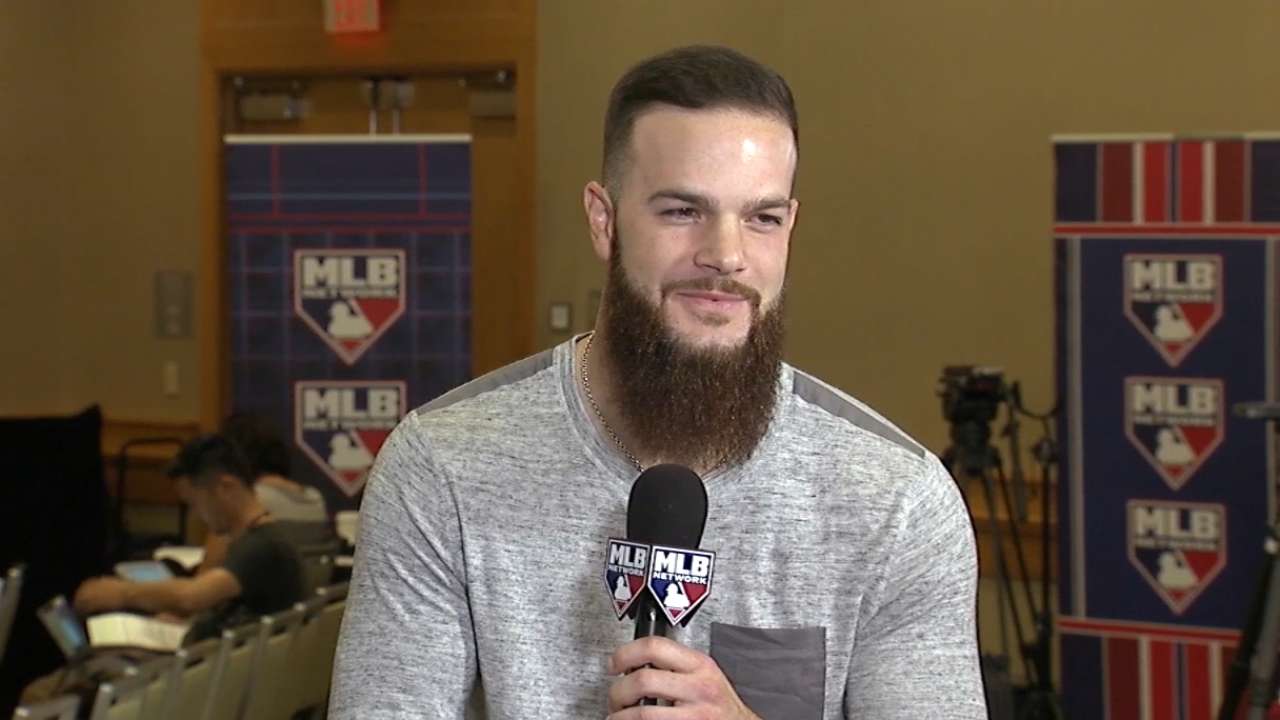 With Archer and Price looking on from the front row of the news conference, Keuchel deferred to his peers and said that he was glad it was not his decision.
"I'm definitely not as seasoned as these guys up here, but I'm extremely excited for the opportunity," Keuchel said. "If it were up to me, Mr. Yost, I would probably pick one of these two fellows up here, but thank you."
Roger Clemens (2004), Mike Scott (1987) and J.R. Richard (1980) are the only other Astros pitchers to start an All-Star Game.
Keuchel is the first Astros pitcher to make the All-Star team since Roy Oswalt in 2007. He's the first Astros lefty to make it since Billy Wagner in '03, and the first Astros left-handed starter to make it since Mike Hampton in 1999.
"It's going to be fun, to say the least," Keuchel said.
During the All-Star Game presented by T-Mobile in Cincinnati tonight, fans can once again visit MLB.com to submit their choice for the Ted Williams Most Valuable Player Award presented by Chevrolet. Voting exclusively at MLB.com, online and via their mobile devices in the 2015 All-Star Game MVP Vote presented by Chevrolet, the fans' collective voice will represent 20 percent of the overall vote that determines the recipient of the Arch Ward Trophy.
MLB.TV Premium subscribers will be able to live stream the All-Star Game via MLB.TV through FOX's participating video providers. Access will be available across more than 400 supported MLB.TV platforms, including the award-winning MLB.com At Bat app.
The 86th Midsummer Classic will be televised nationally by FOX Sports (coverage begins 7 p.m. ET), in Canada by Rogers Sportsnet and RDS, and worldwide by partners in more than 160 countries. ESPN Radio and ESPN Radio Deportes will provide exclusive national radio coverage of the All-Star Game. MLB Network and SiriusXM will also provide comprehensive All-Star Week coverage. For more information, please visit allstargame.com.
Bryan Hoch is a reporter for MLB.com. Follow him on Twitter @bryanhoch, on Facebook and read his MLBlog, Bombers Beat. This story was not subject to the approval of Major League Baseball or its clubs.