Meinken Field final All-Star Week dedication
Browning has fond memories of field, unveiled as part of community legacy program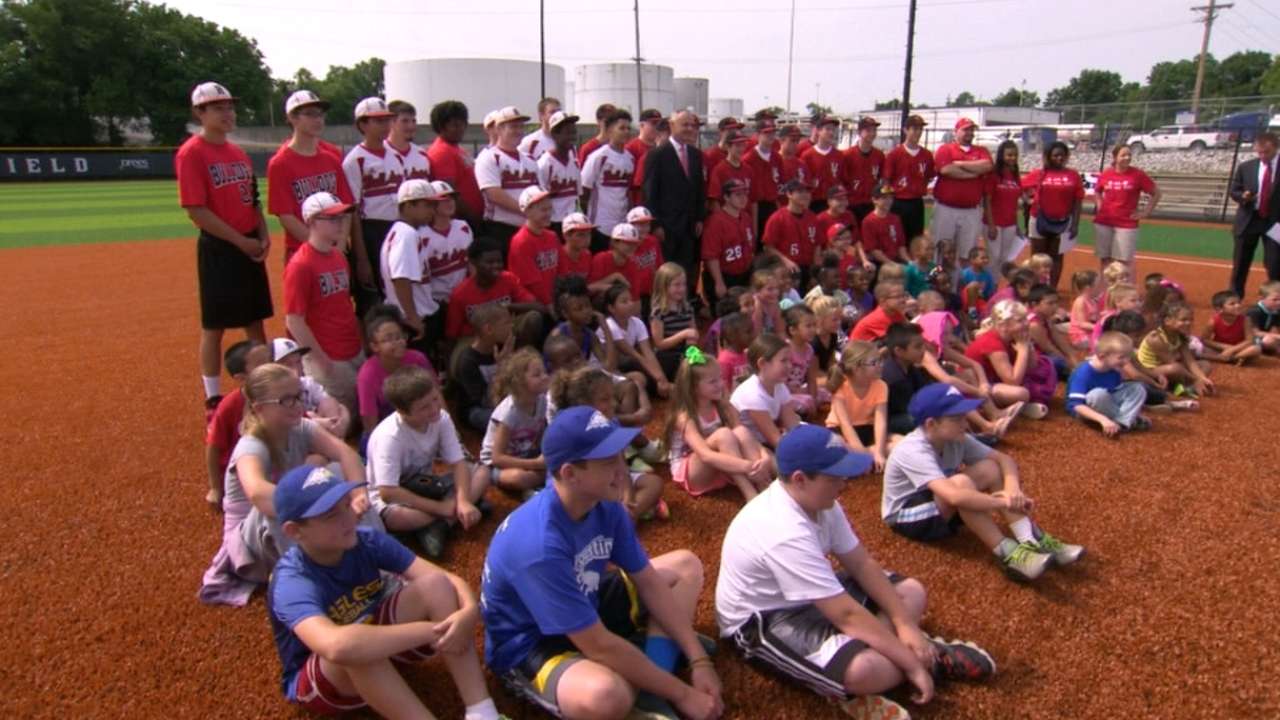 COVINGTON, Ky. -- Major League Baseball and the Reds on Monday unveiled Meinken Field as their ninth and final field dedication as part of the ongoing $8 million All-Star Week community legacy program, and Commissioner Rob Manfred and Reds President and CEO Bob Castellini were among the many dignitaries who attended this event across the river from the All-Star festivities.
Tom Browning was there as well in the familiar No. 32 jersey, like the one he wore as an All-Star left-hander for the Reds. He is remembered for pitching a perfect game in 1988, leading the team to its last World Series championship in 1990, being chosen for the 1991 Midsummer Classic and generally going out there seemingly every turn in the rotation as a workhorse on Cincinnati's staff.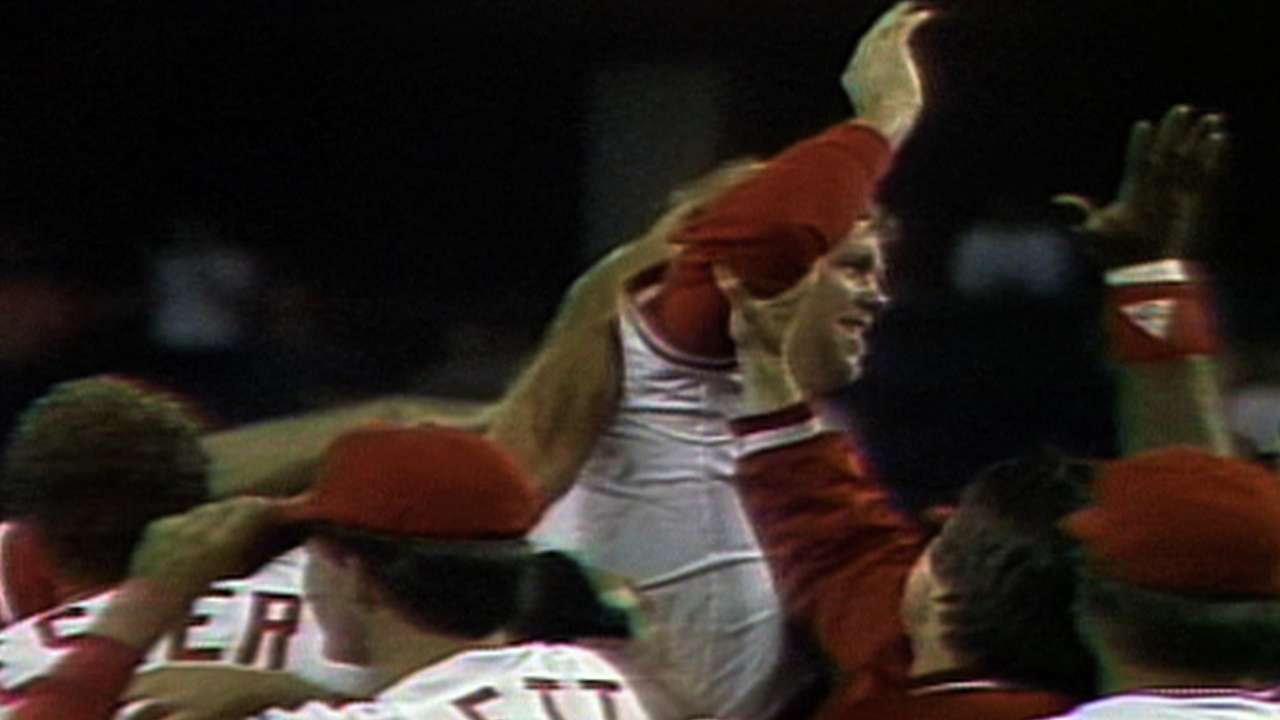 But what most people don't realize is that Browning spent many a Saturday morning right here across the river during his Reds homestands, just being a dad while his three sons -- Tanner, Tucker and Trevor -- would play in youth-league games on the three all-dirt fields back in the 1990s.
"On a Saturday morning, if we had a night game, I was able to come to the games," Browning said. "I've umpired games. In fact, I umpired a game here, and I didn't really have any trouble with the parents then, so that was kind of nice. I spent a lot of time here.
"All of my sons played Knothole Baseball -- Lonneman Plumbing, I can't even remember all the names of the teams. We spent a lot of time at Meinken. We'd go out on Decoursey Pike, all over Kenton County. We spent a lot of time here, all the way up 'til my son played in high school and summer ball as well. It doesn't even look like the same place. They did a wonderful job."
This field is home to numerous teams within the Covington area, including those at Holy Cross High School, Holmes High School and Crosstown Youth Baseball. The modifications to the field included building a full synthetic field, upgrades to an outdated scoreboard, refinished previously dilapidated fencing and netting, new batting cages and dugout and lighting renovations. The City of Covington plays a major role in youth baseball and softball in Northern Kentucky, and as Castellini said, "There may be a river between us, but there is no division among baseball fans."
Other speakers at the event included Covington Mayor Sherry Carran; Alvin Garrison, superintendent of Covington Independent Public Schools; and MLB Director of Umpiring Randy Marsh, who has umpired five World Series and got his start as a Holmes High School player at Meinken.
They showed before-and-after photos that truly captured the magnitude of this particular renovation, which will extend the seasonal playing time for kids.
"I do remember the three fields," Browning said, after hearing Marsh's stories about the old setup. "I remember you couldn't see the left fielder. I remember crossing paths with their center fielder and our right fielder. It's awesome. What they've done here makes it pretty special."
Manfred said that since 1997, MLB has left behind in All-Star markets nearly $70 million worth of projects.
"Meinken was at the top of our list from the very beginning," he said. "It's been a jewel in Covington for more than 50 years. Covington has played an important role in the development of baseball and softball in this area, and Major League Baseball is proud to be part of preserving the great legacy of this facility."
Manfred reiterated his priority in "growing the game through youth outreach," and he said a crucial part of that outreach is "to have facilities like this where kids can play the game." He introduced the significant new Play Ball initiative, created by MLB and USA Baseball, as he is continuing to do virtually everywhere he goes.
"This is really good stuff," Castellini said. "We believe that providing a new baseball and softball home for schools like Holmes and Holy Cross will not only elevate the level of play, but also the pride these students feel for their school, and ultimately for themselves. It's truly fantastic. We look forward to watching the baseball talent that graces this field. It is with great pleasure that we dedicate this 2015 All-Star legacy project on behalf of the Cincinnati Reds."
Browning is still known as "Mr. Perfect" in these parts for throwing the only perfect game in the history of MLB's oldest franchise -- on Sept. 16, 1988, against the same Dodgers team that would go on to win the World Series a month later. He said Monday he has been struck by how much the All-Star Week has grown since he was selected for the National League team back in 1991. That was about the time that FanFest was born, for example.
"I just remember the Home Run Derby was kind of a laid-back thing. It wasn't specialized or wasn't filmed or on TV," Browning said. "It was just a Home Run Derby we had the day before or at workouts or whatever. I just came from downtown, and it's just spectacular what is happening now."
During the All-Star Game presented by T-Mobile in Cincinnati on Tuesday, fans can once again visit MLB.com to submit their choice for the Ted Williams Most Valuable Player Award presented by Chevrolet. Voting exclusively at MLB.com, online and via their mobile devices in the 2015 All-Star Game MVP Vote presented by Chevrolet, the fans' collective voice will represent 20 percent of the overall vote that determines the recipient of the Arch Ward Trophy.
MLB.TV Premium subscribers will be able to live stream the All-Star Game via MLB.TV through FOX's participating video providers. Access will be available across more than 400 supported MLB.TV platforms, including the award-winning MLB.com At Bat app. MLB.com will provide extensive online coverage of the All-Star Week festivities, including the 2015 Gillette Home Run Derby presented by Head & Shoulders, part of Gatorade All-Star Workout Day on Monday. The Derby will feature a new format with brackets and timed rounds and will be broadcast live by ESPN and MLB.com beginning at 8 p.m. ET.
The 86th Midsummer Classic will be televised nationally by FOX Sports (coverage begins 7 p.m. ET), in Canada by Rogers Sportsnet and RDS, and worldwide by partners in more than 160 countries. ESPN Radio and ESPN Radio Deportes will provide exclusive national radio coverage of the All-Star Game. MLB Network and SiriusXM will also provide comprehensive All-Star Week coverage. For more information, please visit allstargame.com.
Mark Newman is enterprise editor of MLB.com. Read and join other baseball fans on his MLB.com community blog. This story was not subject to the approval of Major League Baseball or its clubs.