Goldy, Pollock glad to be sharing ASG stage
After playing together in Double-A All-Star Game, D-backs pair soaking in Midsummer Classic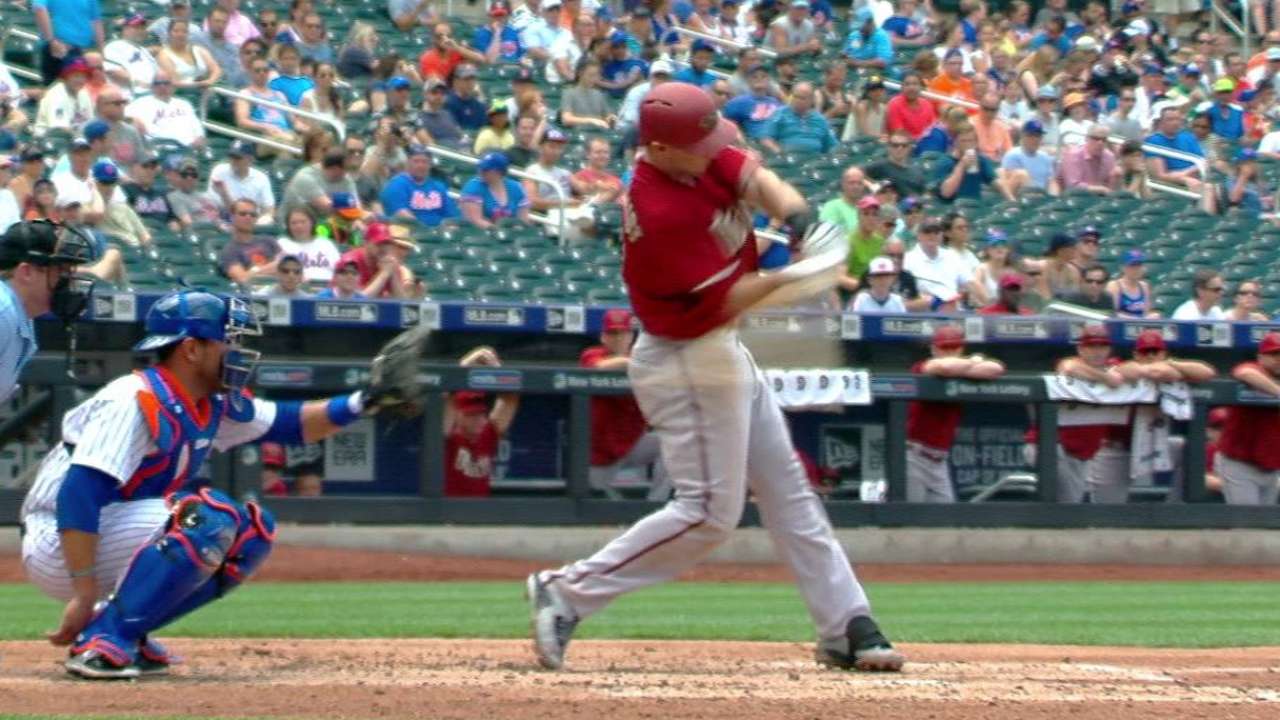 CINCINNATI -- Tuesday night's 2015 All-Star Game presented by T-Mobile at Great American Ball Park won't be the first time Diamondbacks teammates Paul Goldschmidt and A.J. Pollock have taken the field together for an All-Star Game. The duo suited up back in 2011 for the Double-A Southern League All-Star Game, representing the Mobile BayBears. Each notched an RBI that day.
And now, as Yogi Berra might say, it's déjà vu all over again, this time on the big stage.
For Goldschmidt, All-Star Games are old hat; this will be his third go-around. But for teammate Pollock, the entire experience is brand new -- and Goldschmidt was thrilled to share it with him.
In fact, the starting National League first baseman went so far as to assert that he wouldn't have been voted to Cincinnati had it not been for Pollock.
"He definitely deserves it. It's awesome for him, and I'm happy to be here with him," Goldschmidt said. "I wouldn't be here if it weren't for how good he is playing this year. With him hitting first or second and me hitting third, he makes my job way easier."
Pollock, naturally, isn't so sure.
"He's lying!" Pollock laughed. "He would be here, 100 percent. He's a great teammate. I've been with him a long time. I've been playing ball with him since Double-A. He's a good guy to talk baseball with."
Either way, Pollock is glad Goldschmidt is along for the ride beside him.
"[Goldschmidt] and his wife, Amy, were thrilled for me," Pollock said. "I was excited for me, too. To be honest, I was expecting him to be here. I picked his brain a little bit about this whole couple of days here. I know the game, I've watched the game, but I have no idea about the other stuff … the media day, this and that. And he gave me some information. He was wrong about a couple of things."
Pollock said he had a half-hour phone conversation with his wife after telling her the news. They both reflected on the commitment it took to get to this point, and the center fielder knows the sentimental stuff is far from over.
"I will reflect back [on] when I was a kid," Pollock said of what he'll think about as he takes the field Tuesday. "I used to watch the game with my buddies. We used to watch the Home Run Derby, the All-Star Game. It was a cool little ritual that we did. Now I'm playing in one. A couple of my buddies are here or are going to be watching it from home. So it's pretty neat. I'm from a small town, so I know everyone will be watching. It's going to be pretty sentimental."
Although Goldschmidt is an All-Star veteran -- he will be the first Arizona position player to start in two Midsummer Classics -- this one is just as special for him as it is for Pollock. In his third straight All-Star season, Goldschmidt has established himself as a franchise face, an upper-echelon Major Leaguer, and quite possibly the best hitter in the league.
True to character, Goldschmidt remains humble about his stature in the game, and he plans to spend the next two days in Cincinnati soaking it all in.
"The best players in the world are here, and maybe sometimes you can pick something up that will help me or somebody else in the future," Goldschmidt said. "No matter what's happened in the past, I just try to always keep getting better, keep trying to learn. If I'm not out there trying to get better, someone else is -- and they're going to surpass me or my team. Whether it's today or during the season, I just always try to pick up things to help me improve."
One man who ought to know doesn't seem to think Goldschmidt -- or Pollock, for that matter -- needs any improving.
"Both are tremendous talents, for sure," said division rival Madison Bumgarner. "Goldschmidt, from the time he's gotten here, you could say he's the best for first basemen, as far as offense and defense, both sides of it. He's a really special player, the kind that doesn't come around very often. So it's fun to get to watch him, and compete against him.
"A.J. is starting to perform at a really special level, and he's obviously an All-Star. They are two different kind of players, but they are both impactful players."
Evidently, the fans, players and coaches of Major League Baseball agree.
During the All-Star Game presented by T-Mobile in Cincinnati on Tuesday, fans can once again visit MLB.com to submit their choice for the Ted Williams Most Valuable Player Award presented by Chevrolet. Voting exclusively at MLB.com, online and via their mobile devices in the 2015 All-Star Game MVP Vote presented by Chevrolet, the fans' collective voice will represent 20 percent of the overall vote that determines the recipient of the Arch Ward Trophy.
MLB.TV Premium subscribers will be able to live stream the All-Star Game via MLB.TV through FOX's participating video providers. Access will be available across more than 400 supported MLB.TV platforms, including the award-winning MLB.com At Bat app.
The 86th Midsummer Classic will be televised nationally by FOX Sports (coverage begins 7 p.m. ET), in Canada by Rogers Sportsnet and RDS, and worldwide by partners in more than 160 countries. ESPN Radio and ESPN Radio Deportes will provide exclusive national radio coverage of the All-Star Game. MLB Network and SiriusXM will also provide comprehensive All-Star Week coverage. For more information, please visit allstargame.com.
Megan Zahneis is a reporter for MLB.com. This story was not subject to the approval of Major League Baseball or its clubs.