Giants' double-play tandem thrilled to be at first ASG
Panik, Crawford joined by Midsummer Classic veterans Posey, Bumgarner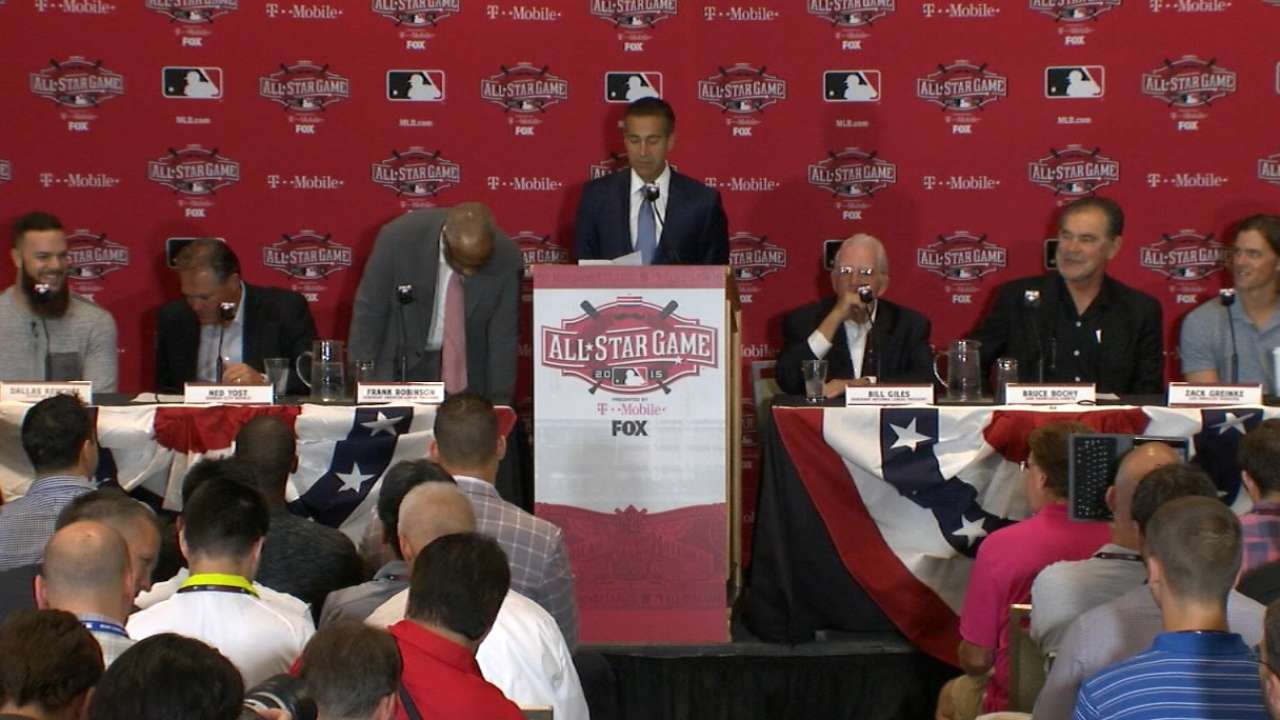 CINCINNATI -- One year ago, Joe Panik's All-Star break was uneventful, given he had been in the big leagues for only three weeks. Not much was known about him, other than that he has the perfect last name to use as a pun in headlines.
Needless to say, Panik's mid-July "rest" this year is a little busier, and his last name invokes thoughts not of a play on words, but of a double play that will go down as one of the best in postseason history.
On the eve of his first All-Star Game presented by T-Mobile, the sure-handed and even-keeled second baseman is soaking it all in.
"It's a busy couple of days, and it's definitely a lot of fun," Panik said. "There's no other place that I'd rather be than here."
Panik, who became more of a household name after his diving stab of an Eric Hosmer ground ball in Game 7 of the World Series stopped the Royals' threat of a big inning, is making his first All-Star appearance. He's joined by his double-play partner, Brandon Crawford, and two more teammates who are All-Star veterans: National League starting catcher Buster Posey and pitcher Madison Bumgarner.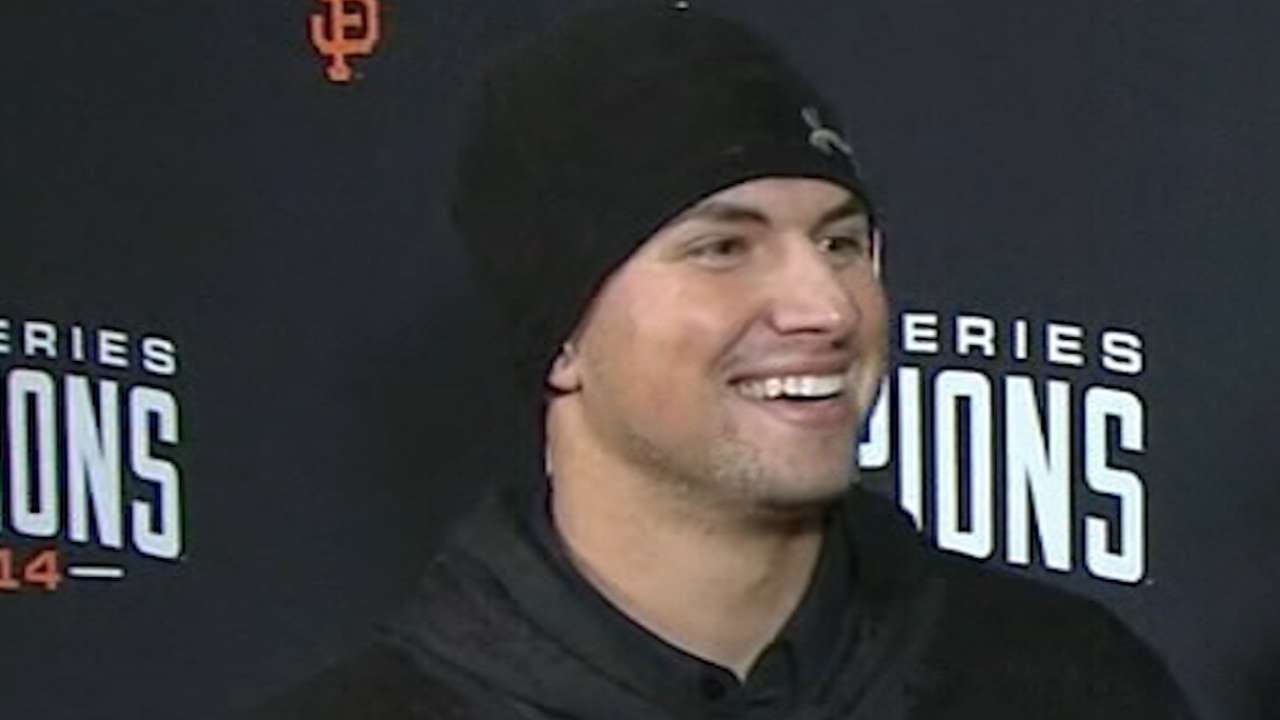 They will be managed, of course, by their Giants skipper, Bruce Bochy.
An abundance of players from one team representing their club in the All-Star Game is usually commensurate with two elements: how they're performing this year and what kind of season they had last year.
In that respect, it's hardly shocking that the Giants, winners of three of the past five World Series and the first team to win a Game 7 on the road since 1979, have four players representing their club on the NL team.
But this one is extra special for Panik and Crawford, first-time All-Stars who have a chance to play in the game together, as they have all year.
"It's awesome," Crawford said. "Hopefully, I'll get in the game with him. To have someone that you're comfortable with up the middle and you've had chemistry with the past year, it'll be awesome to play in the game and maybe turn a double play or two with him. That would be pretty cool."
All-Star players are available to the media the day before the big game in a method that could be described as one-stop shopping. A large room is set up with each player sitting on a small podium, while reporters go station to station for interviews.
Most players had their own individual area, but Crawford and Panik, perhaps fittingly, were placed together. The line of questioning, unsurprisingly, centered mostly on their on-field camaraderie.
"There's a lot of good double-play combinations," Panik said. "But I definitely think Brandon and I have made a lot of strides together. I'm not going to put any rankings on it, but I'm definitely proud to be a part of it."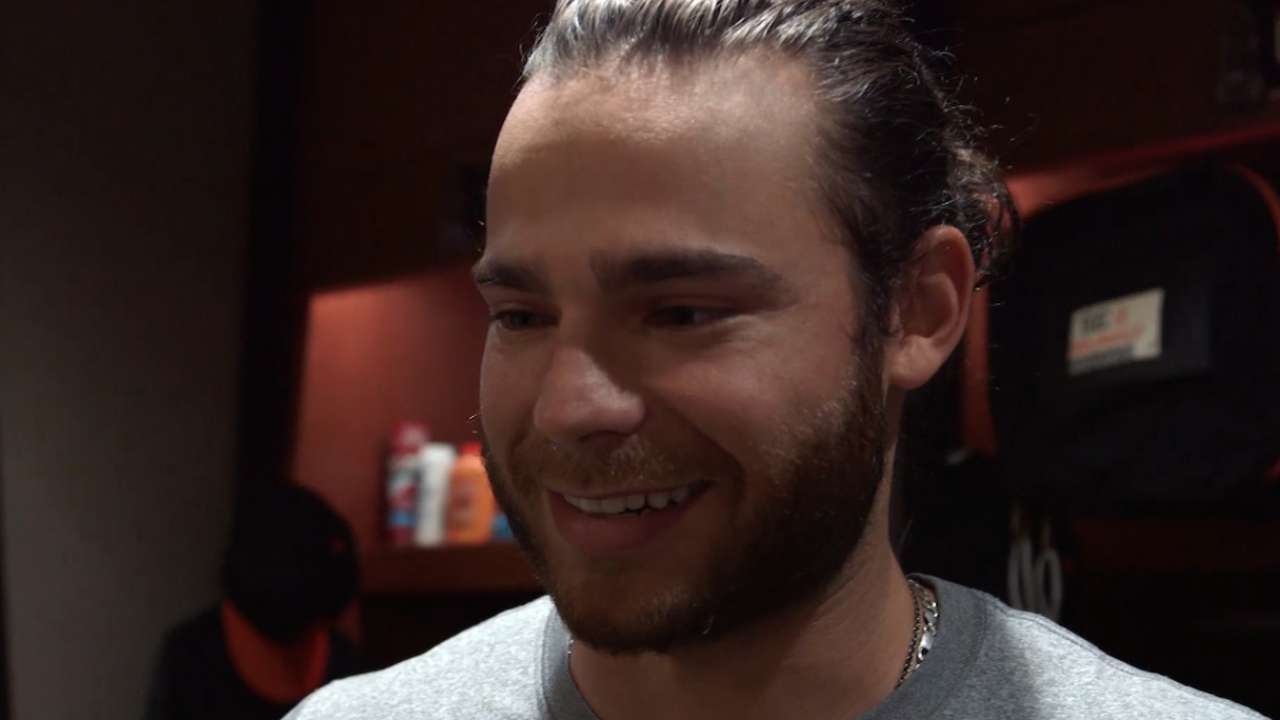 Posey, the elder statesman of the group at the ripe age of 28, offered this simple advice to his first-timer teammates: Enjoy it, because before you know it, it's over.
"Everything moves quickly, and you have to slow down to really enjoy it and appreciate the accomplishments," Posey said. "From my experience, tomorrow night will roll around, and you're heading home or wherever you're going, and you feel like you blinked and it's over. That's the main thing."
During the All-Star Game presented by T-Mobile in Cincinnati on Tuesday, fans can once again visit MLB.com to submit their choice for the Ted Williams Most Valuable Player Award presented by Chevrolet. Voting exclusively at MLB.com, online and via their mobile devices in the 2015 All-Star Game MVP Vote presented by Chevrolet, the fans' collective voice will represent 20 percent of the overall vote that determines the recipient of the Arch Ward Trophy.
MLB.TV Premium subscribers will be able to live stream the All-Star Game via MLB.TV through FOX's participating video providers. Access will be available across more than 400 supported MLB.TV platforms, including the award-winning MLB.com At Bat app.
The 86th Midsummer Classic will be televised nationally by FOX Sports (coverage begins 7 p.m. ET), in Canada by Rogers Sportsnet and RDS, and worldwide by partners in more than 160 countries. ESPN Radio and ESPN Radio Deportes will provide exclusive national radio coverage of the All-Star Game. MLB Network and SiriusXM will also provide comprehensive All-Star Week coverage. For more information, please visit allstargame.com.
Alyson Footer is a national correspondent for MLB.com. Follow her on Twitter @alysonfooter. This story was not subject to the approval of Major League Baseball or its clubs.