Frazier, Chapman relish being hometown Stars
Pair of Reds excited for Midsummer Classic in their home ballpark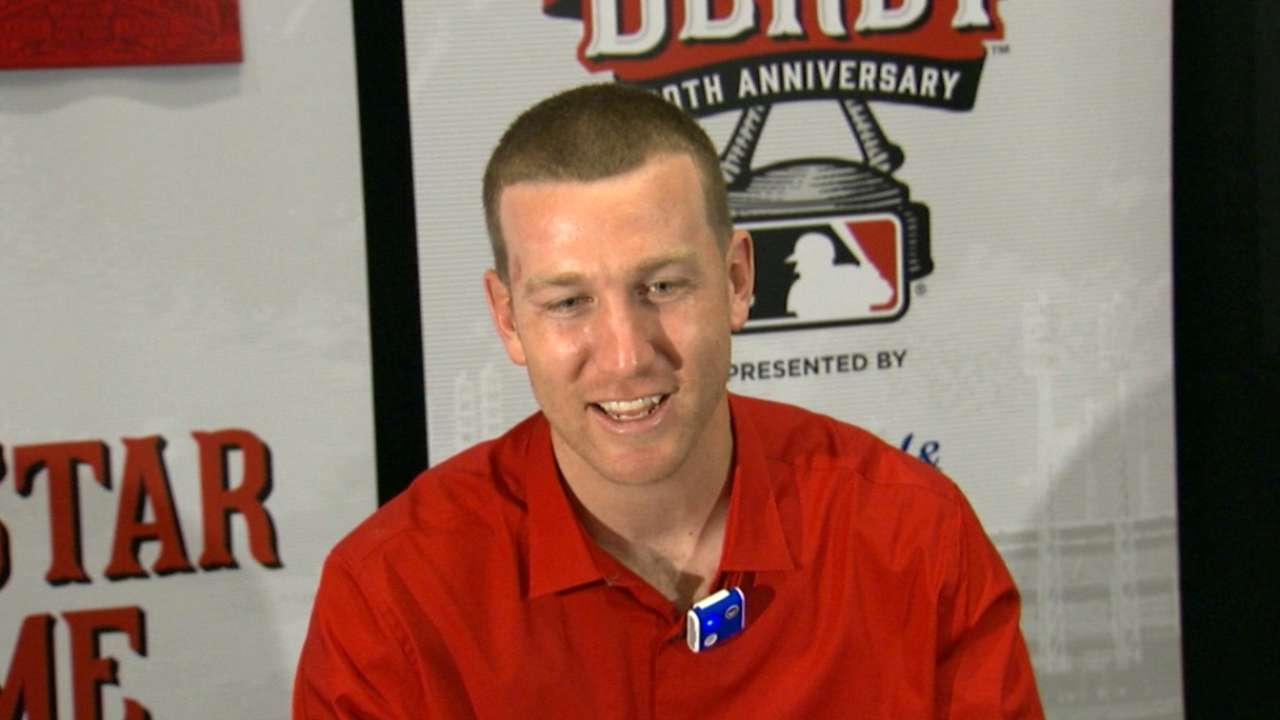 CINCINNATI -- The Reds organization and the city of Cincinnati are clearly enjoying their All-Star moment on center stage, but none more than the two players participating -- Todd Frazier and Aroldis Chapman.
"It's been wonderful. Just talking fans, I must have high-fived a thousand people already. They're ready to go," said Frazier, who is the starting third baseman for the National League squad.
Tuesday's All-Star Game presented by T-Mobile at Great American Ball Park will be a culmination of years of effort to both get and prepare for what is really a week-long mega baseball event.
"It's special because 1988 was the last time the All-Star Game was here. For me, being in my home house is great," Chapman said through translator Tomas Vera.
This is the fifth time that Cincinnati has hosted an All-Star Game. It was held in 1938 and '53 at Crosley Field and in 1970 and '88 at Riverfront Stadium. Now Great American Ball Park, which opened in 2003, gets to have its opportunity to be seen by a worldwide viewing audience.
Reds manager Bryan Price, a coach for the NL All-Star team, walked along both the Ohio and Kentucky sides of the Ohio River with his family on Monday morning, and he was impressed by the buzz around town.
"We saw all the All-Star stuff, the ceramic mustaches, billboards and flags," Price said. "People with Reds stuff, and their All-Star [gear] -- National or American league jersey and hats. The Castellinis and the people of Cincinnati should be very proud of the way they've handled this huge undertaking. The city is alive and it's great to see."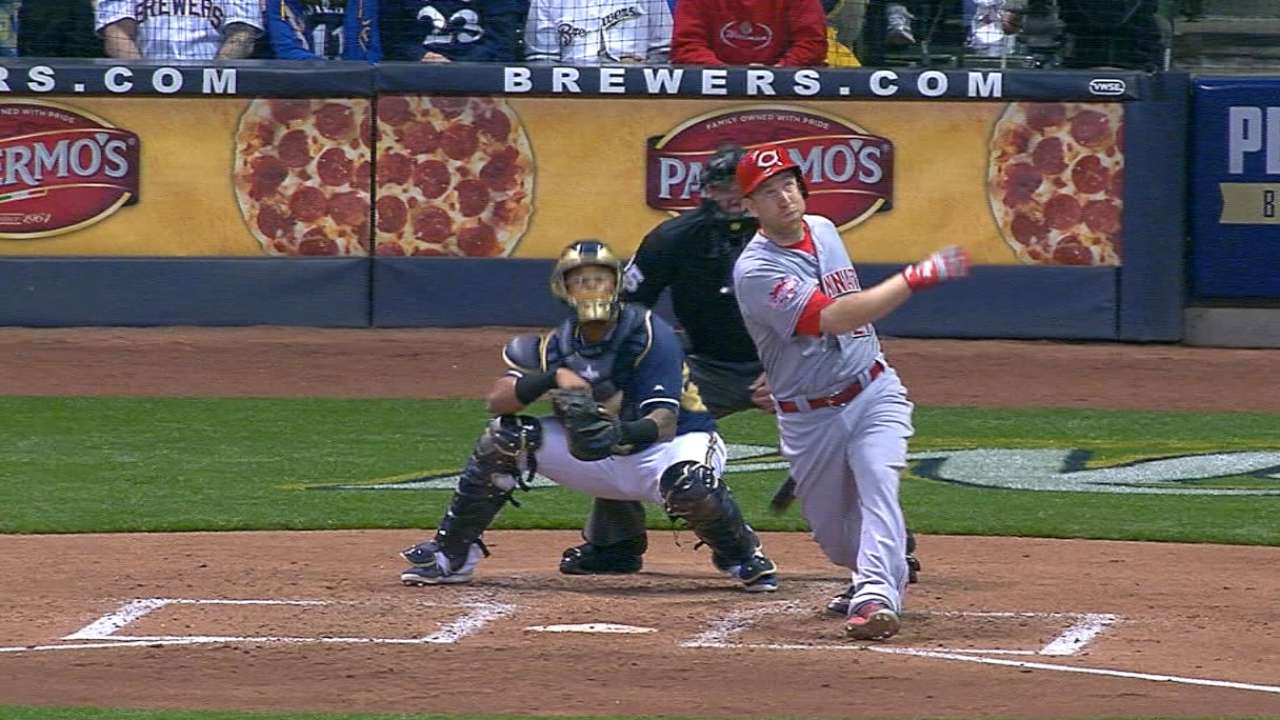 During what's been a trying season for the Reds in the first half, Frazier stood out the most offensively and earned his second straight trip to the Midsummer Classic. He has 25 homers, 57 RBIs and 26 doubles, and Frazier could become the first Reds hitter to belt 50 homers in a season since George Foster hit 52 in 1977.
Frazier's power was on display in front of the adoring hometown fans on Monday night when he topped Dodgers rookie Joc Pederson to win the Gillette Home Run Derby presented by Head & Shoulders.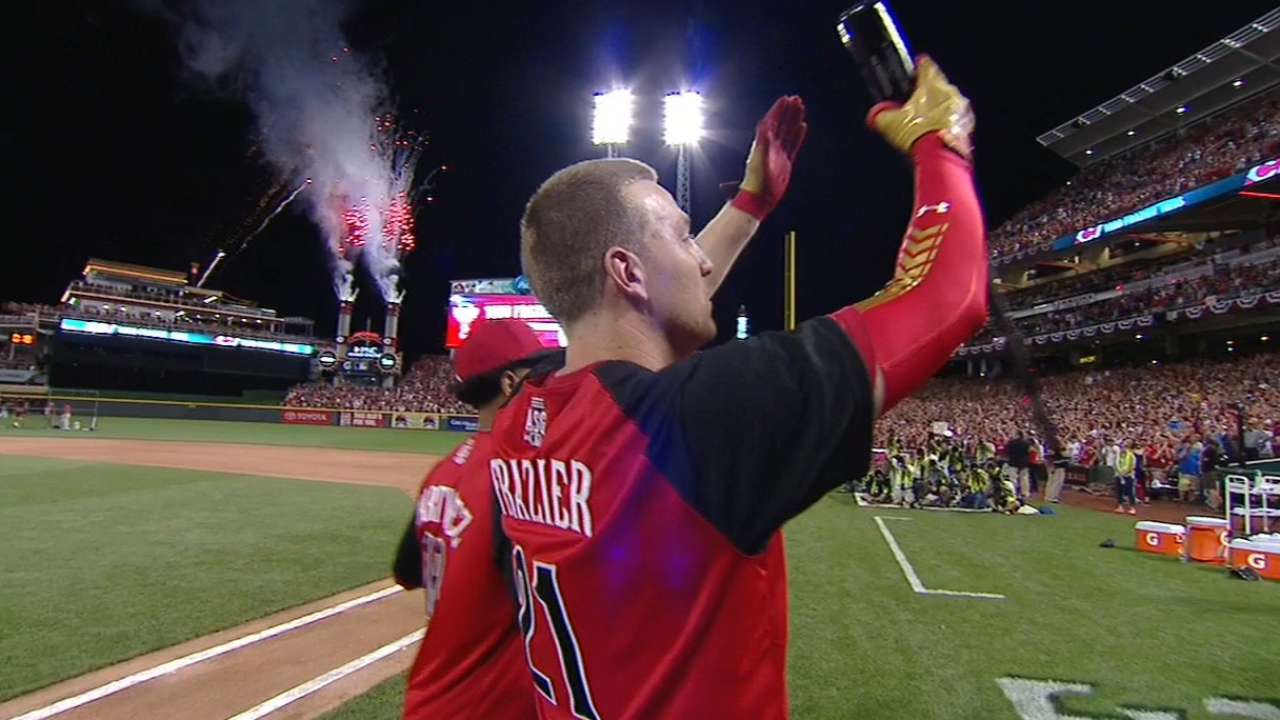 Now a four-time All-Star, Chapman has a 1.69 ERA in 38 games with 18 saves in his 19 save opportunities. True to his track record, the 100 mph-throwing left-hander is racking up strikeouts at a rapid pace with 65 in 37 1/3 innings.
"Frazier and Chapman are our two most deserving players. The two [All-Stars] that we have are spectacular," Price said. "Todd starting at third base is not only a great thing for Cincinnati, but something that he earned as a baseball player, not just as a Red."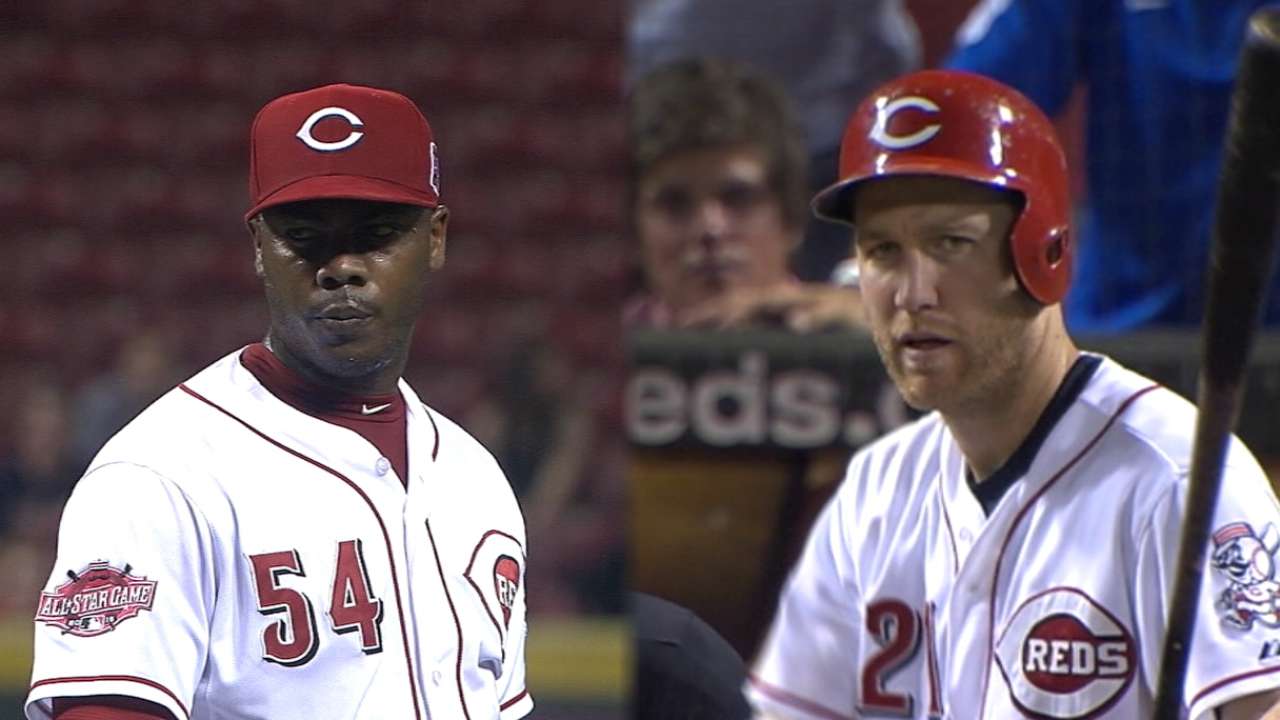 At some point, NL manager Bruce Bochy could electrify the ballpark if he calls on Chapman to enter from the bullpen.
"I think it will be special for Aroldis, individually. I think it will be special for the fans in Cincinnati," Price said. "We're putting one of our best players on display. Should he get into the game, it will be a moment for all of us connected to the Reds because we've seen his development. ... He's a special talent.
"How many pitchers in baseball, in the history of the game, that average 100 mph a pitch? Who does that? Well, he does. That's special. Fans here are going to love it. Hopefully the world stage will get a chance what we get to see a minimum of 45 times a season."
Bochy selected Frazier to bat second in the NL lineup.
"Being in the [NL] West, I don't get a chance to see him every day, but it's nice to have him hitting in the two-hole for us," Bochy said. "He's an incredible talent and a guy that just keeps getting better and better."
When he learned where he was batting on Tuesday, Frazier became excited.
"It's going to be a great day," Frazier said. "It's my home park. I'm going to hit in the first inning and I'm going to be swinging. It's just going to be a good time either way. It's going to be a blast."
During the All-Star Game presented by T-Mobile in Cincinnati on Tuesday, fans can once again visit MLB.com to submit their choice for the Ted Williams Most Valuable Player Award presented by Chevrolet. Voting exclusively at MLB.com, online and via their mobile devices in the 2015 All-Star Game MVP Vote presented by Chevrolet, the fans' collective voice will represent 20 percent of the overall vote that determines the recipient of the Arch Ward Trophy.
MLB.TV Premium subscribers will be able to live stream the All-Star Game via MLB.TV through FOX's participating video providers. Access will be available across more than 400 supported MLB.TV platforms, including the award-winning MLB.com At Bat app.
The 86th Midsummer Classic will be televised nationally by FOX Sports (coverage begins 7 p.m. ET), in Canada by Rogers Sportsnet and RDS, and worldwide by partners in more than 160 countries. ESPN Radio and ESPN Radio Deportes will provide exclusive national radio coverage of the All-Star Game. MLB Network and SiriusXM will also provide comprehensive All-Star Week coverage. For more information, please visit allstargame.com.
Mark Sheldon is a reporter for MLB.com. Read his blog, Mark My Word, follow him on Twitter @m_sheldon and Facebook and listen to his podcast. This story was not subject to the approval of Major League Baseball or its clubs.