Astros' Reed leads Prospect Team of the Week
First baseman blasts three homers, drives in nine in five games
MLBPipeline.com's Prospect Team of the Week honors the best performances from the previous seven days. Any player currently on an organization Top 30 Prospects list on our Prospect Watch is eligible, including big leaguers.
Astros first baseman A.J. Reed's raw power -- which combined with the friendly hitting environments of high Class A Lancaster in particular and the California League as a whole -- has made for some spectacular performances. In his final five games for the JetHawks last week, he batted .632/.696/1.316 with six extra-base hits (including three home runs), 10 runs and nine RBIs, before going 1-for-4 with a double in his Double-A debut on Sunday.
Reed's fireworks earned him a spot on MLBPipeline.com's Prospect Team of the Week for the third time this year, putting him in select company. The only other players to make it as often are Cubs catcher Kyle Schwarber (four times), who might be the best overall hitter in the Minor Leagues, and Astros shortstop Carlos Correa (three), who has become an instant star in the Majors.
Here are the rest of the top performers for the week of July 6-12:
C: Cody Stanley, Cardinals (No. 24 prospect)
7 G, .444/.433/.704, 8 R, 4 2B, 1 HR, 8 RBI, 1 BB, 1 SO
In his first exposure to Triple-A, Stanley sat below the Mendoza Line as recently as July 3, but he has been on fire since then. He had a five-hit game on July 5 and four multihit games last week to improve his overall numbers to .256/.328/.350. Twelve of his 27 RBIs this season have come in his past eight contests.
1B: A.J. Reed, Astros (No. 11 prospect)
5 G, .565/.630/1.174, 11 R, 3 2B, 1 3B, 3 HR, 9 RBI, 4 BB, 4 SO
Reed departed for Double-A leading the Cal League in hitting (.346), on-base percentage (.449), slugging (.638), runs (75), homers (23), RBI (81), total bases (203) and walks (59). He tops the entire Minors in OBP, slugging, RBI and total bases.
2B: Robert Refsnyder, Yankees (No. 5 prospect)
6 G, .409/.480/.864, 3 R, 1 2B, 3 HR, 5 RBI, 3 BB, 1 SO
Refsnyder hit .290/.387/.413 with seven homers and 10 steals in 81 Triple-A games before earning his first big league promotion on Saturday. The 2012 College World Series MVP went 0-for-3 in his first game with the Yankees, then collected two hits (including a homer off Alexi Ogando) on Sunday.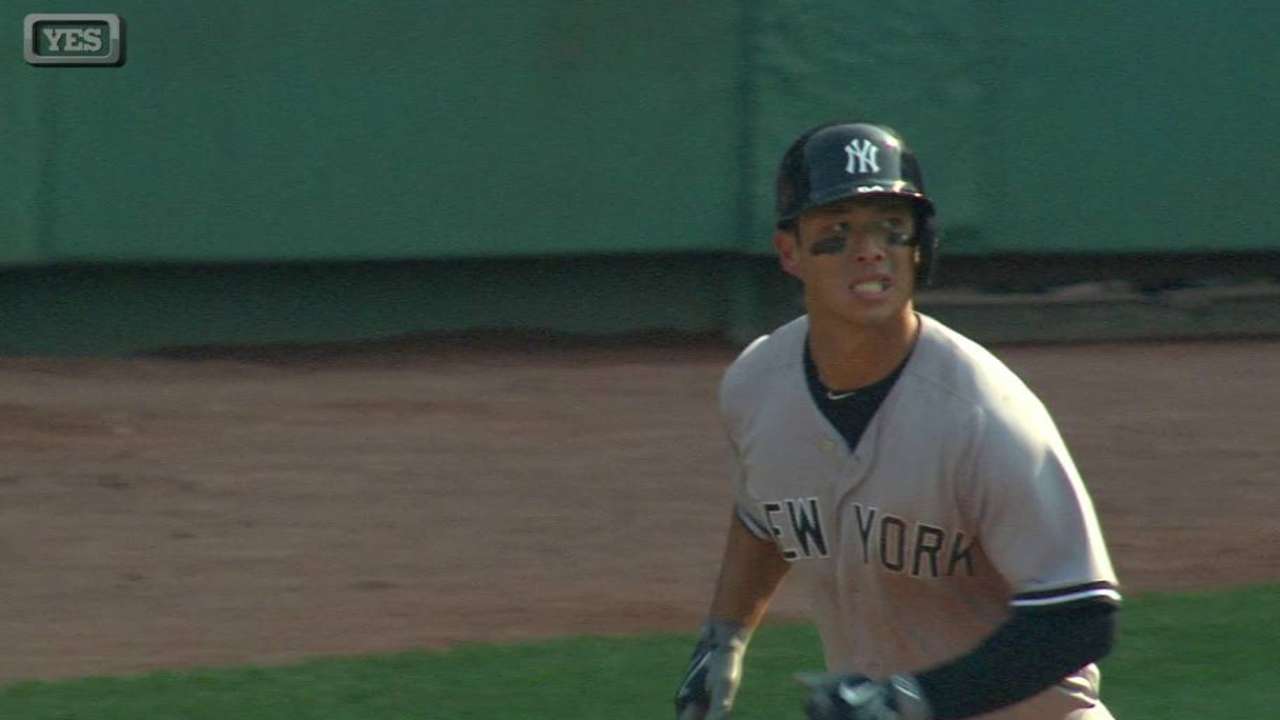 3B: Miguel Sano, Twins (No. 2 prospect)
7 G, .364/.517/.727, 3 R, 2 2B, 2 HR, 6 RBI, 7 BB, 10 SO
After missing all of 2014 recovering from Tommy John surgery, Sano forced his way to Minnesota by batting .274/.374/.544 with 15 homers in 66 Double-A games. He has posted even better numbers with the Twins, hitting safely in 10 of his 11 contests and bashing homers last week off of Kevin Gausman and Shane Greene.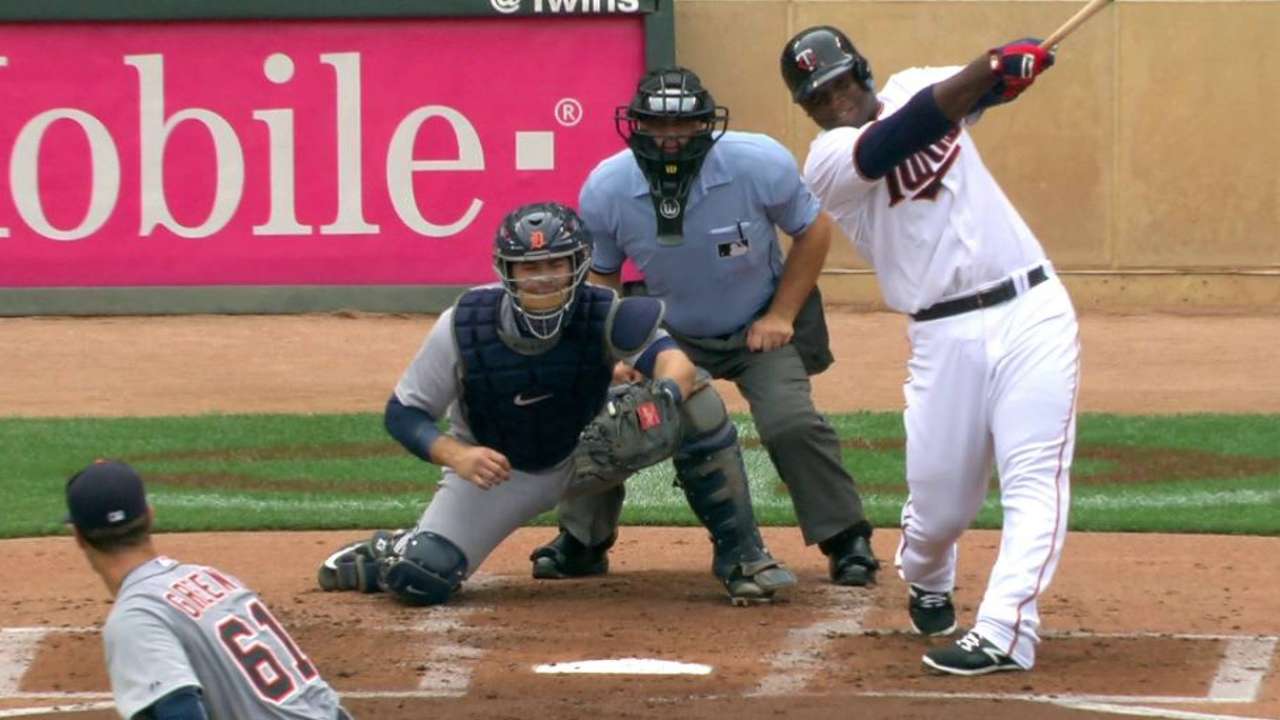 SS: Javier Guerra, Red Sox (No. 14 prospect)
6 G, .520/.536/.880, 6 R, 3 HR, 7 RBI, 2 BB, 5 SO
Known primarily for his glove before this season, Guerra has continued to provide slick defense while producing more than expected at the plate. He hit just two homers and slugged .348 in his first two years as a pro, yet he went deep twice on Sunday alone and is hitting .298/.349/.504 with 11 long balls in 70 games at low Class A Greenville. Guerra surprisingly ranks second in the South Atlantic League in slugging and third in homers.
OF: Mitch Haniger, D-backs (No. 22 prospect)
7 G, .379/.441/.931, 7 R, 5 2B, 1 3B, 3 HR, 8 RBI, 4 BB, 5 SO
Arizona had an outfield logjam at Double-A Mobile, so it sent Haniger down to high Class A Visalia in late June. He earned PTOW honors in his first week in the California and did so again in his third. Haniger had at least one extra-base hit in each of his seven games, including a two-homer game on Friday, and is batting .370/.420/.808 with six homers in 17 games with the Rawhide.
OF: Stephen Piscotty, Cardinals (No. 1 prospect)
6 G, .450/.542/.750, 6 R, 3 2B, 1 HR, 4 RBI, 4 BB, 4 SO
Easily the best position prospect in St. Louis' system, Piscotty draws positive reviews from scouts for his pure hitting ability, but they have questions about his power. He's answering some of them this year, boosting his slugging percentage from .406 to .479 in his second year in Triple-A. Piscotty is batting .275 with an .847 OPS, and his 11 homers already give him more than the nine he hit in his entire 2014 season.
OF: Raimel Tapia, Rockies (No. 6 prospect)
5 G, .550/.560/.800, 7 R, 1 3B, 1 HR, 5 RBI, 3 BB, 2 SO, 3 SB
It's not reflected in the stats above, but Tapia also had two hits in Sunday's SiriusXM All-Star Futures Game. He went a perfect 7-for-7 in his final two games before trekking to Cincinnati, and he's now hitting .326/.352/.483 with eight homers in 82 games at high Class A Modesto. Tapia tops the California League with 114 hits and ranks second behind Reed with a .326 batting average.
LHP: Cody Reed, D-backs (No. 17 prospect)
2-0, 0.00 ERA, 2 GS, 12 IP, 6 H, 0 R, 0 ER, 4 BB, 18 SO, 0.833 WHIP
No Minor League pitcher had more strikeouts last week than Reed, who fanned 10 in six shutout innings on Monday and then eight in six more scoreless frames on Saturday. A second-round pick from an Alabama high school in 2014, Reed is 3-1 with a 1.65 ERA in five starts to go with a .173 opponent average and 33/8 K/BB ratio in 27 1/3 innings.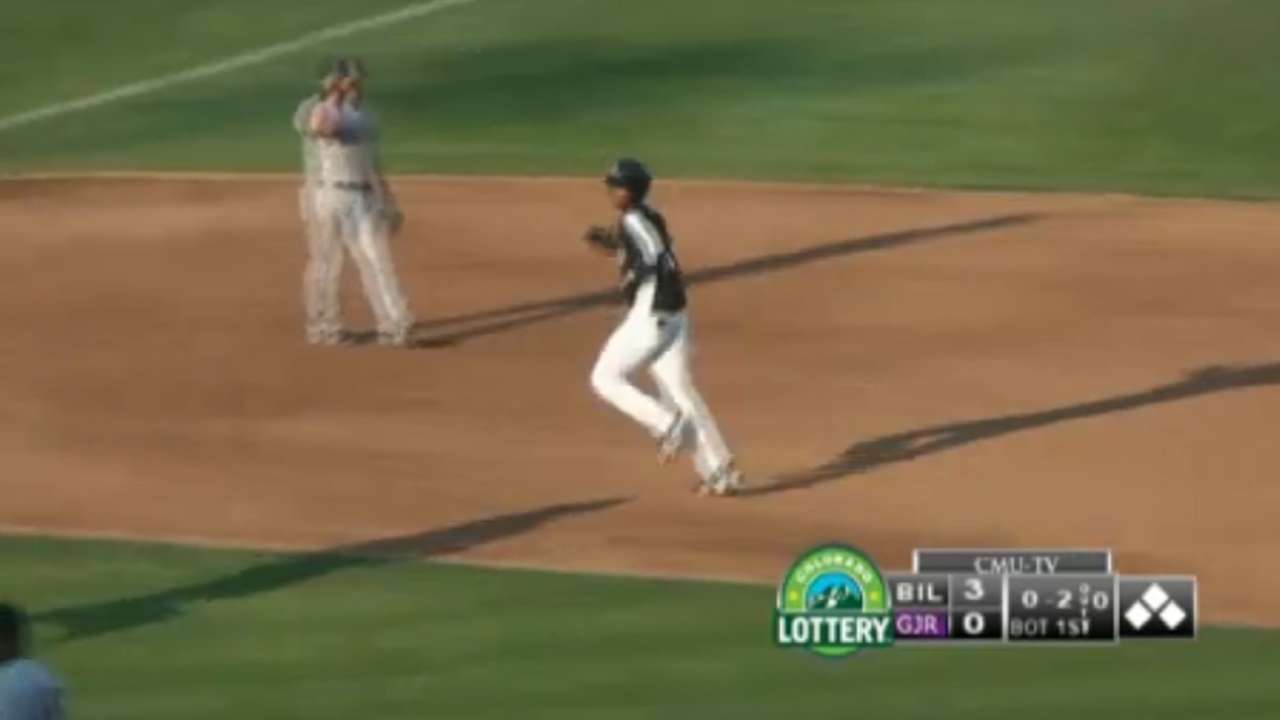 RHP: Tyler Glasnow, Pirates (No. 1 prospect)
1-0, 0.00 ERA, 1 GS, 6 IP, 1 H, 0 R, 0 ER, 0 BB, 7 SO, 0.167 WHIP
Glasnow is as unhittable as any Minor League pitcher when he's at his best, and he was at his best on Friday. He had a nearly identical performance on May 1, then sprained his ankle in his next start and pitched just once in the following six weeks. In nine starts for Double-A Altoona, Glasnow has gone 3-2 with a 2.45 ERA, .184 opponent average and 51/13 K/BB ratio in 44 innings, and he could help the Pirates in the near future.
Jim Callis is a reporter for MLB.com and writes a blog, Callis' Corner. Follow @jimcallisMLB on Twitter. This story was not subject to the approval of Major League Baseball or its clubs.