Workload catches up to Rosenthal in loss
All-Star closer blows first save since May 3 as Bucs walk off in 10th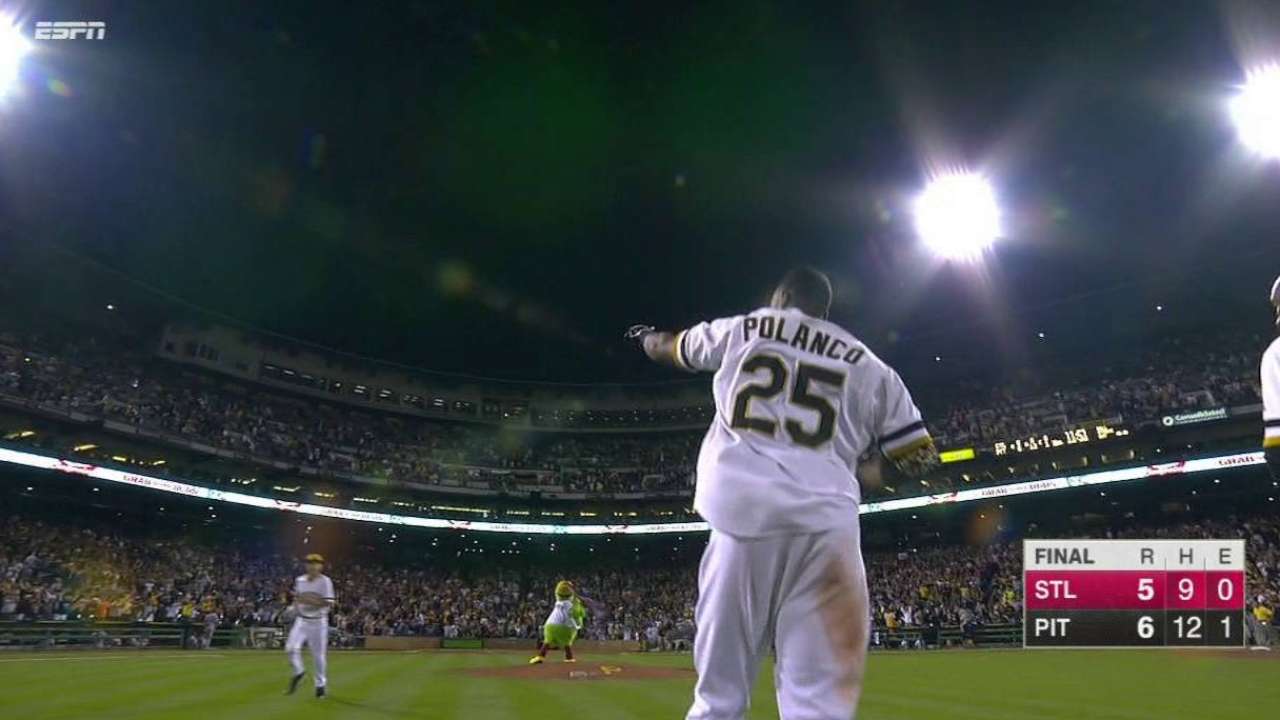 PITTSBURGH -- Two days before the 2015 All-Star Game, National League selection and Cardinals closer Trevor Rosenthal was staring at yet another save opportunity. As reliable as they come, Rosenthal had 18 consecutive saves in as many opportunities entering Sunday night, and he had a chance to go to Cincinnati with 19.
Instead, Rosenthal, heavily utilized of late, let a two-run lead slip in the bottom of the 10th, allowing the Pirates to walk off two nights in a row with a 6-5 win at PNC Park.
Cardinals manager Mike Matheny defended his go-to reliever, who hadn't blown a save since May 3. The 25-year-old tossed 27 pitches Saturday night, and 60 in the five days leading up to Sunday.
His last pitch -- a 97 mph fastball that Pirates outfielder Gregory Polanco drove to right field for the game-winner -- was his 29th pitch of the inning.
"That was Trevor coming at them with the best stuff he had tonight," Matheny said. "That stuff isn't the same when you keep working that hard."
Rosenthal faced eight hitters and forced two outs within the first three at-bats. But after the closer yielded an RBI single to Starling Marte then a base knock to Jung Ho Kang three pitches later, Matheny came out to the mound.
He didn't really go over any scouting reports on upcoming hitter Francisco Cervelli. Matheny just wanted to get his players in the "right frame of mind."
"That's more of a visit to slow things down," Matheny noted.
But the intensity at PNC Park only elevated, and eventually peaked, as Rosenthal surrendered an RBI single to Cervelli and, later, the walk-off to Polanco.
As the closer walked off the field, the Pirates stormed from their dugout to celebrate.
Even still, Matheny holds Rosenthal in high regard.
"This is a guy ... we want on the mound in that situation. We worked him hard," the manager said. "It's a tall order."
Turning 18 consecutive saves into 19 would have been preferred. Instead, Rosenthal will have four days to let that inning digest before the Cardinals resume play Friday.
Then he'll start the second half with a clean slate.
John McGonigal is an associate reporter for MLB.com. This story was not subject to the approval of Major League Baseball or its clubs.