Polanco caps Bucs' 'crazy' series with winner
Pirates beat Cards in extras for second straight night, close in on Central lead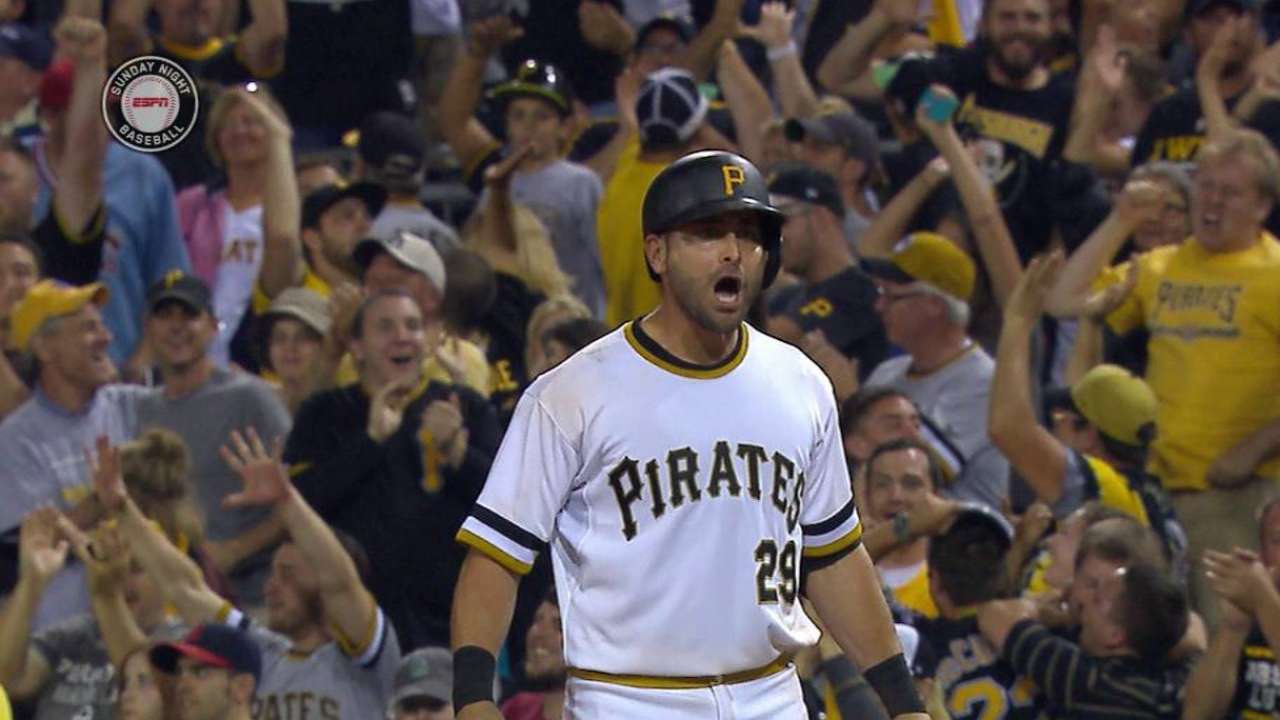 PITTSBURGH -- For the last few weeks, Pirates manager Clint Hurdle has preached a new mantra: "So what? Now what?" It's become a catchphrase and a mission statement.
There is no better representation of Hurdle's words than what unfolded at PNC Park this weekend. The Pirates trailed twice in extra innings Saturday and rallied back to win. On Sunday night, they fought back -- again -- to win, 6-5.
A night after battling back in the 10th and again to win in the 14th on Andrew McCutchen's walk-off homer, the Pirates were down by two in the 10th inning with All-Star closer Trevor Rosenthal on the mound.
"So what? Now what?"
With two outs, four straight hitters got on base to set up Gregory Polanco's walk-off single to right field, finishing off a wild four-game series with the Cardinals and setting off another raucous celebration on the field and in the stands at PNC Park.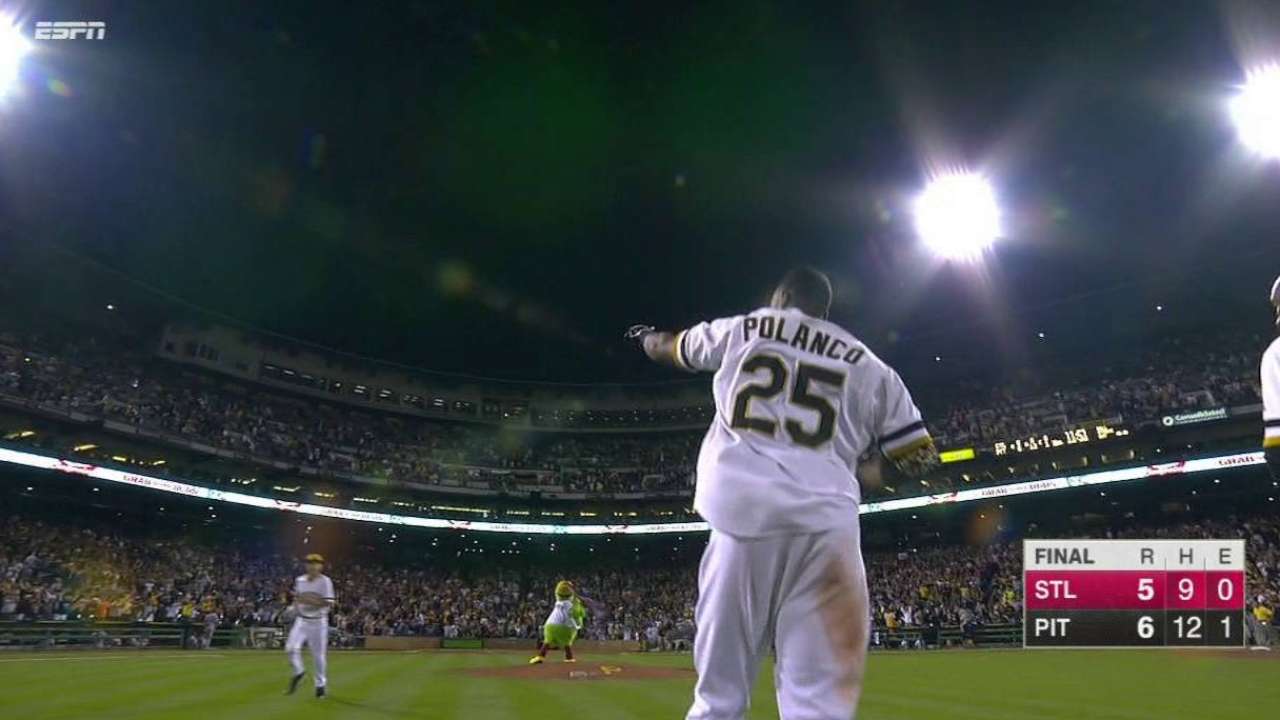 "We got the feeling that we can come back," catcher Francisco Cervelli said. "This series has been crazy, man. Four games like playoff games."
Pittsburgh saw two of them in less than 24 hours, both televised to a national audience. By the time the All-Star break began, the Pirates had cut the Cardinals' National League Central lead to just 2 1/2 games.
"If people didn't think we were for real," shortstop Jordy Mercer said, "I would think they are now."
This time, Polanco got the credit -- but he was not alone. Rosenthal retired the Pirates' two hottest hitters, Neil Walker and McCutchen.
Starling Marte singled to right, driving in Mercer. Jung Ho Kang singled. Cervelli tied it up. Travis Ishikawa walked to load the bases.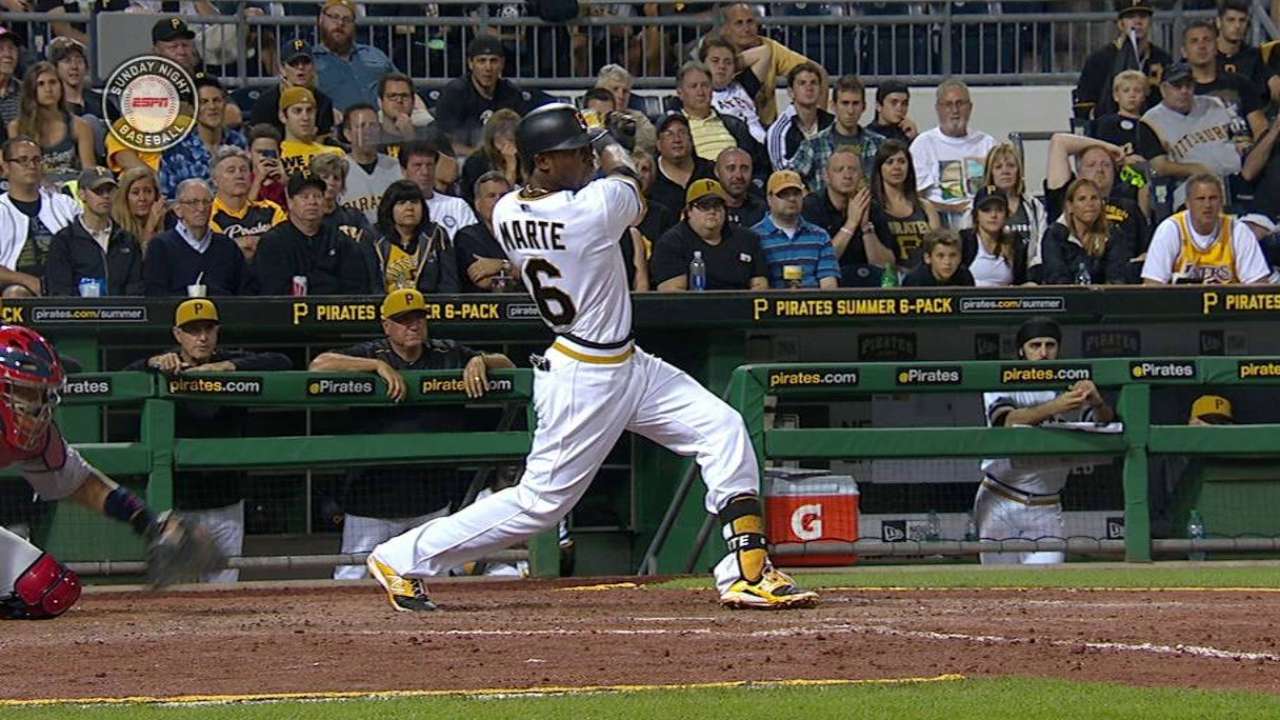 Up came Polanco, still looking to turn his immense potential into consistent production. The Pirates have stood by him through slumps and struggles, shooting down the idea of sending him back to Triple-A for further refinement.
The lanky left-hander rewarded their faith Sunday, lining the first pitch he saw into right field for his first career walk-off hit. He couldn't find the words to explain what it felt like to be the center of Sunday's celebration, but his wide smile said enough.
"It means a lot, and I'm very excited for that," Polanco said. "I was so excited."
It wasn't long ago the Pirates trailed the Cardinals by nine games. No matter what they did, they couldn't gain any ground. After taking three of four from the Cardinals, they finally have.
But since Spring Training, they have said another Wild Card finish wouldn't be enough. "So what? Now what?"
"That's what it's all about," McCutchen said. "That's what we have to do. We got three of four from the Cardinals, and it's great, but we've still got more work to do."
Adam Berry is a reporter for MLB.com. Follow him on Twitter at @adamdberry. This story was not subject to the approval of Major League Baseball or its clubs.