Tough 6th inning extends Braves' struggles
Wood fans six over 5 2/3 innings, but allows career-high 7 earned runs vs. Rox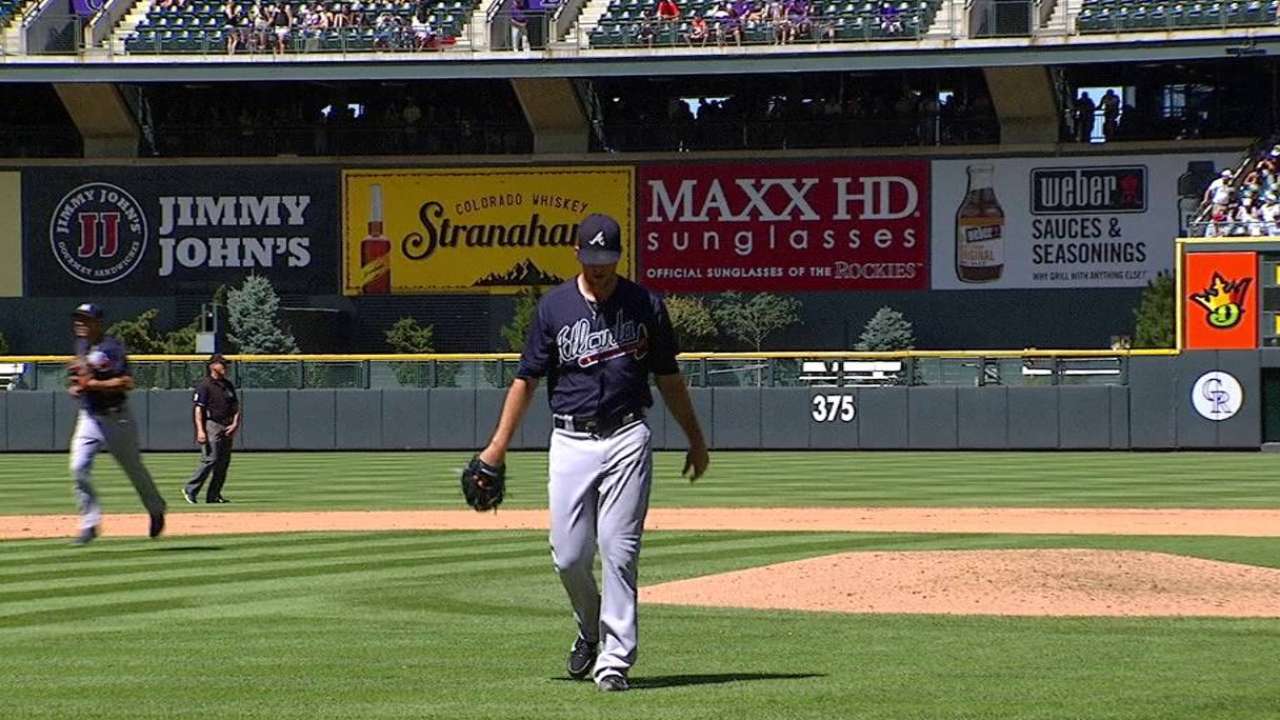 DENVER -- With his thin, inexperienced bullpen further thinned by the season-ending injury Jason Grilli suffered on Saturday, Braves manager Fredi Gonzalez opted to give Alex Wood a chance to continue pitching instead of bringing in a reliever to stop a prime scoring threat during the sixth inning of Sunday's 11-3 loss to the Rockies at Coors Field.
Unfortunately for Gonzalez, this decision backfired and added to the frustration the Braves felt while losing each of their final five games before the All-Star break. It's safe to say the mood of the team has drastically changed since it entered Wednesday with a .500 record and then began this losing streak by blowing an eighth-inning lead to the Brewers.
"I guess disappointing is the right word," Braves catcher A.J. Pierzynski said. "I don't know what the right word is. But to have a chance and have something goes wrong. That's the way it goes sometimes. You've just got to keep fighting and keep doing it the right way. We've been doing that all year, and we're not going to stop now."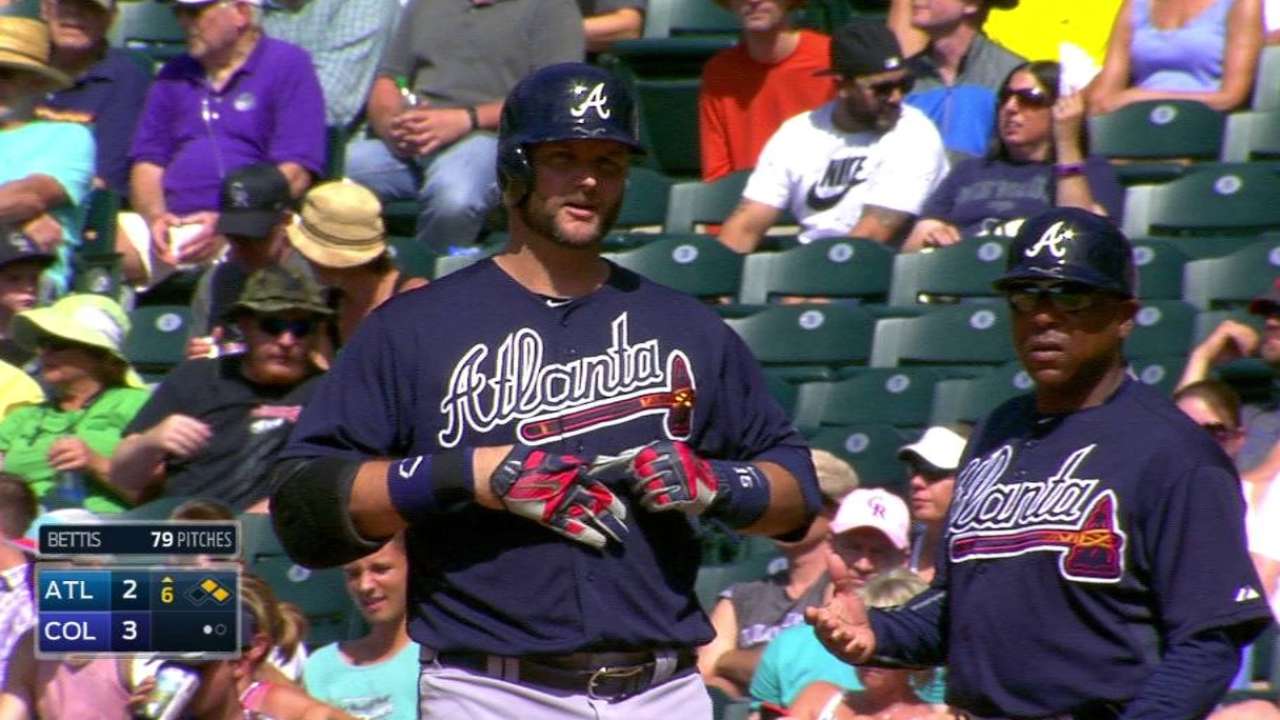 Even before the Rockies completed their first-ever four-game sweep of the Braves, Gonzalez referred to Coors Field as "The House of Horrors." This description proved fitting yet again this week. Wood threw two pitches before a two-hour, six-minute rain delay forced him to exit Thursday's scheduled start. All-Star starter Shelby Miller experienced an rough start on Friday night and of course Grilli's injury highlighted an overall tough weekend.
But at the end of the day, the Braves also scored in just five of the 36 innings they batted at this offensive haven this week. A little more offensive production could have covered up some of the pitching woes that were extended on Sunday, when Wood surrendered a career-high seven earned runs and 10 hits over 5 2/3 innings.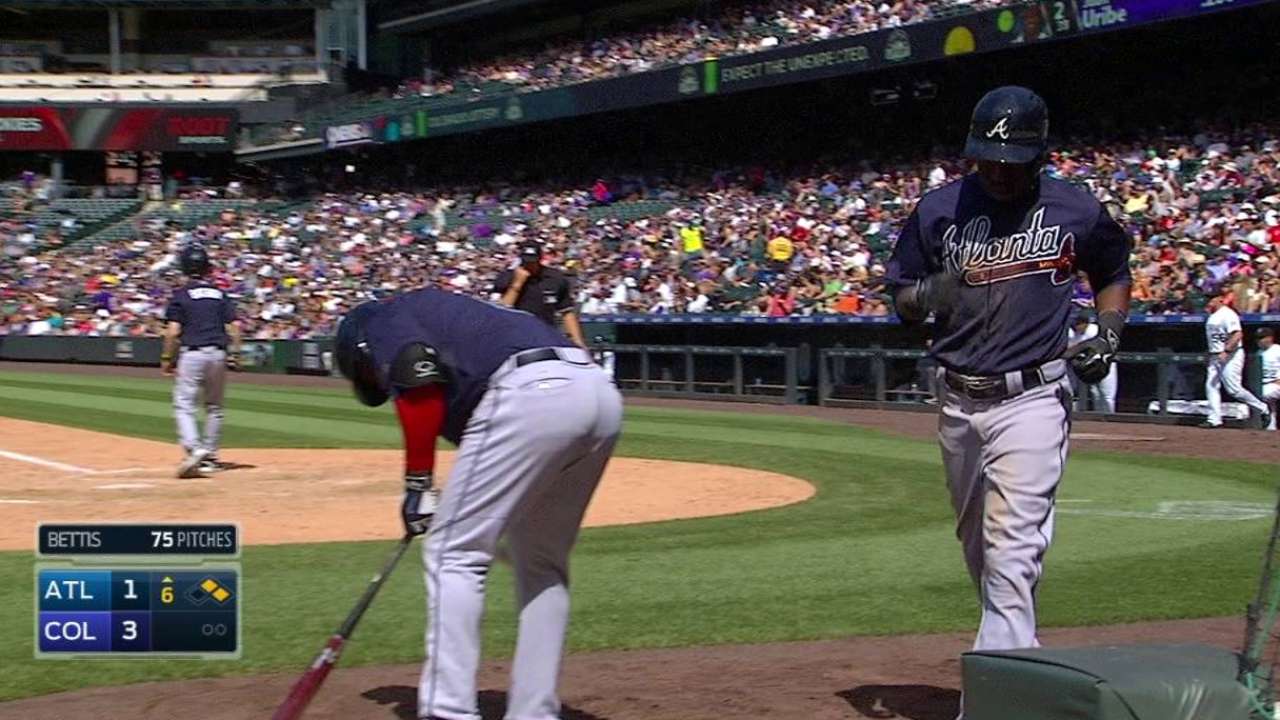 "You never want to lose, and especially lose those last couple games going into the break," Wood said. "But from the standpoint of how I threw, I felt it definitely wasn't as bad as the way it ended up looking."
Take away a couple of pitches thrown to Charlie Blackmon, and things definitely could have ended differently. After surrendering four hits, including Blackmon's two-out, two-run single in the second inning, Wood limited the Rockies to two hits over the next three innings.
Thus, after the Braves tied the game by tallying three runs with just one out in the sixth, Gonzalez opted to allow Wood to bat with the bases loaded. It might have been unconventional wisdom, but the alternative was having to cover four innings with a bullpen that included closer Jim Johnson, Luis Avilan and five other relievers, none of whom had been in Atlanta's bullpen more than a month.
"We just wanted to give Woody a chance to get us deeper into the ballgame and maybe bypass some of those bullpen guys," Gonzalez said.
Unfortunately, Wood struck out and Jace Peterson, who has hit just .151 over his past 18 games, ended the threat with a groundout.
Gonzalez's hope for Wood to get through the bottom of the sixth ended when Blackmon hit another two-out single that accounted for two of the five runs the Rockies tallied in the decisive frame.
"I hate to pinpoint one pitch over an entire game that included nine innings and a couple hundred pitches, but that pitch right there, if we get an out there, it's a different ballgame," Gonzalez said.
Mark Bowman is a reporter for MLB.com. Listen to his podcast. This story was not subject to the approval of Major League Baseball or its clubs.