Counsell eager for second half to begin
Manager encouraged by Brewers' play last half-dozen series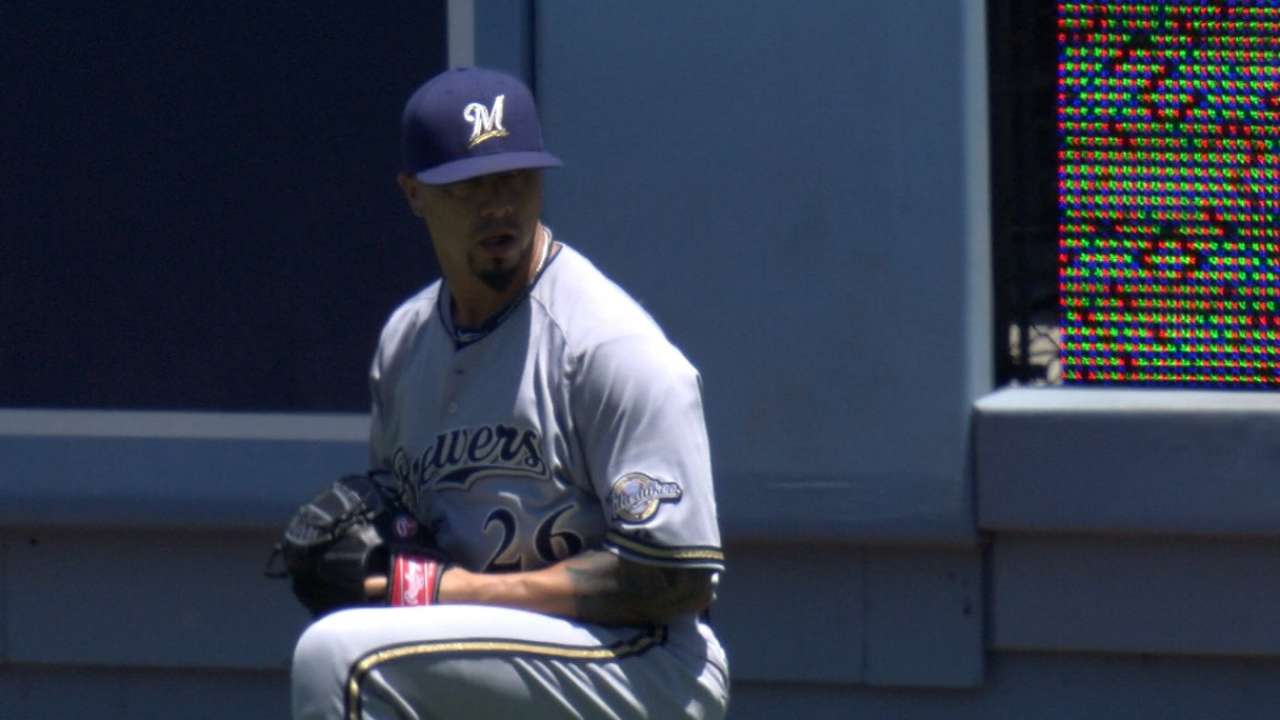 LOS ANGELES -- A rare mistake from a member of the Brewers' reliable bullpen produced a 4-3 loss to the Dodgers on Sunday, tying a bow on a particularly trying first half that included a managerial change, struggles at the top of the pitching rotation and a spate of injuries that touched every corner of the roster. The Brewers went into their four-day break with a 38-52 record, a pace for 68-94 over a 162-game season.
Yet beyond that win-loss record, manager Craig Counsell saw some things to like.
"This is the sixth series, I think, going back to the Mets series, it's a pretty good stretch that we've played solid baseball," Counsell said. "It's over a little bit longer stretch, which is encouraging. That's what you're happy about. And it's coincided with health. I think we've been able to put out a little more regular lineup, the same guys out there, because they're healthy."
Among the issues still to be solved in the second half are the ongoing struggles of veteran starters Matt Garza and Kyle Lohse, who finished the first half with ERAs of 5.55 and 6.17, respectively. Lohse allowed two Dodgers runs in five innings on Sunday and was in line to win before Dodgers All-Star Adrian Gonzalez hit a misplaced Will Smith slider for a go-ahead home run in the eighth inning.
Lohse has surrendered at least one home run in 16 of his 19 starts this season, including Sunday, when A.J. Ellis hit a solo shot in the fifth inning to cut the Dodgers' deficit to 3-2. Lohse's ERA at the All-Star break is the third-highest in Brewers history for a pitcher who made at least 15 starts. Only Glendon Rusch (7.90 ERA before the 2003 All-Star Game) and Jim Abbott (6.84 in 1999) fared poorer.
Sunday, though, marked another small step forward, in Counsell's estimation. Lohse scattered four hits, struck out six and did not walk a batter.
"I thought Kyle did a great job. He keeps going on a normal day," Counsell said. "But with the break coming and having a rested bullpen and guys who have been pitching really well, I went to them. It's something for him to build on, for sure."
Lohse had already departed for the All-Star break when the Brewers clubhouse opened after the game. While Ryan Braun and Francisco Rodriguez headed to Cincinnati for the Midsummer Classic, Lohse, Counsell and the rest of the Brewers were due a four-day break.
"I'm in the same boat as everybody," Counsell said. "When we have a day off, it feels like a long time right now, so four days off will feel like an eternity. You start missing it right away. On Tuesday, I'm sure I'll be missing it.
"It's a mental unplug, as much as anything, for everybody. That's what you use it for. In baseball there are bumps and bruises that everyone feels, but more than anything, it's the everyday mental grind of this game that probably affects guys more than anything. Just to unplug from that a little bit is a very helpful thing."
Adam McCalvy is a reporter for MLB.com. Follow him on Twitter @AdamMcCalvy, like him on Facebook and listen to his podcast. This story was not subject to the approval of Major League Baseball or its clubs.