9 best moments from All-Star Softball Game
Snoop Dogg is a standout performer at Great American Ball Park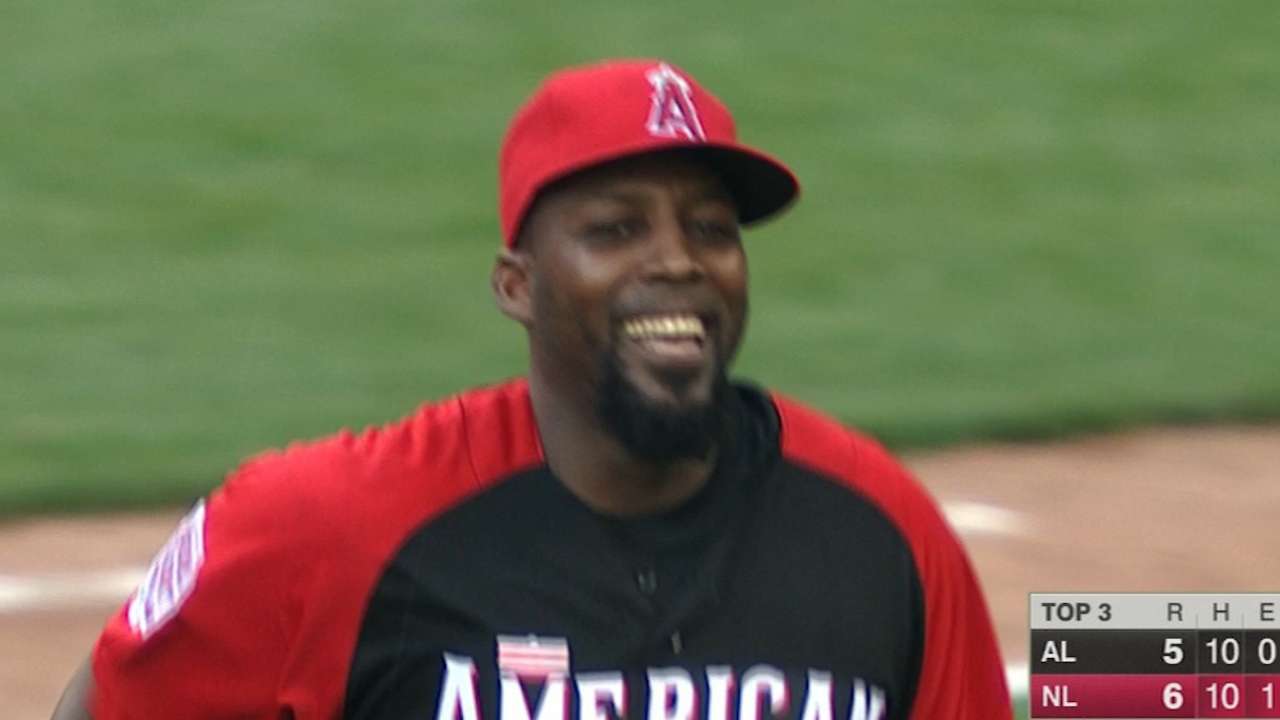 CINCINNATI -- Just as in years past, there was no lack of entertainment value during the 2015 edition of the MLB All-Star Legends & Celebrity Softball Game, the closing act of All-Star Sunday.
The six-inning tilt at Great American Ball Park featured plenty of scoring, successful usage of instant replay in more than one challenge, some gritty play (recording artist Macklemore sported a bloody leg) and plenty of hijinks (Snoop Dogg leaping a fence, anyone?). Here's MLB.com's roundup of nine interesting happenings surrounding the game.
Snoop Dogg
Rapper Snoop Dogg is no stranger to a baseball diamond. By our calculations, he has thrown out three ceremonial first pitches at three ballparks.
Snoop used the same technique each time -- lobbing it overhand -- more like how you would throw a football than a baseball. That's by design.
"Have you seen other rappers throw the ball?" Snoop said. "They throw the ball over there, over there. Mine go over the plate."
In the All-Star Legends & Celebrity Softball Game, Snoop had one goal -- to steal a base. And he was presented with that opportunity -- sort of -- in the second inning.
He lined a base hit to left and tried to sneak to second on the throw. Snoop ran out of the basepaths, but the second baseman appeared to put the tag on him nonetheless. However, Snoop's team challenged the ruling, and after a brief look at the replay, the call was reversed.
It was, by our loose calculations, the first successful challenge in the history of the All-Star Legends & Celebrity Softball Game. Which is big.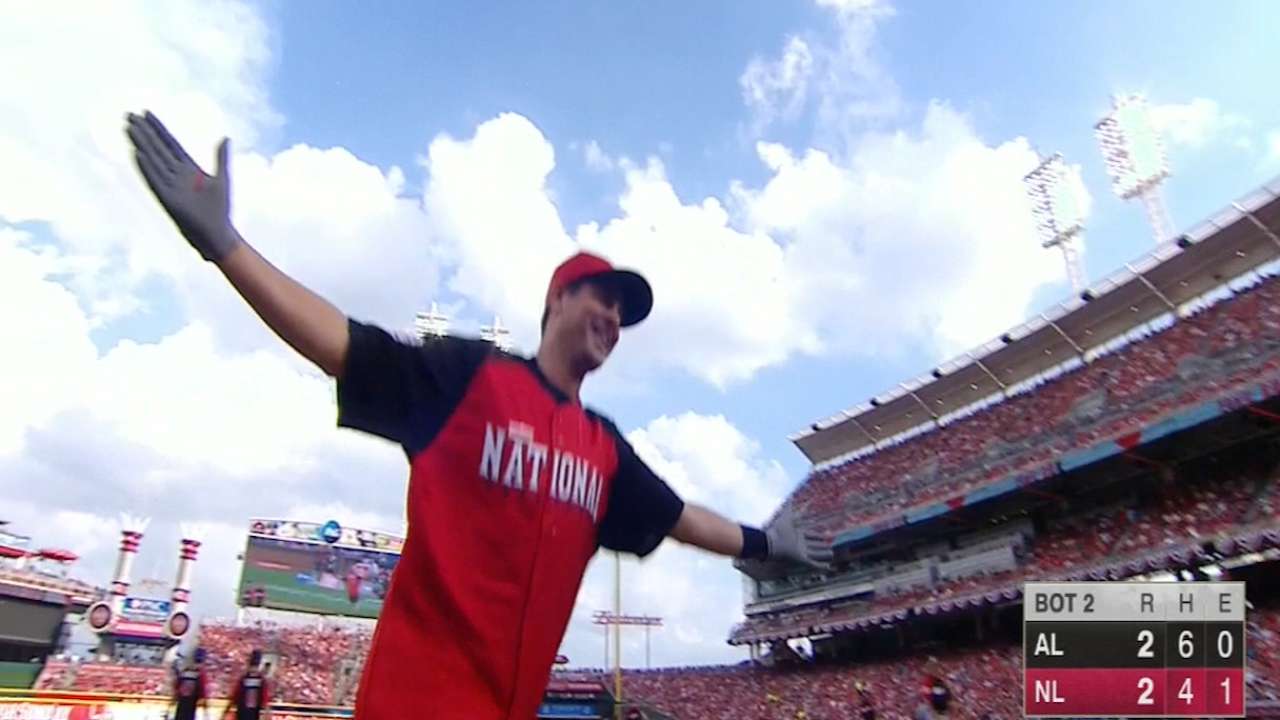 Eric Davis
The All-Star Legends & Celebrity Softball Game always features past greats of the local team, and when it comes to the Reds, does it get any greater than Davis?
Sure, the Big Red Machine featured a slew of Hall of Famers. But few players elicit a reaction from the locals quite like Davis, whose foot speed and bat speed back in the day were the stuff of legends.
He retired 14 years ago and is now 53, but Davis looks like he could still suit up and hit a few out. In that respect, he had no trepidations about engaging in a softball game in front of 35,000 or so admiring fans.
"With slow pitch, you just try to get the ball up and hit it," Davis said. "You try to take it too seriously, bad things will happen. I'm not taking it too serious, just having fun with it, and just trying to get out of the game how I came into it -- and that's injury-free."
Aaron Boone
Other than a charity game a few years ago, Boone hasn't done a lot in the way of playing baseball or softball since he retired from the big leagues.
So when the ESPN broadcaster was sitting during a rain delay at Wrigley Field last week with nothing to do, he figured, why not go across the street to a bar that has batting cages and take a few swings, just to brush up on his skills in advance of the All-Star Legends & Celebrity Softball Game?
"I felt like I might have pulled my oblique," Boone said of that particular session.
Maybe he was stifled by the suit and tie he was wearing while taking that round of BP that made it a less than successful venture. Boone certainly had better luck Sunday, when he channeled his inner 2003 and knocked two very convincing home runs over the makeshift fence with Little League dimensions.
Paul O'Neill
We all know that O'Neill won a bunch of World Series titles with the Yankees. But how many people outside of the greater Cincinnati area remember that his first title was actually with the Reds, in 1990?
Not only did O'Neill begin his career with the Reds, but he's an Ohio native. He was born and raised in Columbus and lives in Cincinnati, where he's resided for years.
So participating in All-Star festivities in the Queen City has been special for him.
"I know important baseball is here," he said. "Having the All-Star Game in Cincinnati -- they've been talking about it all winter, all summer to this point.
"Anytime there's excitement in the city around sports, whether it's winning, losing or the All-Star Game, it adds a lot of excitement to the city."
Andy Dalton
Bengals quarterback Dalton made the trek across the street from Paul Brown Stadium to Great American Ball Park, swapping out a football helmet for a Reds cap in his debut playing for the National League in the All-Star Legends & Celebrity Softball Game.
Of his celebrity counterparts, Dalton said he was likely to recruit Snoop Dogg, reasoning that, "He'd get all the fans into it, and I think he's got some skills, too".
The four-year Bengals signal caller reckoned Snoop might make a good receiver because of his height, 6-foot-4.
Dalton had to chuckle at the idea of lobbing Snoop Dogg a pass, but he was appreciative of the chance to participate in the festivities.
"There's so many Hall of Famers, so many people that are a part of this. It's just cool to be a part of it," Dalton said.
As it turned out, Dalton fit in just fine. His fourth-inning blast nearly cracked the left-field stands for the longest ball of the night. "Red Rifle," indeed.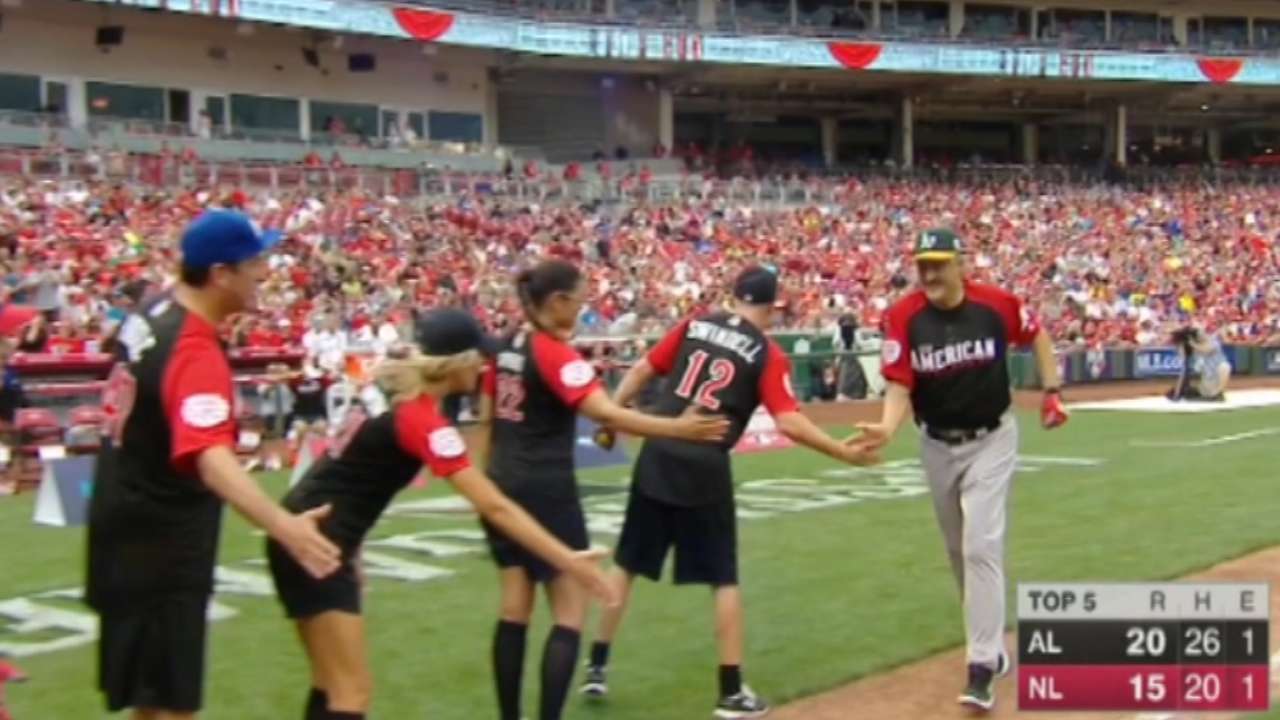 Urban Meyer
For Ohio native Meyer, participating in the game was especially significant.
"I grew up here for the first five, six years of my life. I'm a big Reds fan. When I got the call [to play in this game], I rearranged some stuff to be a part of this. I'm honored to be here," Meyer, who hails from Toledo, said.
Though football is the sport Meyer makes a living on -- he's the coach of the Ohio State University squad -- baseball is a passion of his, as well.
Having grown up a Reds fan, Meyer has an appreciation for the history of Cincinnati baseball.
"I was just talking to [former Red Sox player] Fred Lynn about the '75 series. This is a baseball town. The '75 team -- that was the best team to ever play. When your eight hitter, Cesar Geronimo, hit .307, that tells you what kind of lineup it was," Meyer reminisced before rattling off the Big Red Machine lineup.
Meyer also enjoyed sharing a field with fellow footballer Dalton.
"Somebody said he needs to come to Ohio State to be a fourth quarterback," Meyer laughed. "But I think we're fine with three."
Jennie Finch
For a while there, it looked like it was Finch's world, and former Angels slugger Vladimir Guerrero was just living in it.
The USA Softball legend dealt Guerrero one of her signature underhand pitches. Guerrero didn't bat an eye at it.
But the lifetime .318 hitter figured Finch out, blasting her next offering over the fences. Finch's loyal teammate Snoop Dogg had her back, gamely scaling the fence in hopes of a Rodney McCray-esque feat of heroism.
Snoop came nowhere near the ball, but on a scale of one to 10 in entertainment value, this one was a 25.
Finch, a Celebrity All-Star Game veteran, was thrilled to have Snoop on her side.
"My teammate is Snoop Dogg. How random is that? How amazing is that?" Finch laughed before the game. "I'm excited to take the field with Snoop. Let's do this. Let's see what Snoop's game is all about."
Kirk Herbstreit
Herbstreit is best known for his four-year run as Ohio State University's quarterback, from 1989-92, but if he had his druthers, he would have tried harder to make baseball his career over football.
Herbstreit is admittedly obsessed with baseball and the Reds. Growing up, he idolized Dave Concepcion and did everything he could to be exactly like the shortstop, including wearing uniform No. 13 on every Little League team he played for.
"I used to cross myself when I'd go to the batter's box like he did, I used to try to get to one bounce to my first baseman, like he did," Herbstreit said. "I mimicked and imitated anything and everything that he did. There are so many great players on the Big Red Machine. There was just something about Davey Concepcion. I loved shortstop and I loved his swagger."
Nick Lachey
Lifelong Reds fan and area native Lachey relishes any chance he gets to be a part of Cincinnati baseball.
So when he got the call asking whether he'd like to participate in the Legends & Celebrity Softball Game, the singer-songwriter and TV personality said it was a no-brainer.
"It's very cool. It's obviously a highlight of the summer in the sports world in general, but to have [the festivities] in your hometown, there's something special to it," Lachey said.
Though Lachey splits time between New York and Los Angeles, he makes frequent trips back to Cincinnati and the bar he owns with his brother Drew.
"This is home," Lachey said. "Always fun to be back here."
Megan Zahneis is a reporter for MLB.com. Alyson Footer is a national correspondent for MLB.com. Follow her on Twitter @alysonfooter. This story was not subject to the approval of Major League Baseball or its clubs.