Where there's smoke, Dodgers are on fire
Clubhouse rocks with party atmosphere after wins -- such as Sunday's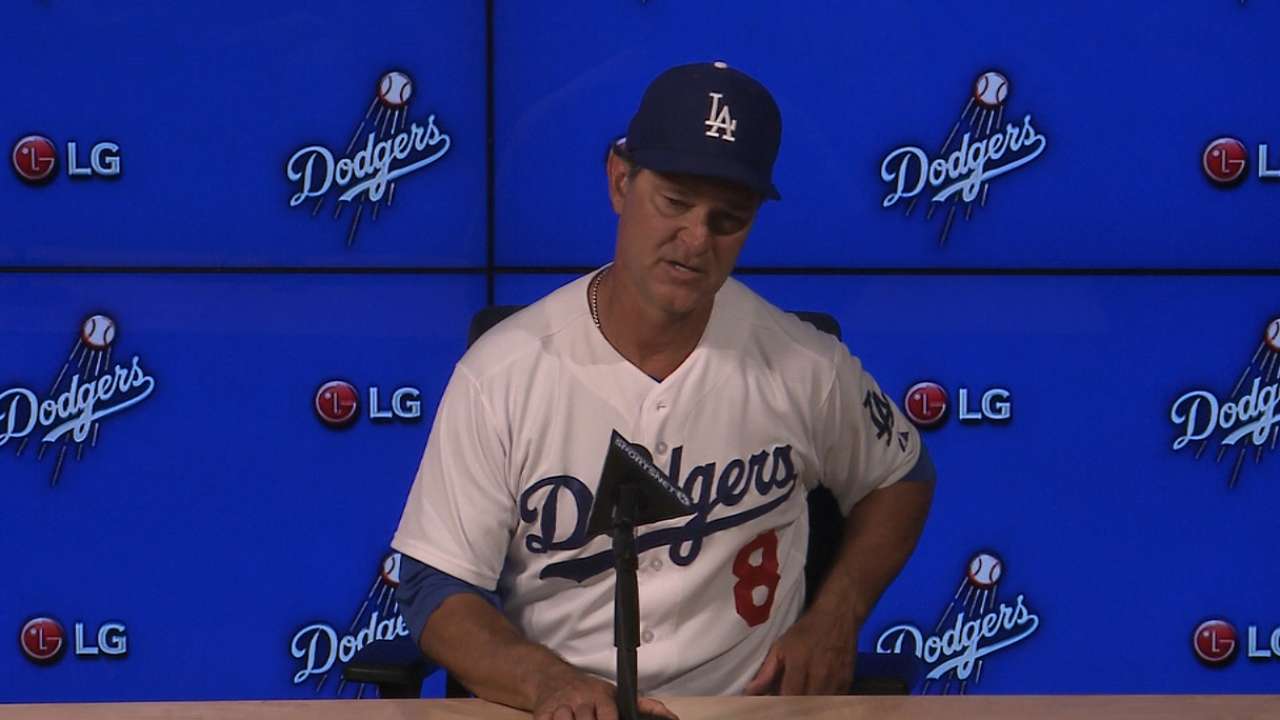 LOS ANGELES -- The bubble machine from last year is gone, but the Dodgers still can party.
They've turned the clubhouse into a hastily converted nightclub after each victory this week -- complete with smoke machines, strobe lights, mirrored disco ball and pulsating tunes -- and the place was rocking Sunday afternoon after Adrian Gonzalez's two-run homer on an 0-2 pitch in the eighth inning resulted in a 4-3 comeback win over the Brewers.
That sent the Dodgers (51-39) into the All-Star break with a 4 1/2-game lead in the NL West, while Gonzalez is part of a five-Dodgers contingent of All-Stars ticketed for Tuesday night's game before play resumes Friday night in Washington.
This was the Dodgers' 24th comeback win and fifth when trailing after seven innings. All last season, the Dodgers had 27 comeback wins and only one when trailing after seven innings. Conversely, the Brewers had been 30-0 this season when leading after seven.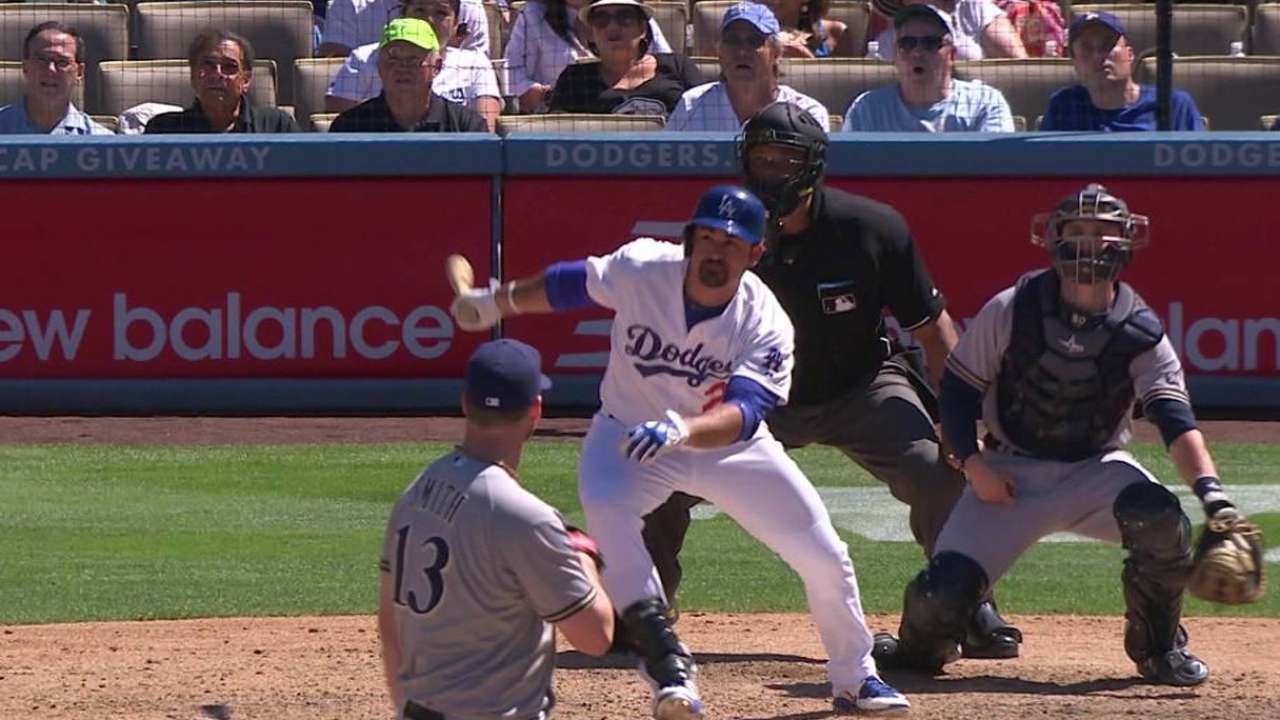 "I'd like to think there's something to it," said Don Mattingly, whose team was 54-43 with a half-game lead at last year's break.
"That we keep playing, we hang in there. I hope it's not an aberration. Last year we didn't come back hardly ever, we'd get behind early and not be competitive. Now we're hanging in there, having good at-bats and then finding a way to win."
The Dodgers resume play with a 10-game trip, leaving behind the club décor but not the motivation that led club elder Joel Peralta to inject some life into the clubhouse.
"We need to have fun down here," said Peralta. "It's a lot better now."
"With all of the expectations, sometimes it feels like when we win we just are surviving and we don't enjoy it," said J.P. Howell. "It's like nobody notices except when we lose and we weren't celebrating winning. Now we let it out a little bit."
Sunday's win provided a sampler of some of the first-half highlights -- production from Gonzalez, three hits and an RBI from Justin Turner, seven solid innings from Brett Anderson in a no-decision, two strikeouts in a scoreless 16th save from closer Kenley Jansen, a homer from A.J. Ellis (in back-to-back games) and reliable defense up the middle from Jimmy Rollins, Howie Kendrick and Joc Pederson.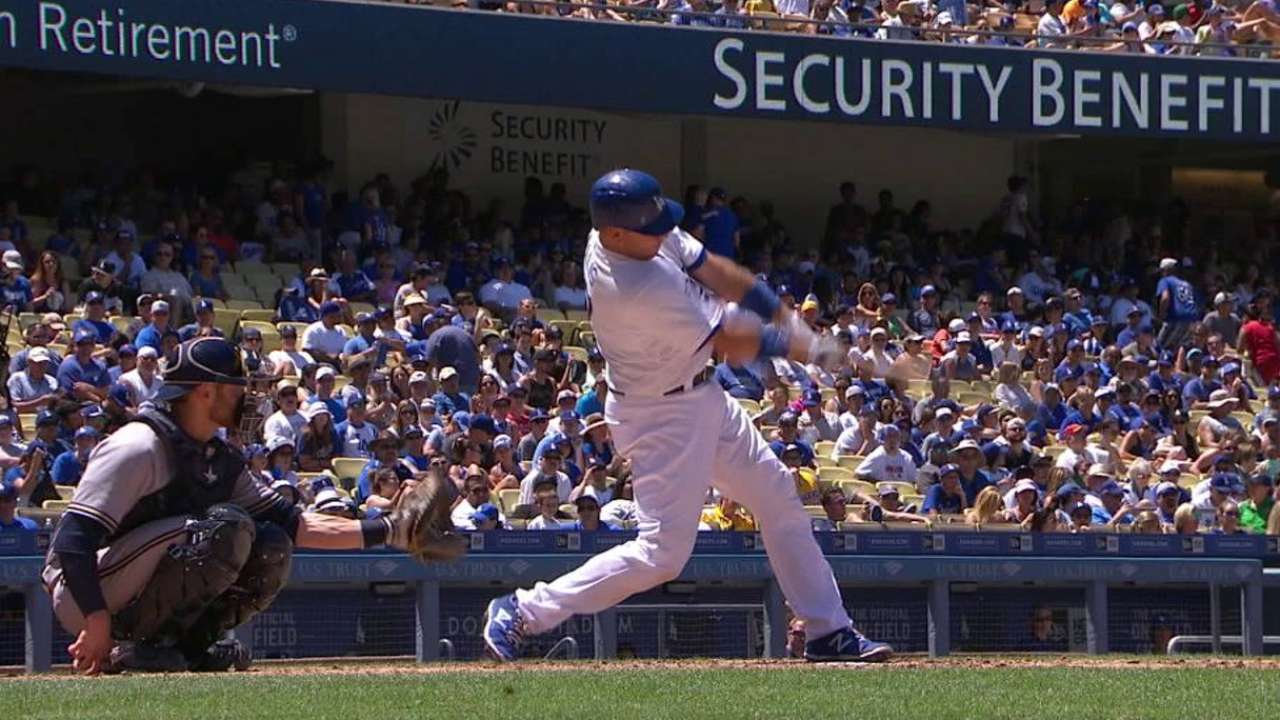 Gonzalez, now a five-time All-Star, has 18 homers, but this one off Will Smith was only the second off a lefty. Five of his seven hits on the homestand were homers.
"It was a slider," he said. "I wasn't quite waiting on it but definitely trying to stay on it but somehow I was able to stay through it and get a good piece of wood on it."
Anderson allowed two homers, but successfully controlled the damage in a one-run fourth inning that started with the bases loaded and no outs, calling that a momentum changer.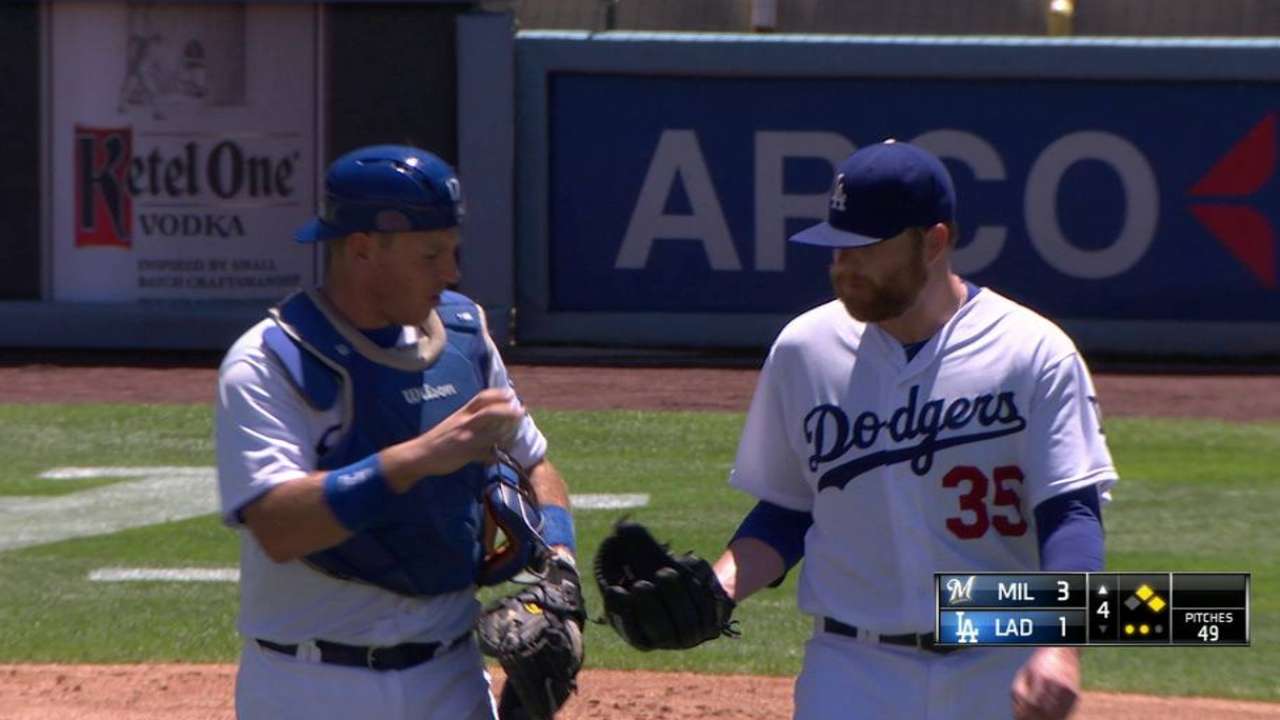 And one more thing, the injury-prone Anderson noted.
"I'm healthy, and that's always exciting," he said.
Ellis continued his off-the-radar offensive awakening and is 10-for-25 since June 12.
Ken Gurnick is a reporter for MLB.com. This story was not subject to the approval of Major League Baseball or its clubs.