Refsnyder relishes first hit, first homer
Yankees rookie's two-run blast decisive blow at Fenway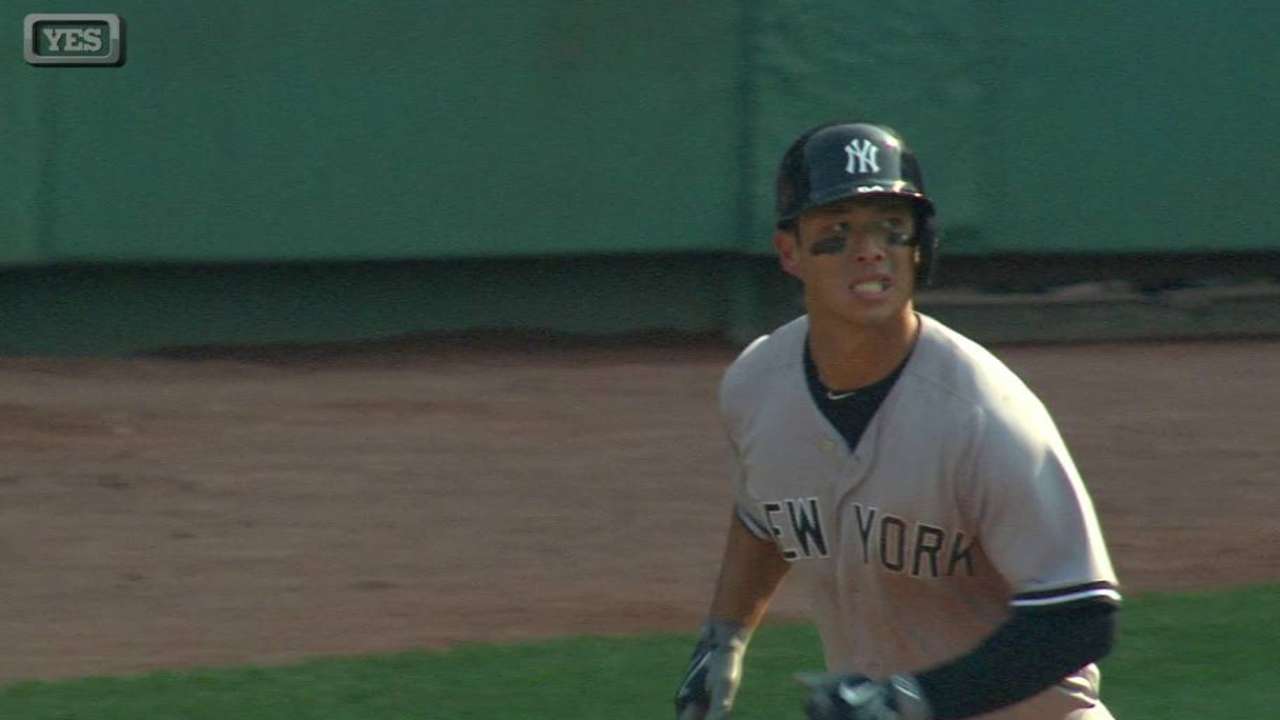 BOSTON -- For Rob Refsnyder, it started with the grass at Fenway Park.
Before he clubbed his first Major League home run, before the hugs from teammates, the souvenirs and the elated calls to family members, the Yankees' second baseman was just a rookie who had gone hitless in his first five at-bats. But in Sunday's 8-6 win over the Red Sox, Refsnyder found the spark he needed to deliver his first Major League hit and home run in the same afternoon.
Facing Boston lefty reliever Tommy Layne in the seventh inning, Refsnyder laced a fastball over second baseman Brock Holt, who leaped in vain, and watched the ball roll across the outfield as he pulled into first.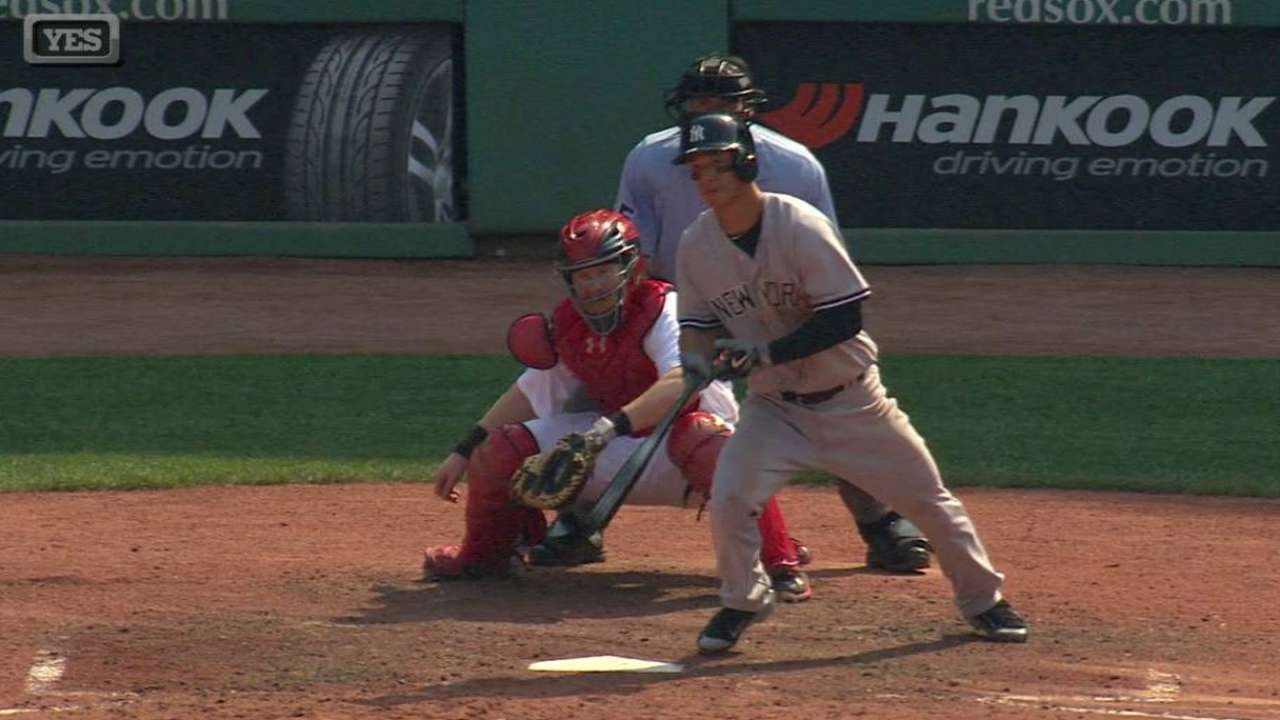 The first emotion of the Yankees' No. 5 prospect? Relief.
"I'd be lying to say when you're in the box and a couple at-bats go by, some thoughts like that creep in your mind. You're only human," said Refsnyder, ranked as the Yanks' No. 9 prospect by MLB.com. "The first one that landed, I told [John Ryan Murphy], 'I don't think I've ever been so happy to see green grass in my life.' Definitely, the first one kind of settled me down."
Two innings later, Refsnyder connected on a 2-2 slider that sailed over the Green Monster for a two-run blast and put the Yankees up, 8-4, giving them two critical insurance runs. In doing so, the South Korean native became the first Yankees second baseman since at least 1914 to homer in one of his first two career games.
"That's about all I got, I don't have much power," Refsnyder said. "Felt good off the bat. It was a ball out over the plate with two strikes. I was fortunate enough to run into it, and a pretty cool venue to do it."
As he returned to the dugout, Refsnyder received a warm round of congratulations from his new teammates.
"Huge. He can play. And he did," catcher Brian McCann said. "It turns out he was a difference-maker."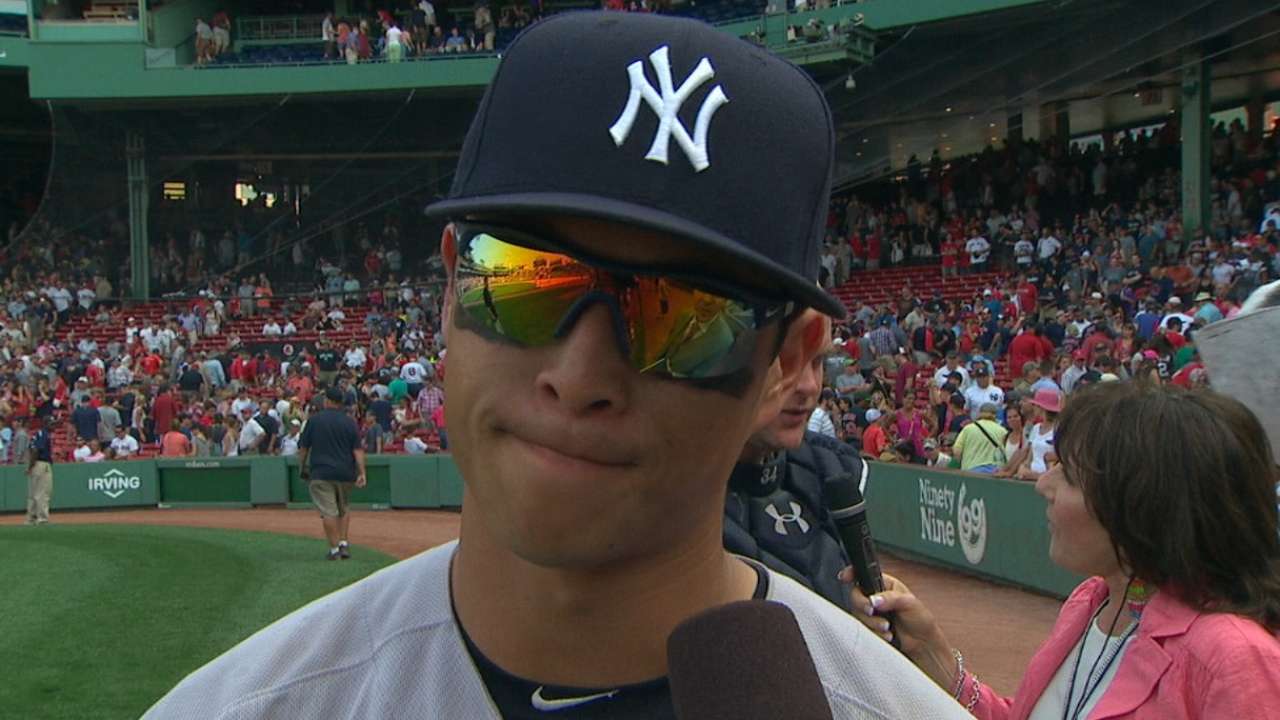 Refsnyder said he was able to obtain his home run ball from the Red Sox fans who caught it, and he also plans on giving the game's lineup card to his parents.
That's not to say Refsnyder was free of moments that reminded fans of his rookie status, as he committed an error while trying to cover second in the ninth. Even with second baseman Stephen Drew available off the bench, however, manager Joe Girardi said he never considered pulling Refsnyder for a defensive replacement.
"There was no hesitation," Girardi said. "We just thought that we'd leave him in there to play. That's what we brought him in here to do is to play. And he hits a big two-run homer."
Whether Refsnyder remains with team after the All-Star break is unknown. But while the rookie insisted he felt no need to prove his value during his first two days in the Majors, the early impression he's made will at least give Girardi something to consider.
"I think he played well," Girardi said. "Obviously, we have four days off and I have a lot of time to think about things as we move forward. But he played well."
Alec Shirkey is an associate reporter for MLB.com. This story was not subject to the approval of Major League Baseball or its clubs.