Phillies will evaluate talent in second half
All-Star break gives struggling club a chance to regroup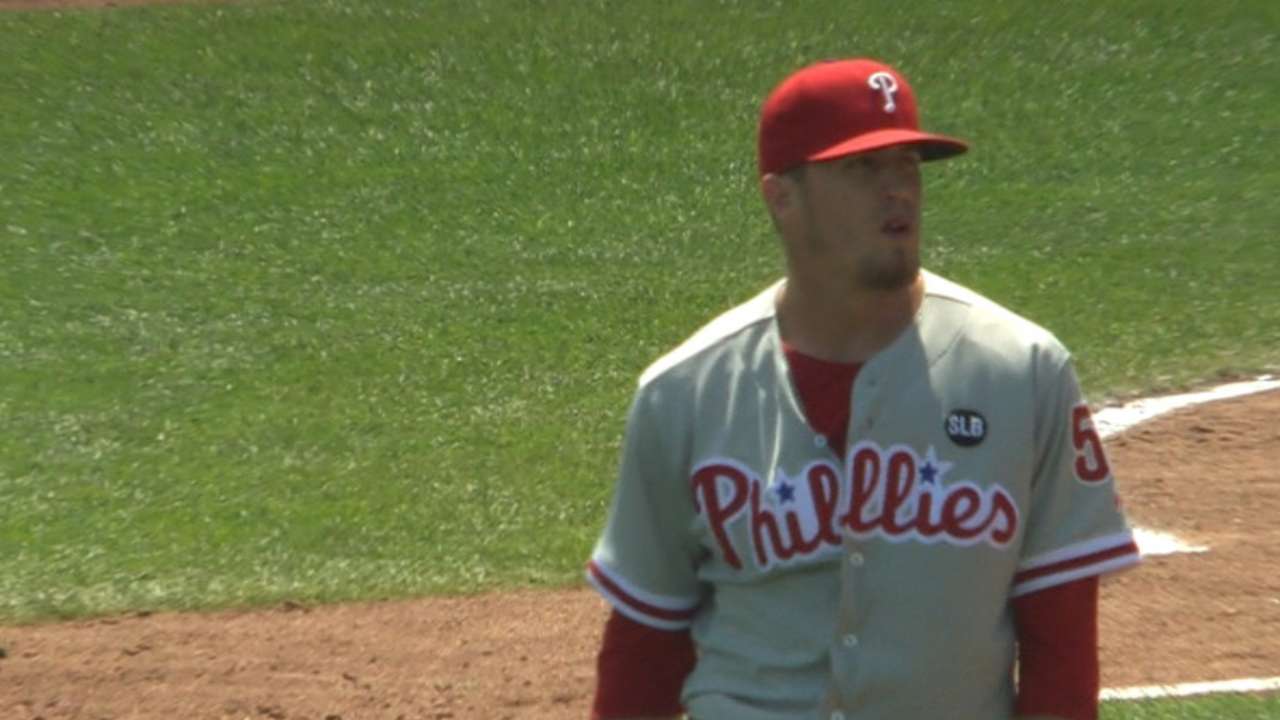 SAN FRANCISCO -- The Phillies' 4-2 loss to the Giants marks the unofficial end to a forgettable first half of the season for the team with Major League Baseball's worst record.
Philadelphia fell to 29-62 with Sunday's defeat at AT&T Park, the most losses in franchise history before the All-Star break.
For interim manager Pete Mackanin and his struggling ballclub, the four-day hiatus could not come at a better time.
"For us as a team, it's time to regroup and get away for a few days," Chad Billingsley said.
Mackanin agreed the team desperately needs the time off to regroup and come back ready to grind out the second half of the year.
"Without a doubt it's a great time," Mackanin said Saturday. "Everybody could use a break, regroup. Everybody will start the second half well-rested and hopefully we'll get it together."
The Phillies figure to use the second half to evaluate the young talent they have on their roster. Mackanin said to expect his less-experienced players to get time to prove themselves in the latter part of the season.
"The younger guys are going to get more chances to play," Mackanin said. "Everybody's got the potential, everybody's got the ability."
Despite the team's overall struggles, young players like Maikel Franco, Cesar Hernandez and Ken Giles give the Phillies hope for the future.
Franco was named National League Rookie of the Month in June, leading all NL players with 38 hits to go along with his eight home runs and 24 RBIs.
Hernandez, 22, has seemingly secured a job as the team's starting second baseman after hitting .280 with 12 stolen bases.
Giles looks like the Phillies' closer of the future, and on Sunday, he whiffed the Giants 3-4-5 hitters in the eighth inning. The 24-year-old right-hander owns a 1.51 ERA in his first season and a half in the big leagues with 110 strikeouts in 83 1/3 career innings.
"I have to concentrate on those positives and let the guys know that we're headed in the right direction, though our wins and losses don't show it," Mackanin said.
While any hope of the Phillies having a successful season evaporated before the break, the team still has something to play for in the second portion of the season.
"Our guys are auditioning," Mackanin said Saturday. "We're finding out about them. Little by little, you piece things together and you decide what you need and if they can handle the situation."
Oliver Macklin is an associate reporter for MLB.com. This story was not subject to the approval of Major League Baseball or its clubs.