Matheny empathizes with Wong's plunking
Cardinals second baseman back in action after painful hit-by-pitch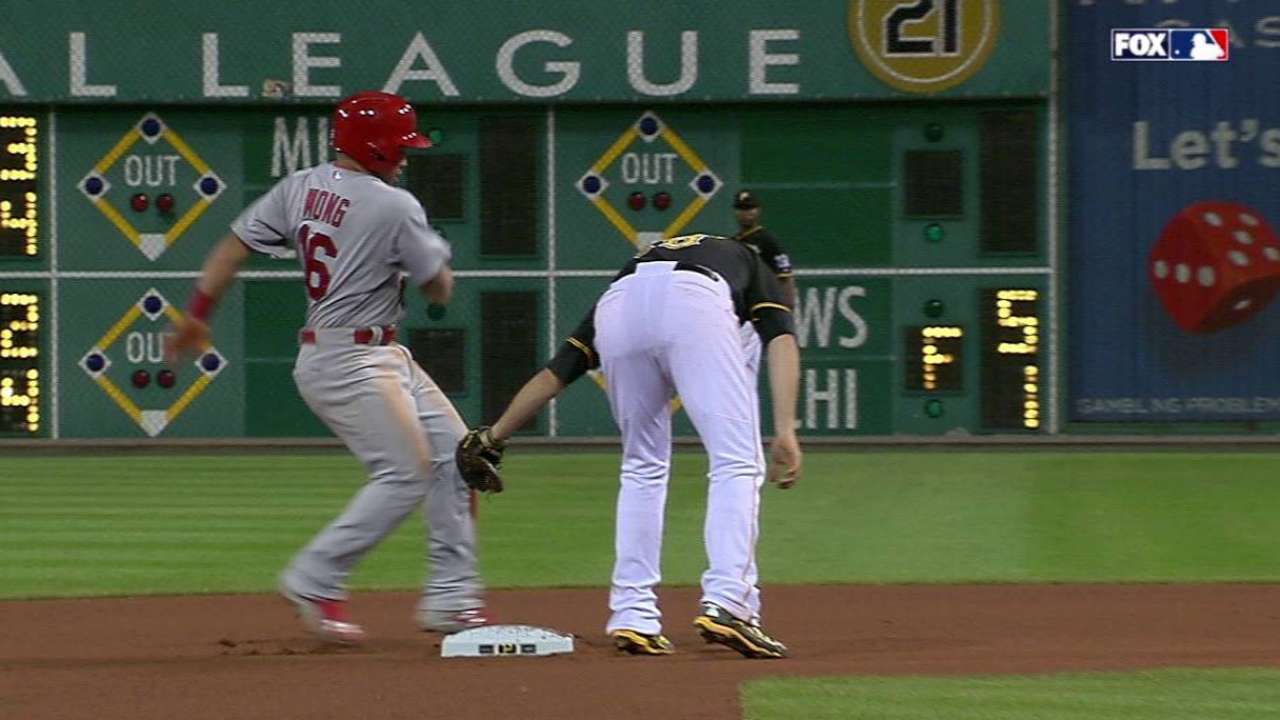 PITTSBURGH -- In the top of the 11th inning of Saturday night's 6-5 loss to the Pirates, St. Louis' Kolten Wong was hit in the leg with an 80 mph curveball. After he limped to first base and called time to try to jog it off, the PNC Park crowd offered a smattering of boos.
But Wong wasn't embellishing.
"You can ask anyone here, some of the worst times you get hit is by an offspeed pitch," Wong said. "For some reason, just the spin of it, it seems to leave the worst marks."
Specifically, the second baseman was hit directly behind his kneecap. It was the second time Wong had been hit by a pitch this series, the first time taking a 99 mph fastball from Arquimedes Caminero in his lower back in the series opener.
Wong, who was in Sunday's starting lineup, woke up feeling fine Sunday morning after plenty of icing, massaging and electric-pulse pads, the last of which he said was quite unpleasant.
Cardinals manager Mike Matheny can empathize. A similar situation happened to him when he was a player, and in Pittsburgh, no less.
On May 20, 2000, the Pirates were down 11 runs to the Cardinals entering the top of the ninth. Instead of wasting its bullpen, Pittsburgh threw catcher Keith Osik out on the hill.
Before finishing the inning with five earned runs to his name, Osik hit two St. Louis batters -- outfielder Ray Lankford and fellow catcher Matheny.
Matheny said Osik threw something "real slow," hitting him in a spot similar to where Wong was plunked.
"I couldn't believe how much that hurt. Catchers get hit all the time by foul balls, and you kind of get numb to it. But I couldn't believe this catcher hurt me that bad," Matheny said. "It's weird. Sometimes certain spots get you."
It happened to Matheny more than 15 years ago and Wong on Saturday night. The memory stuck for Matheny, and it might for Wong.
Thankfully for both, the pain subsided.
John McGonigal is an associate reporter for MLB.com. This story was not subject to the approval of Major League Baseball or its clubs.