Bullpen once again pillar of strength
Wilson, Betances and Miller wiggle out of jams, secure win
BOSTON -- As Nathan Eovaldi's pitch count continued to climb through the first few innings of Sunday's game against the Red Sox, it became apparent that the Yankees' bullpen would play a pivotal role in the series finale.
Tossing four innings, the New York bullpen remained calm under pressure, helping preserve an 8-6 win over the Red Sox to claim a series victory heading into the All-Star break.
After Eovaldi went five innings, allowing three runs on seven hits, four relievers allowed one earned run on five hits.
"Depth is important. It's always nice to have because of rest or options, whatever it might be. I think we like our chances seven-deep," Yankees closer Andrew Miller said. "We've got a good group. Even the moving parts we've had, the guys that come up and get sent down, we're seeing them have electric arms one after another. We certainly feel like we're a valuable part of this team."
Adam Warren ran into trouble in the sixth, allowing a leadoff double to Hanley Ramirez and then an RBI single to Shane Victorino. However, Justin Wilson came in and cleaned up the mess, allowing just two hits over the next 1 1/3 innings.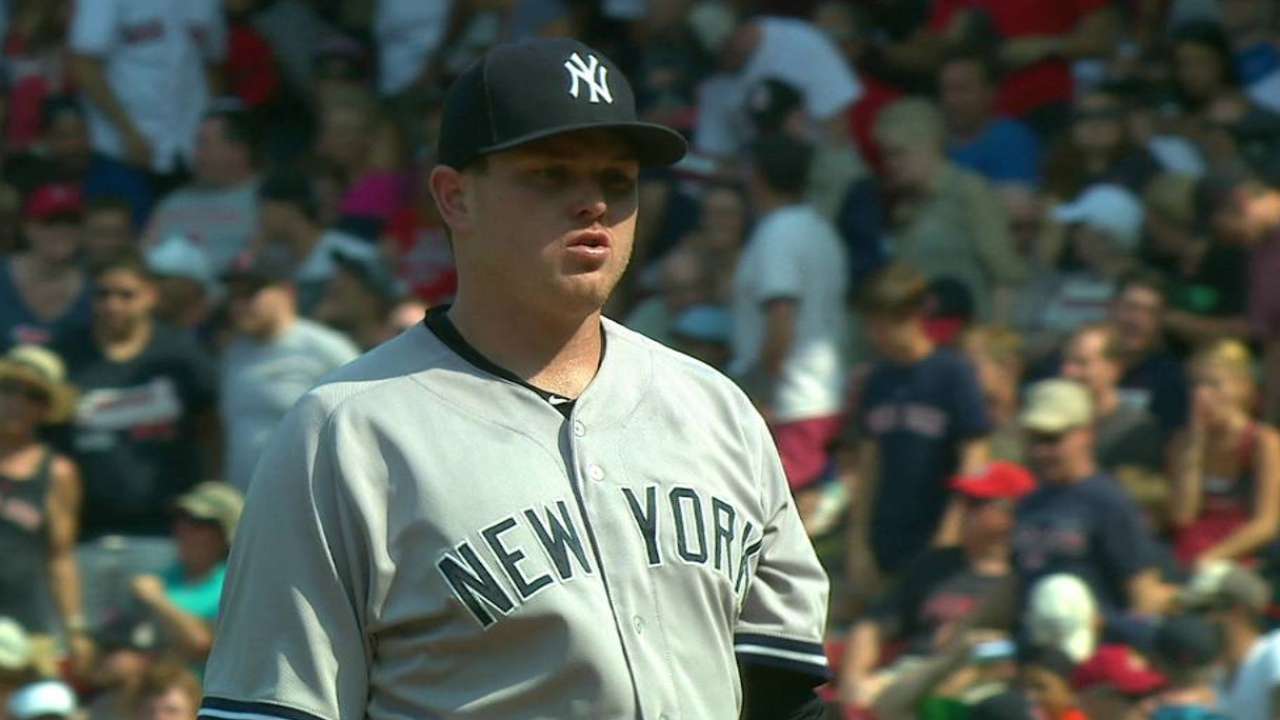 While Dellin Betances and Miller have received most of the attention at the back end, Yankees manager Joe Girardi mentioned before Sunday's game that he's been impressed by the success of the middle relievers.
"Another outstanding job. He had to work hard for it," Girardi said of Wilson. "The guys put some tough at-bats on him and he did another outstanding job."
Betances, who will head to Cincinnati for his second straight All-Star Game, had no time to relax when he took the hill with two outs in the seventh and the hot-hitting Ramirez at the plate. Yet, that didn't bother the right-hander, who struck out Ramirez on three pitches.
Relying on his curveball to keep the Red Sox hitters off balance, Betances also pitched the eighth, allowing a single and a walk, before handing the ball off to Miller for the ninth with a four-run lead.
The lanky left-hander walked the leadoff hitter and then struck out Xander Bogaerts, before back-to-back throwing errors by Brian McCann and Miller brought the potential winning run to the plate.
New York's closer remained unfazed by the mistake, retiring the final two Red Sox hitters to secure a win.
"Winning a series against them is always a huge thing. We played pretty good all around baseball until I came in and threw balls into the outfield," Miller said. "But it's one of those things. I think we're happy with a series win, for sure."
Quinn Roberts is a reporter for MLB.com. This story was not subject to the approval of Major League Baseball or its clubs.