MLB.com Columnist
Anthony Castrovince
Futures MVP Schwarber is talk of 2 towns
Cubs prospect stands out in Cincy, could return to Majors with Chicago soon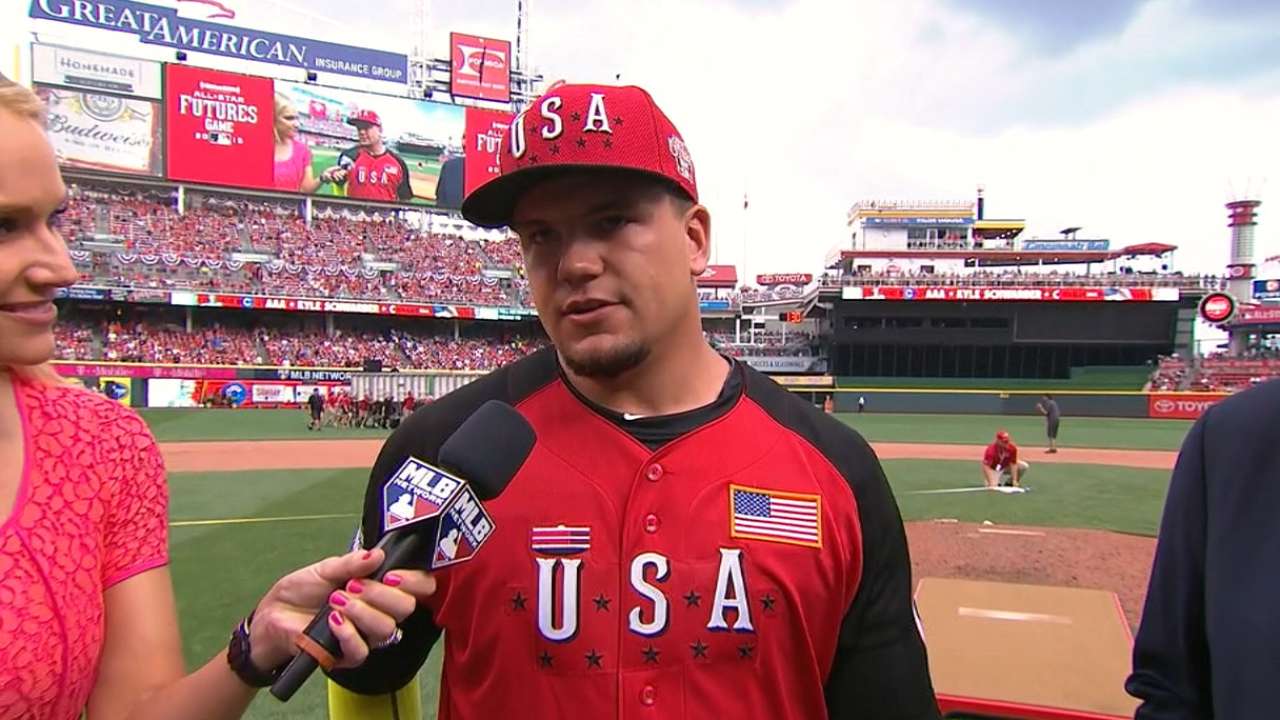 CINCINNATI -- Kyle Schwarber's name was a hot topic Sunday. Not just here at Great American Ball Park, where more than 100 friends and family members from his nearby hometown watched him win MVP honors at baseball's premier prospects showcase. But also about 300 miles away at Wrigley Field, where the Cubs entered the All-Star break with a bit of a catching conundrum.
So in this specific instance, calling this the SiriusXM All-Star Futures Game, which Schwarber's U.S. Team won, 10-1, was something of a misnomer. Because if any member of the U.S. or World rosters is a part of baseball's present tense, it's the 22-year-old Schwarber.
After all, Schwarber is already a "veteran" of six Major League games.
"[That previous experience] helps calm down the nerves and being able to slow things down," Schwarber said. "It's still the same game we're all playing now."
Though the U.S. had all kinds of offense and some tantalizing power arms in this particular game, Schwarber stood out above all the rest. Not just at the plate, where his two-run triple in the third gave the U.S. a lead it would not relinquish, but behind it, where he threw out World Team leadoff man Ketel Marte mere moments into the action.
The triple was cool and perhaps fitting. Schwarber's first hit in Double-A, Triple-A and the big leagues was a triple. But because some evaluators have questioned Schwarber's ability to stick long term at catcher, you'd better believe he took as much or more pride in the defensive highlight as the offensive one.
"When people say I can't do something, I take it to heart," Schwarber said. "I know I have a lot to work on. And I'm going to work there daily to get better and try to make myself not just a one-dimensional player but a complete-package ballplayer."
With the Cubs currently unsure if starting catcher Miguel Montero will need to open the second half on the disabled list with a jammed left thumb, Schwarber's name naturally came up in manager Joe Maddon's pregame news conference Sunday. Maddon was asked if Schwarber's name would be a consideration if Montero isn't available.
"Of course it could be," Maddon said. "Right now we have not gotten to that point. Schwarber is always a consideration for what we do in the future."
Here in the present, at the Futures Game, Schwarber had far more than just a potential second callup on his mind. He had to secure tickets for seemingly half the city of Middletown, Ohio, his birthplace less than 40 miles north. It's one thing to separate yourself from the pack when the rosters are so stacked; it's quite another to do so with so many eyes specifically upon you.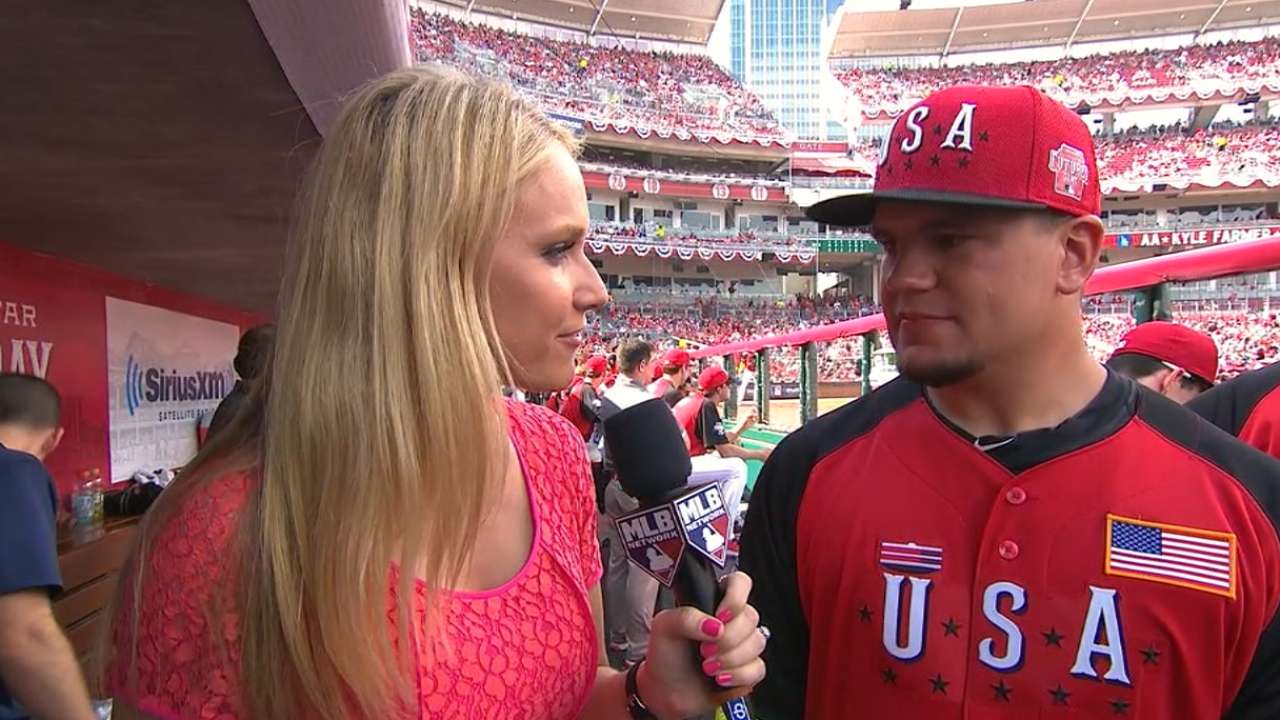 "It was awesome to come out and actually step on the field I grew up watching ballgames on," Schwarber said. "It was special. My eyes lit up as soon as I stepped on it."
Schwarber's eyes lit up again when it was suggested that he might have to get even more tickets when he plays his first big league game at Great American Ball Park.
"They'll have to pay for their own tickets," he joked.
Schwarber's bat is no laughing matter. At a time when teams across the big league landscape are clamoring for power bats, here's a big league-ready thumper (.333 average, 34 homers, 102 RBIs and a 1.042 OPS through 147 career Minor League games), just a bit more than one year removed from being taken with the fourth overall selection in the 2014 Draft, that the Cubs really haven't had room for. Schwarber's brief foray into the big leagues came when the Cubbies were embarking on an Interleague road trip with a designated-hitter spot to fill.
All Schwarber did was go 8-for-22 with six RBIs.
"I think he can catch in the big leagues if you want to slow his development down," a National League scouting director said before the Futures Game. "But if you want to stick him out in left field, I think you can do that pretty quickly. Catching's a tough position. There's a lot to learn there, and that position beats you up. And his bat is way ahead of his glove."
At Triple-A Iowa, Schwarber is in the midst of what Maddon called his "undergrad program" in catching. It's quite possible, perhaps likely, that the learning process will continue at that level, even if Montero goes on the DL.
"It's not my decision," Schwarber said. "I like to keep my head buried in baseball and be a good teammate. If I do that, I'll put myself in a good situation."
Winning the MVP, basically in front of his hometown, in the ballpark he once frequented as a fan? For Schwarber, that was as good as this situation could get.
Anthony Castrovince is a reporter for MLB.com. Read his columns and follow him on Twitter at @Castrovince. This story was not subject to the approval of Major League Baseball or its clubs.