MLB.com Columnist
Richard Justice
Appel shows growing confidence at Futures
Right-handed prospect working on consistency on way to bigs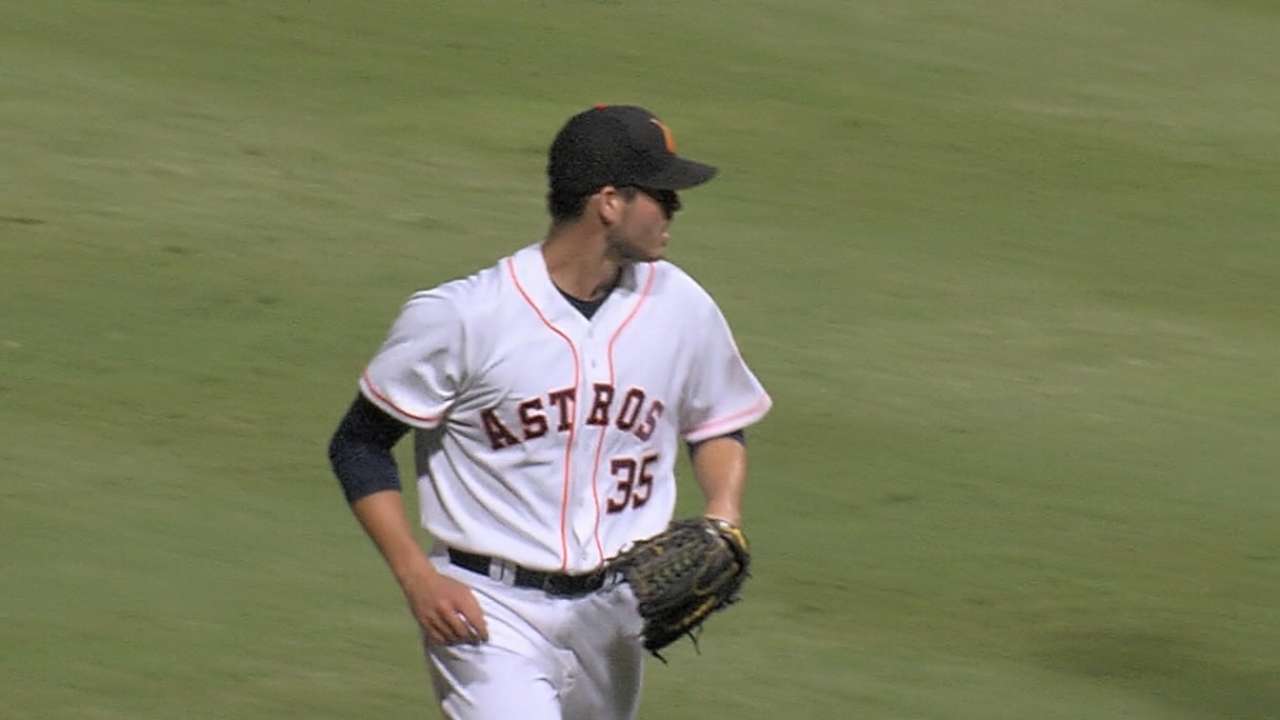 CINCINNATI -- His fastball sat consistently in the 97-98 mph range. His breaking stuff was impressive. He challenged hitters, too, throwing strikes, showing confidence in his stuff. All in all, it was everything the Houston Astros could have hoped for.
If Mark Appel strings a few more appearances like this one together, he'll be pitching for the Astros. There's no larger plan. No timetable, either. As soon as Appel looks like he's ready, Houston will find a role for him.
There are indications that Appel is getting close, and after all that has happened, this season represents a gigantic step forward even with a hiccup or two.
"Early on, I was a little inconsistent," Appel said Sunday at the SiriusXM Futures Game, which the U.S. Team won, 10-1, after an impressive one-inning appearance. "That's the big word. Recently, I'm feeling a little bit more comfortable on the mound. Just more confident in my pitches, really confident in the execution. I've had confidence in the stuff my entire career.
"It's just a matter of executing, being able to keep the fastball where I want it, throwing my offspeed stuff in the zone, out of the zone whenever I need to. Recently, I've been pitching well. I just want to keep that going and give the team the best chance to win."
When the Astros made Appel the overall No. 1 pick of the 2013 Draft, they believed he'd fly through their system, perhaps landing in the Major Leagues in late 2014. In a larger sense, they believed his timetable might coincide with the franchise turning a corner.
Houston has indeed turned a huge corner. After averaging 104 losses the past four seasons, the Astros are 49-42 and have spent 88 days atop the American League West. Their three-month run in first place ended Sunday afternoon with a sixth straight loss.
Regardless, Houston's improvement has been dramatic, in part, thanks to four young players making their Major League debuts: shortstop Carlos Correa, outfielder Preston Tucker and pitchers Lance McCullers Jr. and Vincent Velasquez.
Meanwhile, Appel, 23, has a 5.40 ERA in 45 Minor League appearances. He struggled at Class A Advanced Lancaster last season (9.74 ERA in 12 starts), but he was much better after being promoted to Double-A Corpus Christi (3.69 ERA in seven appearances).
Appel began this season back at Corpus Christi, and after a tough start, he had five solid starts to win a promotion to Triple-A. He allowed seven runs in his first Triple-A game, but in his most recent start, he tossed 6 2/3 shutout innings. Building upon that was Sunday's game in which Appel allowed only a single.
"For the most part, I've had good control the entire season," Appel said. "But the good command [of the strike zone] hasn't come until recently. That's the secret in all of baseball. How do you do it consistently? For me, it's just repetition and really simplifying the game and the approach."
Appel's challenge is to show the Astros he can consistently throw quality strikes. Having seen Tucker, McCullers, Correa and Velasquez win promotions to Houston, and then have success, has not been any extra motivation for Appel. He was plenty motivated already.
"We all root for one another," Appel said. "I'm happy for them. For me, the anxiousness will always be there. Any young player wants to get there. It's the common thing in baseball. For me, it's a matter of understanding that it's not about just the short term, but the long term as well. Being able to go through each level of the system and see how Double-A hitters approach the game and Triple-A hitters approach the game, which is completely different, is part of the process. So is being able to struggle a little bit and figure out what works. When I get to the big leagues, I'll know I'll be able to make the adjustments and have success."
Richard Justice is a columnist for MLB.com. Read his blog, Justice4U. This story was not subject to the approval of Major League Baseball or its clubs.