Judge, Sanchez collect hits in Futures Game
Yankees prospects display talents in Cincinnati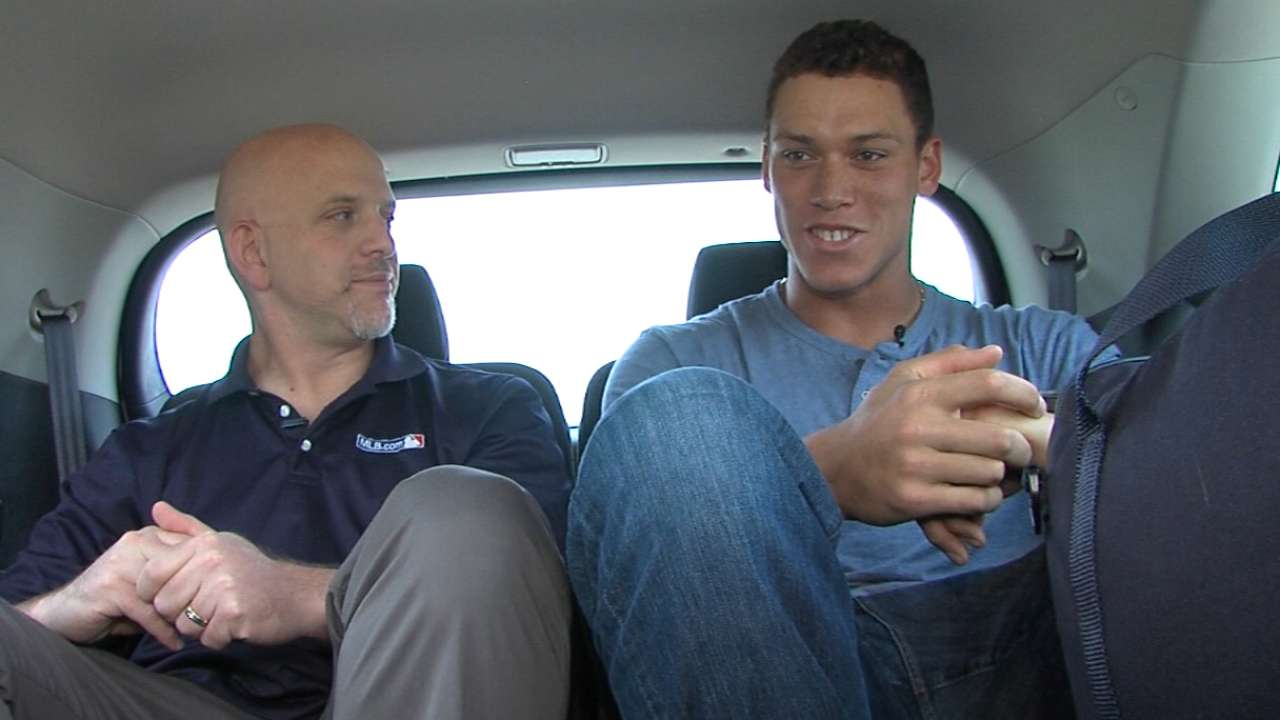 CINCINNATI -- The Yankees' organization showcased two of its brightest prospects on opposite sides of Sunday's SiriusXM All-Star Futures Game, as slugging outfielder Aaron Judge suited up for the U.S. Team and promising catcher Gary Sanchez saw his name in the starting lineup for the World Team.
Judge, rated by MLB.com as the Yankees' No. 2 prospect, went 1-for-4 with a run scored and two strikeouts as the designated hitter in a 10-1 victory for the U.S. team. Sanchez, the Yanks' No. 7 prospect according to MLB.com, went 1-for-2 with a double.
"It's the most people I've ever played in front of, my whole life," Judge said. "I was a little nervous my first [at-bat], but after that first one, you get that one taken care of and it's still the same game. It was pretty fun."
The 22-year-old Judge forced his way to Triple-A Scranton/Wilkes-Barre after a standout spring with the big league club in which he earned comparisons to Hall of Famer Dave Winfield and Marlins slugger Giancarlo Stanton; high praise indeed.
"It's hard to be another Derek Jeter or another Dave Winfield, but it's pretty nice to have people think that maybe you could," Yankees general manager Brian Cashman said.
Sanchez's stock is back on the rise at Double-A Trenton and the Yankees continue to believe they have a future big leaguer in hand, even though his path to the Bronx could be blocked by Brian McCann's long-term contract.
"I'm trying to do everything I can do," Sanchez said through an interpreter. "The Yankees will make their decisions about McCann, about me, about anything. I'm in Double-A now, and I'm doing everything I can to move up."
Cashman indicated that Sanchez's maturity is helping to force a decision.
"All you hear about the buzz is that the light bulb has gone on and the thirst, the desire, the hunger has matched the talent now," Cashman said. "His receiving is significantly improved. He's still young for that league and performing really well. At some point, you're going to see him moved up to Triple-A, too. He's going to be an everyday Major League catcher, no doubt in my mind."
Judge and Sanchez could each try pinstripes on as soon as this season. A hulking 6-foot-7, 275-pounder, Judge started the year in Double-A, posting a .284/.350/.516 split line in 250 at-bats before being promoted to Triple-A, where he is batting .268 with a homer and seven RBIs in 19 games.
"The biggest thing that I learned from Triple-A is our coach, P.J. Pilittere, just told us, 'Be where your feet are,'" Judge said. "That's the biggest thing. Don't worry about what's happening above or below you. Just go out there and do what you can where you are today."
That's a piece of advice that Sanchez could also tuck away. Sanchez's power and arm are his calling cards, and he is batting .258 with 12 homers and 36 RBIs in 56 games at Double-A Trenton.
"I just came in this year with the mentality that I wanted to work hard," Sanchez said. "It's time for me to be in the big leagues. That's my mentality this year."
Bryan Hoch is a reporter for MLB.com. Follow him on Twitter @bryanhoch, on Facebook and read his MLBlog, Bombers Beat. This story was not subject to the approval of Major League Baseball or its clubs.