Future now? Statcast tracks Conforto's cannon
Outfielder adds two hits in Futures Game; fellow Mets prospect Nimmo goes 1-for-2
CINCINNATI -- Of course, Michael Conforto has heard the calls for his promotion. He's heard rumors that his face graces the side of at least one bus in Brooklyn, where he once played. He understands his burgeoning fame in a different New York City borough starved for power, for average, for any sort of hitting. Conforto believes he can provide that.
"I've pictured myself as that person and I do think I'm ready," the Mets' No. 3 prospect said before going 2-for-2 and throwing a runner out at home in the 2015 SiriusXM All-Star Futures Game on Sunday at Great American Ball Park, a 10-1 win for U.S. squad. "But it's not my call. All I can do is just prepare myself, and show up in [Double-A] Binghamton or wherever I'm at, and show up with the right attitude and the right work ethic. My play on the field will speak for itself."
Though Conforto is technically no closer to the big leagues than No. 2 prospect Brandon Nimmo, who finished 1-for-2 in the Futures Game, he was a polished enough hitter at Oregon State for a legion of believers to want him in the big leagues now. Unlike Nimmo, Conforto has endured virtually no adversity in the Minors, batting .307 with 13 home runs over his first calendar year as a professional. Earlier this summer, Conforto made the transition to Double-A, hitting .312 with three home runs in his first 37 games there.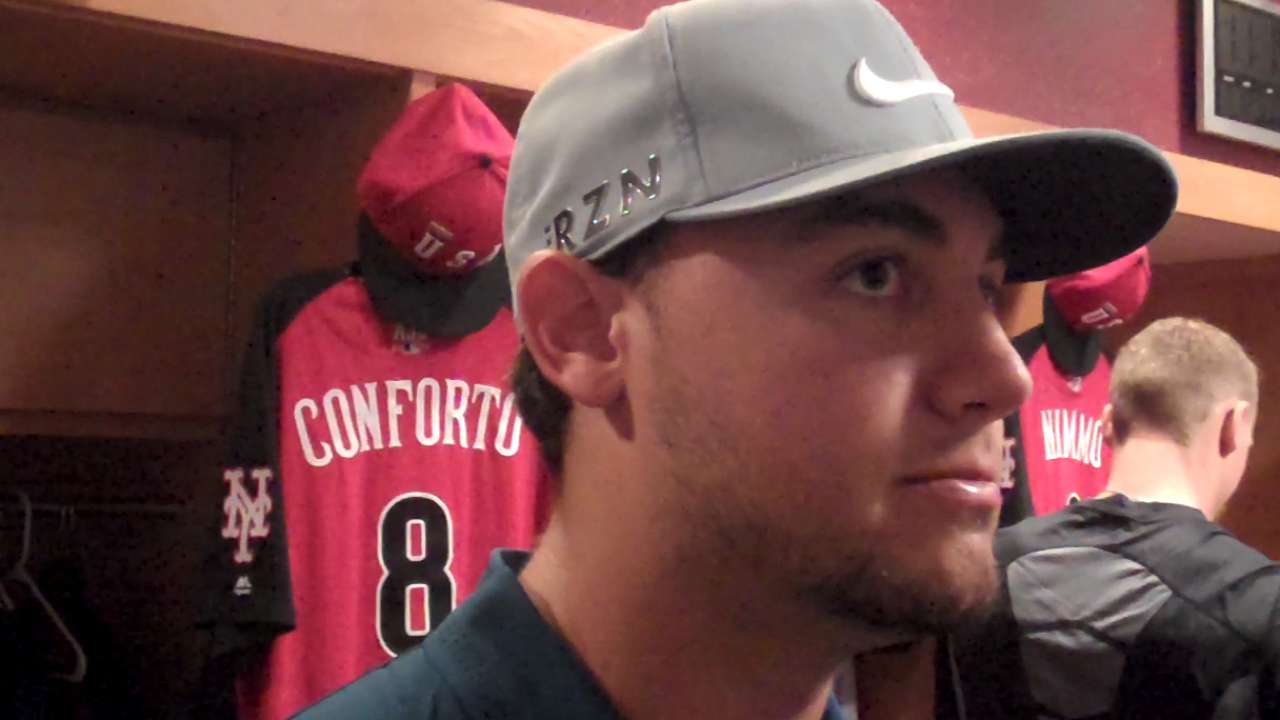 His fielding may be a weak spot, but Conforto made a statement Sunday by throwing out Ketel Marte at the plate; Statcast™ measured his throw, which reached catcher Kyle Schwarber on the fly, at 91.6 mph.
"It shows improvement," Conforto said. "It's definitely cool. You see your hard work paying off."
Success like that is what has led plenty of fans to call for Conforto's promotion right now, believing him to be the answer for a Mets team that may be a hitter or two away from a legitimate playoff run.
"Definitely, I'm aware and I've heard that my name's being thrown around," Conforto said. "But it's not something that I can control, personally. I can't make the decision to bring myself up."
Nimmo tells the story of a batting-practice home run Conforto hit at Binghamton, past a light tower beyond the stadium walls. Actually three weeks younger than Conforto despite being drafted three years earlier, Nimmo is a legitimate prospect in his own right, albeit a rawer one. If Nimmo was closer to the big leagues coming into the season, his now-healed knee injury and Conforto's success have conspired to change that.
The only question now is when Conforto will debut -- and if it will be soon enough to help the Mets this year.
"Obviously, there are people who think that I need more at-bats," Conforto said. "They could be right. They might not be. Hopefully, I'm prepared. I know I'm ready for the next step."
Anthony DiComo is a reporter for MLB.com. Follow him on Twitter @AnthonyDiComo and Facebook, and listen to his podcast. This story was not subject to the approval of Major League Baseball or its clubs.