MLB.com Columnist
Phil Rogers
Interesting dynamics, story lines await AL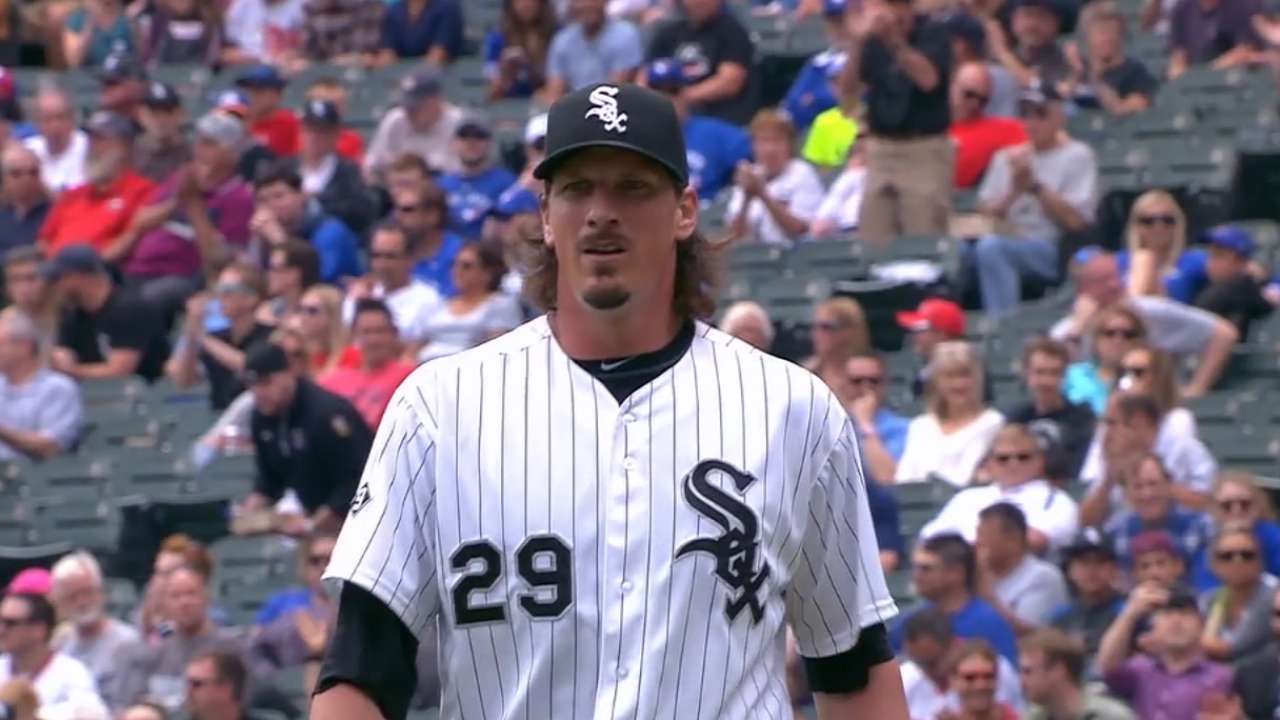 CHICAGO -- Jeff Samardzija, a Cub for seven years, wrapped up a quiet weekend in the visitors' clubhouse at Wrigley Field on Sunday. He was idle all three games for the White Sox, with not even a chance to pinch-run or work an inning out of the bullpen.
Soon he'll get the answer to a question that must cross his mind, the same one the Clash sang about -- Should I stay or should I go?
It's not up to him, of course. But based on the recent play of the White Sox and developments around an amazingly balanced American League, there will be no snap judgments about selling off talent over the All-Star break. The picture is simply too fuzzy for White Sox general manager Rick Hahn and most other AL GMs.
Following the last out on Sunday, AL teams have played 673 of the 1,215 games scheduled. That's almost 54 percent of the season.
Here is what we have determined about the AL:
1. The defending-champion Royals are, by far, the best team.
2. The Mariners and the A's probably aren't as good as they hoped they'd be when they left Arizona.
3. The other 12 teams will have their fate decided by how they play after the All-Star break. The remaining two and a half months of baseball could be as much as a demolition derby as a race to have four playoff teams from the crowded pack move behind the Royals.
Thanks to a victory over the Tigers on Sunday, the Twins have the second-best record in the league. But there are only seven games between them and the Red Sox, who have the 13th-best record.
The Red Sox, who were once 11 games under .500, are far from dead. This is also true of the White Sox, who were 10 games under as recently as June 20, and the Indians and Rangers, who respectively hit lows of nine and seven games under.
The AL East and West are seeing division races without definition. For everyone, including the Central teams trailing far behind Kansas City, there is hope that one of the two Wild Card spots will be within reach during the playoff push in September.
Can the Astros keep it together with so many kids and a rotation that's never been in the fire? Will the Blue Jays find the No. 1 starter they need to support the most productive lineup in the Majors? Can the Yankees use the memory of all their success to win around a cast of household characters no longer in their prime? Can Paul Molitor solidify his Manager of the Year campaign for keeping the surprising Twins on track?
What about the Orioles and Angels? Are they ready to shake off the disappointment of last October and start piling up victories again? Can the Tigers wring big finishes out of Miguel Cabrera and Justin Verlander? Can the Rays be the playoff team that no one saw coming?
"That second Wild Card creates an interesting dynamic," White Sox manager Robin Ventura said. "Sometimes you have to make decisions about your team while it's still sitting [on the edge of contention]. You have to make decisions without knowing exactly how your team is going to finish out."
Jake Arrieta threw a two-hit complete game and hit his first career home run on Sunday, carrying the Cubs to a 3-1 victory. It was a well-pitched, well-played game that followed the weekend's script, and the loss was only the White Sox's third since June 28.
Ventura's team has won nine of its last 12 games and is 13-7 since it escaped the fog of an eight-game losing streak. It is winning the way that Hahn drew it up.
That is, with a deep, at times dominating rotation and with improved fielding. The White Sox knew they had to improve their defense after 2014 but mostly paid only lip service to that need until a month or so ago.
They dug in behind Carlos Sanchez as the second baseman even though he was hitting .141 more than one month after replacing Micah Johnson as the regular. They promoted organizational favorite Tyler Saladino to play third base on Friday -- a move that's off to a good start -- and twice double-switched Jose Abreu out of games in favor of Adam LaRoche at Wrigley Field.
Ventura talked about the deflating nature of allowing unearned runs. It's clear that the Sox are making their stand with the team they feel will do the best job of catching the ball.
"You make adjustments," Ventura said. "You try and bring a guy in and infuse something you feel you need to improve at. Defensively, that's where we needed to go. Pitchers are pitching well. You get a ground ball, you want the play made."
While the White Sox are struggling to score runs, as they have all season, they've gotten a 2.13 ERA from the rotation of Chris Sale, Jose Quintana, Carlos Rodon, John Danks and Samardzija in the last 12 games.
Sale has been on a roll since early May. Samardzija, who shut out Toronto last Thursday, only recently hit his stride. Chicago's 1-2 combination has worked 40 2/3 innings during the team's resurgence, allowing five runs on only 25 hits while striking out 42.
Imagine what it could mean if Sale and Samardzija could remain on form into August and September. Then there's Quintana, a quality machine (14 in 18 starts, including the last nine) and Rodon, whom Cubs manager Joe Maddon compares with a young David Price.
The White Sox believe they'll be a force before it's all over if they ever start scoring runs. Maybe they'll be the contender that Samardzija is pitching for in September.
Phil Rogers is a national columnist for MLB.com. This story was not subject to the approval of Major League Baseball or its clubs.