Bautista ejected for arguing Davis' motion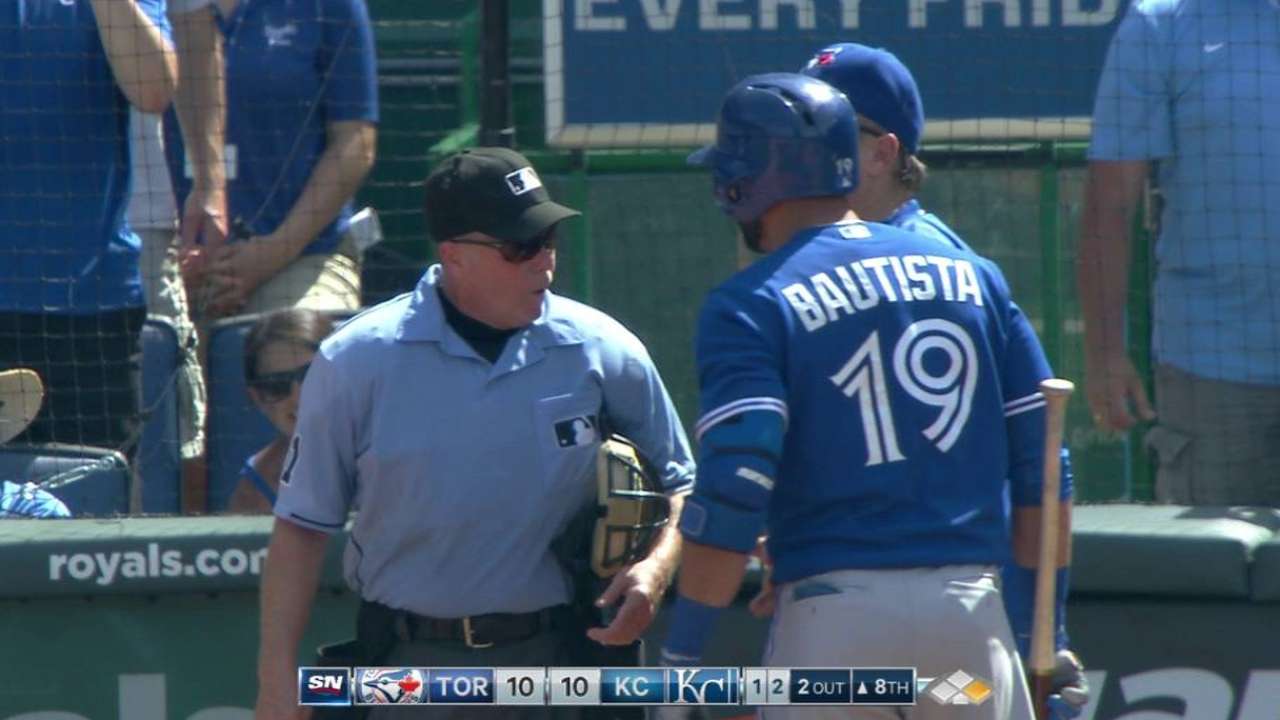 KANSAS CITY -- Blue Jays designated hitter Jose Bautista was ejected during an eighth-inning at-bat in Sunday's 11-10 loss to the Royals by home-plate umpire Jerry Meals after arguing that reliever Wade Davis wasn't coming to a complete stop with a runner at first.
In a 10-10 game, Jose Reyes was at first and Bautista was at the plate with one out.
"I said stuff, but that doesn't mean he is entitled to throw me out," Bautista said. "I don't feel it was deserving of an ejection. He pretty much went out of his way a lot to confront me when I said what I said. I didn't mention the strike zone. I didn't use any curse words."
Bautista's contention was simply that Davis was not coming to a complete stop with the speedy Reyes looking to get into scoring position.
"[Davis'] leg kept moving and then he started his delivery without coming to a full stop," Bautista said. "He [Meals] apparently didn't want to hear it."
Justin Smoak inherited a 1-2 count and finished the at-bat by popping out to center. Paulo Orlando then homered off Bo Schultz leading off the Royals' eighth and Kansas City held on in a wild game that had seven errors.
"It was an odd game, but those are going to happen every now and then," Bautista said. "Just wish we could have come out on top."
Robert Falkoff is a contributor to MLB.com. This story was not subject to the approval of Major League Baseball or its clubs.