Lagares not concerned about tight calf
Collins indicates Wright doing baseball-related activities; reliever Carlyle has hip surgery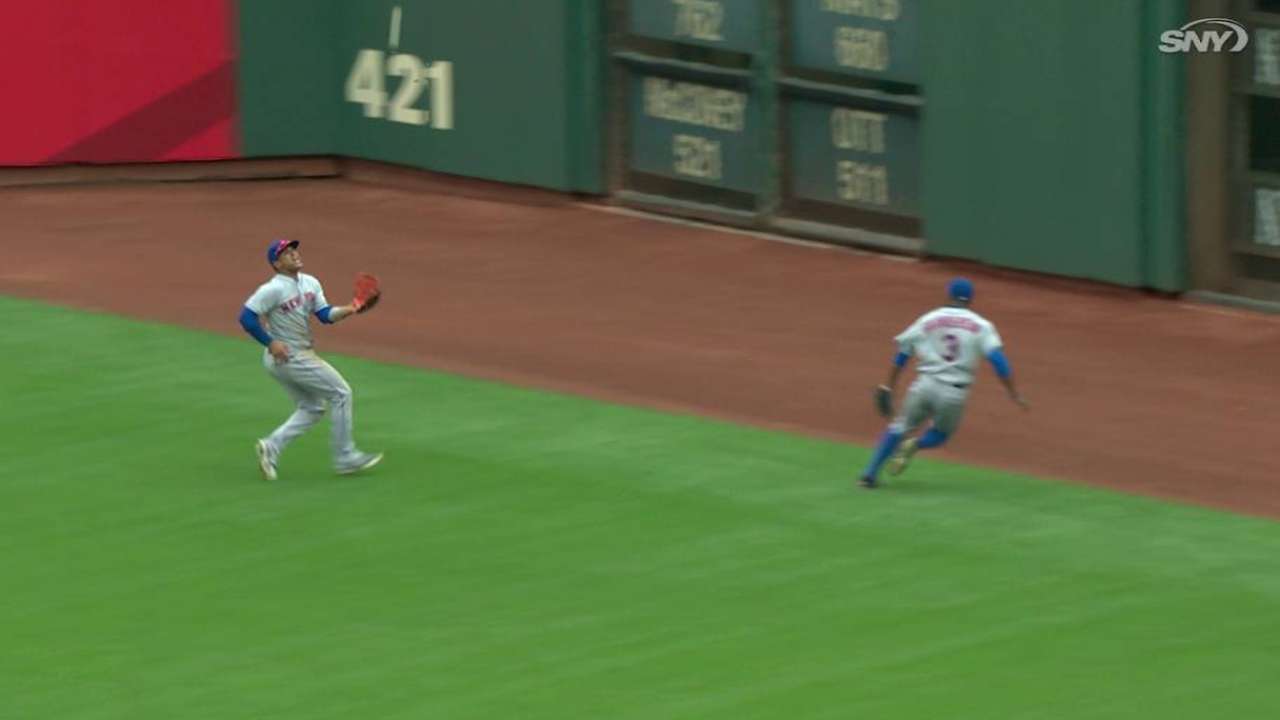 NEW YORK -- Mets manager Terry Collins could not provide an update on center fielder Juan Lagares after he was removed from Sunday's 5-3 win over the D-backs in the ninth inning with a tight right calf.
Lagares was in the training room at the time undergoing treatment, and afterwards told reporters he merely suffered a cramp that shouldn't sideline him for long.
Lagares had not been dealing with any calf issues prior to the top of the ninth inning Sunday, when Collins inserted John Mayberry Jr. in left and moved Kirk Nieuwenhuis to center. Lagares struck out in the bottom of the eighth to cap a 1-for-4 day at the plate. Lagares didn't appear hampered during any of his several putouts in center field throughout the afternoon, when temperatures exceeded 90 degrees.
"Something happened on one of his swings and his calf cramped up and we had to get him out," Collins said.
Other injury updates
• Collins said injured third baseman David Wright had begun activities "related to baseball activities." Collins wouldn't reveal what those related activities were, only that he talked to Wright on Sunday and that he was "on the upswing." Wright will meet with a team doctor Monday with the hope of being cleared for actual baseball activity. It's been a slow, mysterious road back for Wright, who landed on the disabled list in April with a hamstring strain before being diagnosed with spinal stenosis.
"He's hoping he can start some more aggressive things on the field here pretty soon," Collins said. "That's all he told me -- 'I'm doing related baseball stuff.' That's good enough for me."
• Veteran reliever Buddy Carlyle underwent surgery to repair the labrum in his hip. Carlyle was placed on the 15-day DL with lower back and hamstring strains May 13. New York transferred Carlyle to the 60-day DL to clear room on the 40-man roster for Jenrry Mejia on Tuesday. The 37-year-old Carlyle experienced a resurgence last season with New York, posting a 1.45 ERA in 31 innings. He owns a 5.63 mark in just eight innings this season.
Joe Trezza is an associate reporter for MLB.com. This story was not subject to the approval of Major League Baseball or its clubs.