Mejia strands baserunner in 2015 debut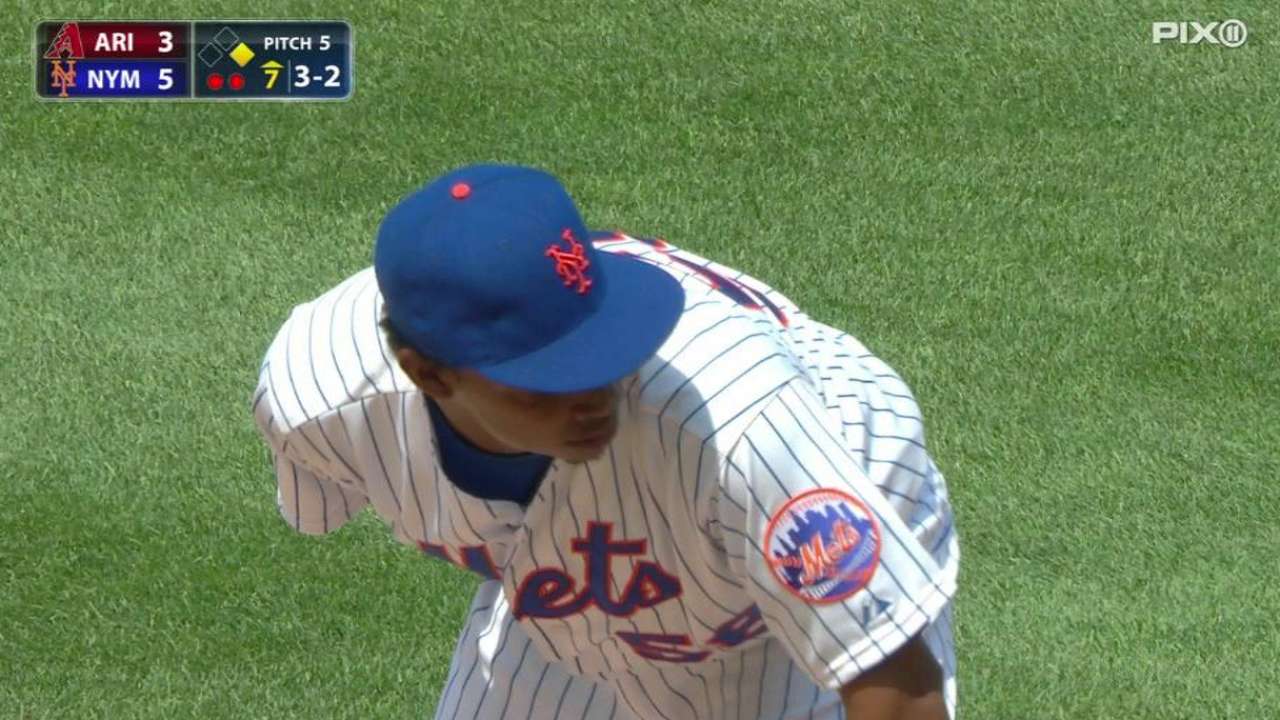 NEW YORK -- Jenrry Mejia has been back for a few days, but he hadn't been a factor in the Mets' bullpen since his return on Tuesday. That changed Sunday when Mejia closed out the seventh inning of the Mets' 5-3 win over the D-backs, in the process showing manager Terry Collins the potential late-inning bridge the right-hander's presence can represent.
With starter Jon Niese tiring in some stuffy humidity at Citi Field, Collins called on Mejia to face Chris Owings with a runner on base in a two-run game. When Mejia toed the mound it was the first time he'd done so since Sept. 28 of last season, due to an 80-game PED suspension he received just before Opening Day. Mejia showed some rust by firing his first three pitches well out of the strike zone. He came back with three heaters for strikes, the final one a 95-mph cutter that Owings popped to right.
"The first three pitches I was a little nervous," Mejia said. "I've been getting ready for five days. I finally got to go out there and throw my pitches and get outs."
Mejia then gave way to Bobby Parnell and Jeurys Familia, who recorded the final six outs. That wasn't necessarily the order Collins pictured in Spring Training, when Mejia was penciled in as the closer after saving 28 games in 2014. But Mejia's suspension opened the door for Familia, who has done nothing but shut doors since grabbing the closer role.
"I understand because I was out two, three months," Mejia said. "Now that I came back, I have to wait for my turn."
Mejia's return gives the Mets three relievers with closing experience at the back end of the bullpen. Parnell's transition to a setup role has gone smoothly to the tune of a 0.90 ERA in 10 innings. With Mejia manning the seventh inning, Collins believes the trio can develop into a dominant weapon. Parnell returned from Tommy John rehab on June 13.
"We were counting on that in Spring Training," Collins said. "Suddenly everybody broke down and Jenrry got suspended and that left us with Familia and some young rookies. Right now, the bullpen is coming around. Jenrry is nervous today, I think everybody saw that. But we're getting better. And if we can get it to the big guy at the end, we're going to win some games."
Joe Trezza is an associate reporter for MLB.com. This story was not subject to the approval of Major League Baseball or its clubs.