MLB.com Columnist
Anthony Castrovince
Indians excited about potential of No. 3 prospect Zimmer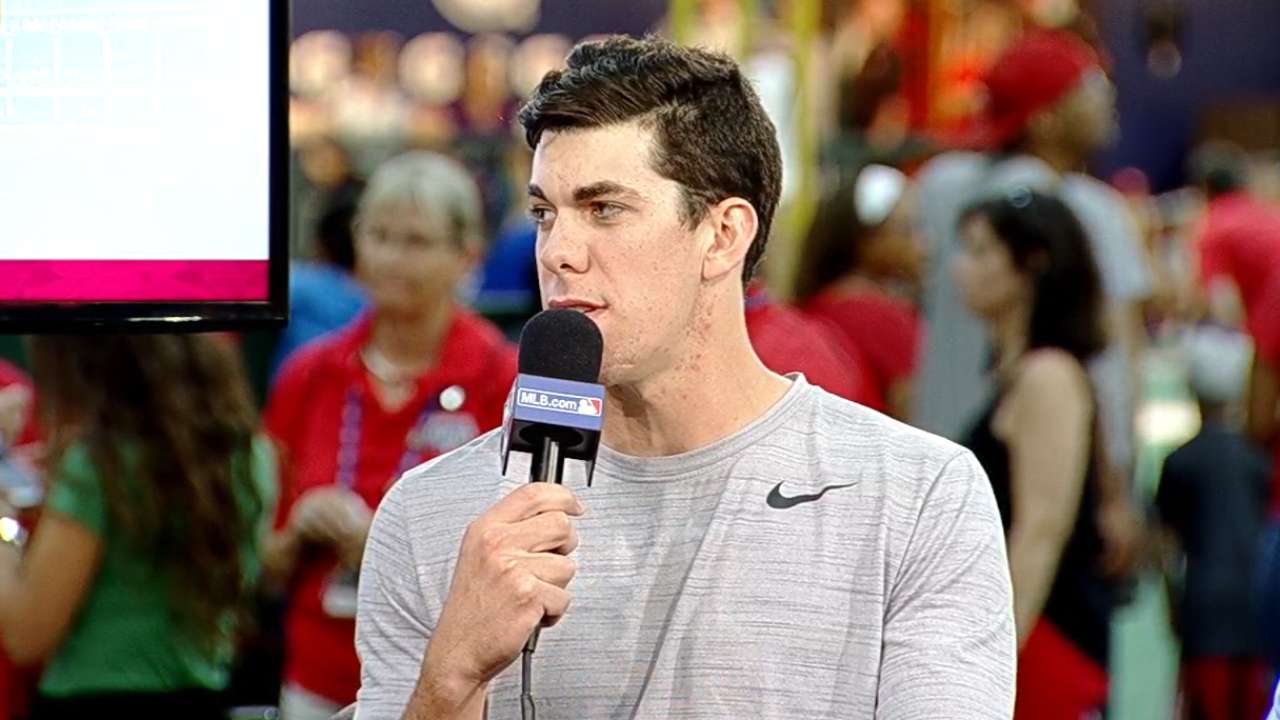 CINCINNATI -- The Indians liked Brad Zimmer. That's why they followed him closely at the University of San Francisco. That's why they drafted him 21st overall in last year's MLB Draft. That's why they gave him a $1.9 million signing bonus. You don't go through all that without expecting a guy to be pretty good.
But more than halfway through his first full professional season at Class A Lynchburg -- a season in which he was selected to represent the Tribe at Sunday's SiriusXM All-Star Futures Game -- it's fair to say Zimmer has actually exceeded the organization's expectations.
"He's more athletic than we even thought," Indians scouting director Brad Grant said. "It's been a lot of fun to see how quickly he has been able to adjust to professional baseball."
How quickly he rises to the big leagues remains to be seen. But the 22-year-old Zimmer didn't just get to Sunday's showcase, in which he went 0-for-2 while batting ninth for the U.S. team in their 10-1 victory, by virtue of first-round name recognition. He earned this honor, and he's on the verge of a promotion to Double-A Akron, where his speed, defense and plate discipline and developing power could have him knocking on the big league door relatively soon.
"A lot of guys here have what it takes to get to the next level," he said. "It's just a matter of how you apply that. It's a grind. It's a long season, a lot of hours. The ones that can separate themselves from the others are the ones who go on."
Zimmer separates himself with an above-average plate approach that has contributed to his .401 on-base percentage at Lynchburg and speed that has led to 32 stolen bases already. The questions coming into his pro career revolved around how he would adjust to center field and how quickly he'd fill out his 6-foot-4 frame and start generating more power.
Though he's far from a finished product, Zimmer has acclimated well defensively after playing predominantly in right field in his collegiate career. His 10 homers, 16 doubles and three triples in 334 plate appearances in the Carolina League are an encouraging sign from a power standpoint.
"It's been really amazing to see how quickly he can pick up and apply adjustments in center field and on the bases," Grant said. "His first step is extremely quick, and he can cover a lot of ground with his strides. The bat has obviously progressed as hoped and the power is really coming on."
Zimmer said he's very approach-oriented and doesn't like to make major mechanical changes to his swing. But he is showing more of a happy trigger-finger at the plate.
"I've been trying to be more aggressive and get pitches early on that I can really drive," he said. "Because once you get to this level, there's guys with good arms and you'll maybe see one, maybe two good pitches. So you've got to be ready to hit."
Zimmer was clearly ready for the pros. Even more ready than the Indians thought. Sunday was a small taste of the limelight, but it might not be long before he's suiting up in a big league clubhouse again.
Anthony Castrovince is a reporter for MLB.com. Read his columns and follow him on Twitter at @Castrovince. This story was not subject to the approval of Major League Baseball or its clubs.