De La Rosa, D-backs slip up heading into break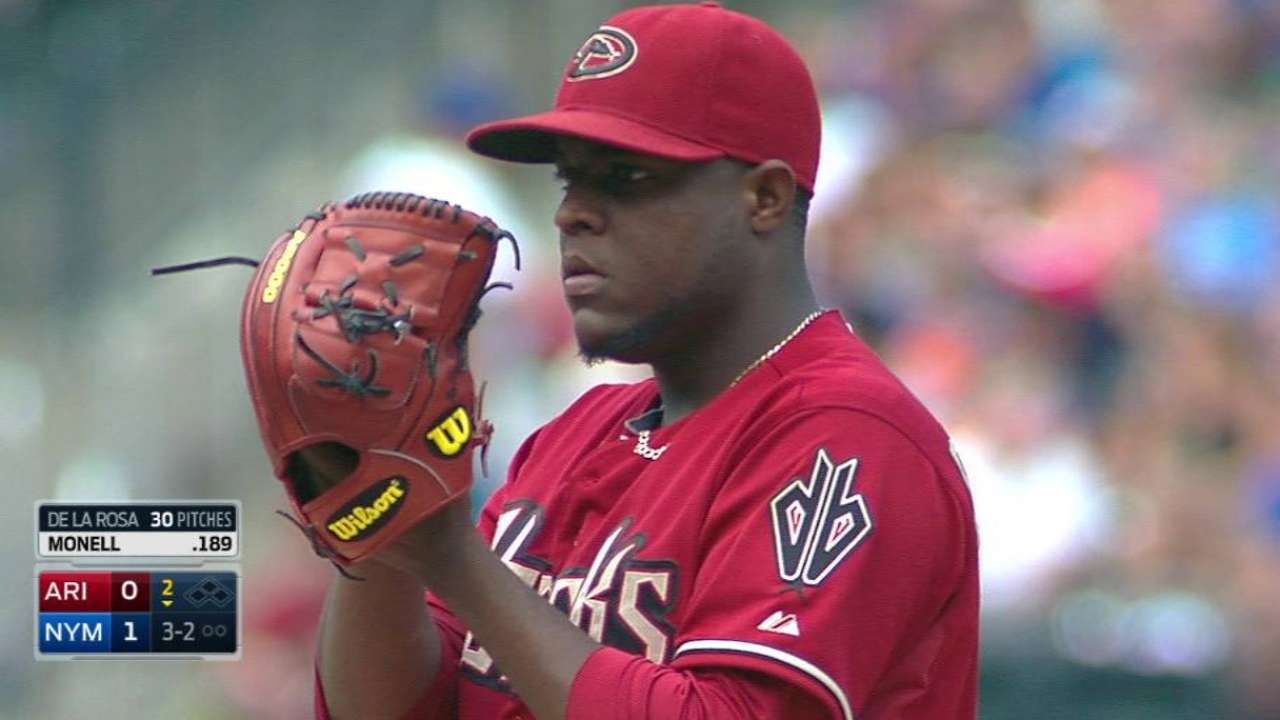 NEW YORK -- When Rubby De La Rosa got to the dugout after giving up three runs in the third inning on Sunday at Citi Field, D-backs manager Chip Hale had a message for him. And while it might have looked like a tense exchange, it was more just a teachable moment.
"I just told him I want to leave him in the game -- 'I'm going to leave you in the game, but you've got to get the ball down you've got to use the great infield defense,'" Hale said.
The Mets capitalized on De La Rosa's inability to keep the ball down by smacking three homers against him and four for the game as they completed a three-game sweep with a 5-3 win to wrap up the first half.
The D-backs knew when they traded for De La Rosa last offseason that he could at times be dominant, and at others he could leave a manager and pitching coach pulling their hair out.
After a four-start stretch in which he turned in an ace-like 1.30 ERA while allowing just two home runs, De La Rosa has struggled mightily in his last two starts, surrendering 10 earned runs in 8 2/3 innings thanks in part to five home runs.
"I made a lot of mistakes," said De La Rosa, who allowed four runs on eight hits over 3 2/3 innings vs. the Mets. "Today wasn't my best day, I think, in trying to keep the ball down. I kept a couple of balls up and I paid the price for that. I don't know. I'm trying to figure out what's going on. Maybe it's mechanics. It's mental, maybe. I'll have to figure out what it is. I'll work on it so it doesn't happen again."
The D-backs are hoping that De La Rosa can find a way at some point to harness the electric stuff that he has.
"For us to be successful, Rubby has to be one of our top pitchers," Hale said. "So he's got to get the ball down."
After reaching the .500 mark on Wednesday for the first time since April 24, the D-backs dropped three straight to enter the All-Star break on a sour note.
"We just have a pretty young team, myself included, so I think the longer the season goes on hopefully we can just keep learning," said first baseman Paul Goldschmidt, who hit his 21st homer. "We've seen a lot of positives, we've seen a lot of guys make adjustments. So I think as a team we've played the game extremely hard, and that's everything you set out to do. We've come up short on some games. There's been a lot of close games where I feel like we were a hit or two away, and hopefully as we get more experience as a team and individuals find a way to kind of come through and maybe that will let us have a better second half."
Steve Gilbert is a reporter for MLB.com. Read his blog, Inside the D-backs, and follow him on Twitter @SteveGilbertMLB. This story was not subject to the approval of Major League Baseball or its clubs.