Jimenez brings heat on Futures' big stage
Detroit prospect retires 2 batters on 6 pitches, all fastballs
CINCINNATI -- Joe Jimenez went from throwing a low 90s fastball out of high school to mid-to-upper 90s last year. In that sense, he's a classic Tigers relief prospect.
As one of the youngest pitchers in the SiriusXM All-Star Futures Game, however, the 20-year-old goes against the track record of the Tigers, who tend to promote mid- to upper-level prospects for the event -- a 10-1 victory for the U.S. team Sunday.
Given the chance, Jimenez didn't disappoint. He also didn't miss the chance to try to learn from it.
"I learned a lot of stuff from the guys that have more experience," the Class A West Michigan right-hander said after recording two outs in the eighth inning. "It's my first time here, a lot of crowd over here, and it was a really good experience."
If he keeps pitching like this, he could get a shot in a big league ballpark sooner than expected. The confluence of Jimenez's sudden emergence and the Tigers' desperate need for relief help from within their organization puts him in about as bright of a position as he could hope at this point. He watches Tigers games, trades text messages regularly with Tigers reliever Bruce Rondon, and follows their situation.
On the flip side, he could end up like many other Tigers prospects who go from the Futures Game in mid-July to some other organization by the July 31 Trade Deadline. Jake Thompson did that last year, Rob Brantly in 2012 and Francisco Martinez in 2011.
Jimenez didn't want to think about that Sunday. All he wanted to do was pitch. The slider, his secondary pitch of choice, stayed in his pocket.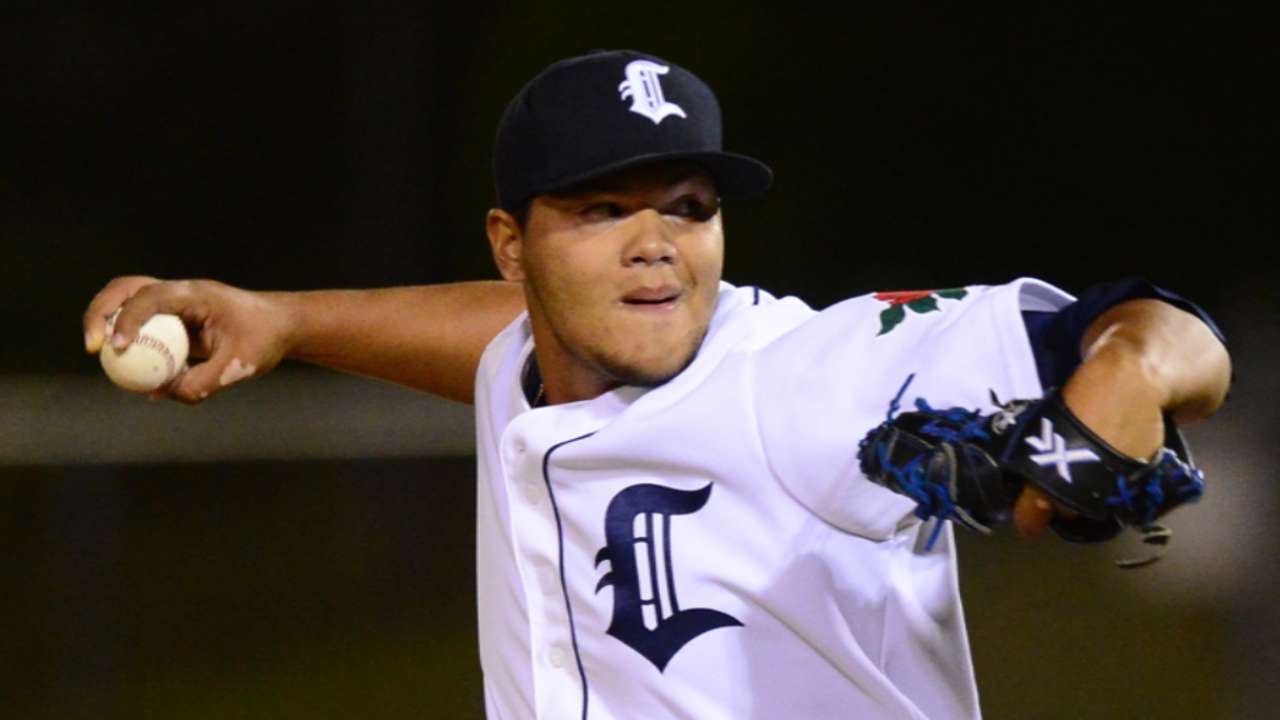 With a 6-foot-3, 220-pound frame that belies his age, Jimenez needed six pitches to retire two batters. All of them were fastballs, ranging from 94 to 97 mph. The latter came on his first pitch, which Kyle Waldrop lined out to center.
From there, Jimenez fell behind on Yankees slugging prospect Aaron Judge before sending three fastballs by him. Two of them were swings and misses, including a 96-mph heater for the strikeout.
Add it to his West Michigan numbers, and it was his 40th strikeout in 26 2/3 innings this season. It was the largest audience he's had for one.
"That's the first time I pitched in front of that many fans," he said.
The fans have a lot of faces. The hitter, on the other hand, does not, at least not to him.
":I don't see the face of the hitter," he said. "That's why I do everybody the same. I just don't look at the hitter."
Nor does he want to look too far into the future with his situation.
"I'm still young," he said. "I'm just going to pitch wherever they put me and do the job. Hard work every day. They'll make the decision if I'm moving up."
Jason Beck is a reporter for MLB.com. Read Beck's Blog, follow him on Twitter @beckjason and listen to his podcast. This story was not subject to the approval of Major League Baseball or its clubs.