Update: All the latest All-Star additions
Four players in each league have been added to Midsummer Classic rosters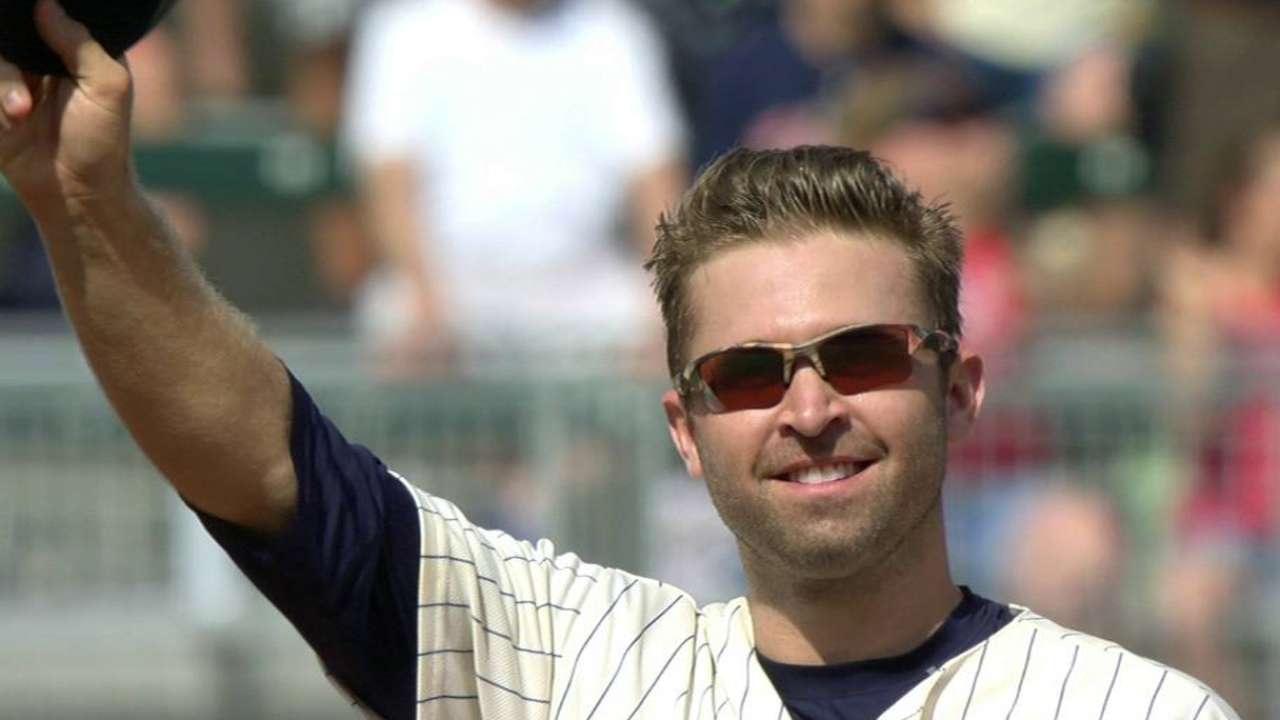 This year's All-Star selections were revealed last week, but as Tuesday's game draws nearer, the rosters have been in a state of flux.
Eight players have been added to the National and American League rosters over the past few days, replacing players who will be inactive due to injury or, in the case of two starting pitchers, chose not to take the mound Tuesday on just one day of rest.
In the event a player cannot or chooses not to participate in Tuesday's 86th All-Star Game presented by T-Mobile, it falls to the manager -- in this case, Ned Yost for the AL and Bruce Bochy for the NL -- to select an alternate for the vacant roster spot. If the player was elected a starter via the fan vote, the spot in the starting lineup then goes to whomever among the reserves received the next highest vote totals.
Here's a breakdown of the new additions so far:
American League:
• Angels left-hander Hector Santiago: Replaced A's right-hander Sonny Gray, who started Sunday afternoon and chose not to participate in the Midsummer Classic as he'd be pitching on just one day of rest.
• Twins second baseman Brian Dozier: Replaced Blue Jays outfielder Jose Bautista, who will receive treatment on his sore right shoulder over the All-Star break.
• Yankees outfielder Brett Gardner: Replaced Royals outfielder Alex Gordon, who is sidelined with a Grade 2-plus left groin strain and isn't likely to take the field again until September. Adam Jones will assume Gordon's spot in the starting lineup
• Yankees first baseman Mark Teixeira: Replaced Tigers first baseman Miguel Cabrera, who is on the disabled list with a calf injury. Albert Pujols will start in place of Cabrera.
National League:
• Brewers outfielder Ryan Braun: Replaced Matt Holliday, who's on the 15-day disabled list with left wrist discomfort and isn't due to return until sometime after the break. Dodgers rookie Joc Pederson will replace Holliday in the starting lineup.
• Dodgers left-hander Clayton Kershaw: Replaced Nationals right-hander Max Scherzer, who started Sunday afternoon and chose to be inactive for the All-Star Game rather than pitch on one day of rest.
• Rockies shortstop Troy Tulowitzki: Replaced Marlins second baseman Dee Gordon, who will miss the game after dislocating his left thumb Saturday. Tulowitzki's teammate DJ LeMahieu is slated to replace Gordon in the starting lineup.
• Cubs third baseman Kris Bryant: Replaced Marlins outfielder Giancarlo Stanton, who's recovering from June left hand surgery. Andrew McCutchen will take Stanton's starting spot.
During the All-Star Game presented by T-Mobile in Cincinnati on Tuesday, fans can once again visit MLB.com to submit their choice for the Ted Williams Most Valuable Player Award presented by Chevrolet. Voting exclusively at MLB.com, online and via their mobile devices in the 2015 All-Star Game MVP Vote presented by Chevrolet, the fans' collective voice will represent 20 percent of the overall vote that determines the recipient of the Arch Ward Trophy.
MLB.TV Premium subscribers will be able to live stream the All-Star Game via MLB.TV through FOX's participating video providers. Access will be available across more than 400 supported MLB.TV platforms, including the award-winning MLB.com At Bat app. MLB.com will provide extensive online coverage of the All-Star Week festivities, including the 2015 Gillette Home Run Derby presented by Head & Shoulders, part of Gatorade All-Star Workout Day on Monday. The Derby will feature a new format with brackets and timed rounds and will be broadcast live by ESPN and MLB.com beginning at 8 p.m. ET.
The 86th Midsummer Classic will be televised nationally by FOX Sports (coverage begins 7 p.m. ET), in Canada by Rogers Sportsnet and RDS, and worldwide by partners in more than 160 countries. ESPN Radio and ESPN Radio Deportes will provide exclusive national radio coverage of the All-Star Game. MLB Network and SiriusXM will also provide comprehensive All-Star Week coverage. For more information, please visit allstargame.com.
Chad Thornburg is a reporter for MLB.com. This story was not subject to the approval of Major League Baseball or its clubs.