Angels rout Mariners to take AL West lead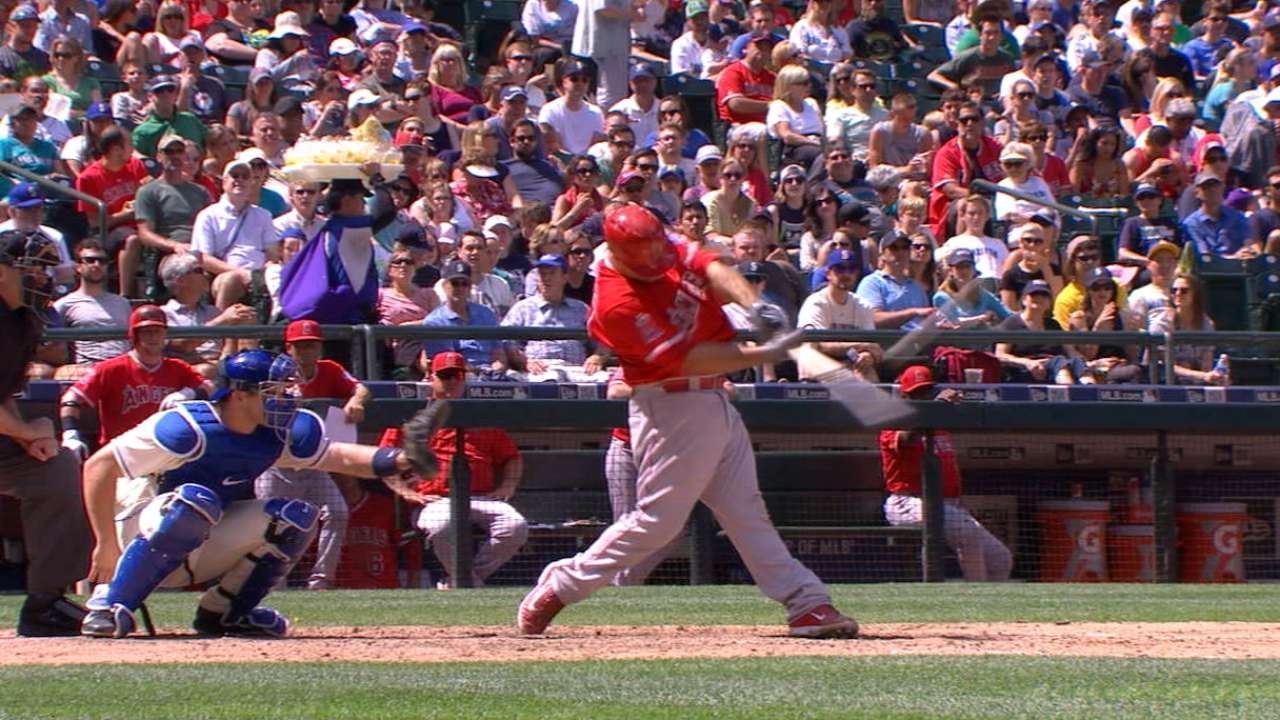 SEATTLE -- Left-hander Andrew Heaney threw seven shutout innings as the Angels beat the Mariners, 10-3, on Sunday to earn a split of the four-game series at Safeco Field.
The Angels sent 11 to the plate and scored six runs in the sixth inning to put the game away. They improved to 48-40, moving a half-game ahead of the Astros to send them into the All-Star break with their first lead in the American League West standings since April 17.
"I think that's pretty much what we've been seeing from Andrew," said Angels manager Mike Scioscia. "It was all about fastball command with life on his fastball this afternoon, and he pitched a good game."
Mariners right-hander Taijuan Walker allowed seven runs in five-plus innings, marking his shortest start since May 19 as Seattle fell to 41-48, 7 1/2 games behind the new division leaders.
"It was a very bad performance on our part," Mariners manager Lloyd McClendon said after his club made three errors. "In a lot of ways, it was very embarrassing. We're much better than that and we will play better than that. That was not a good performance."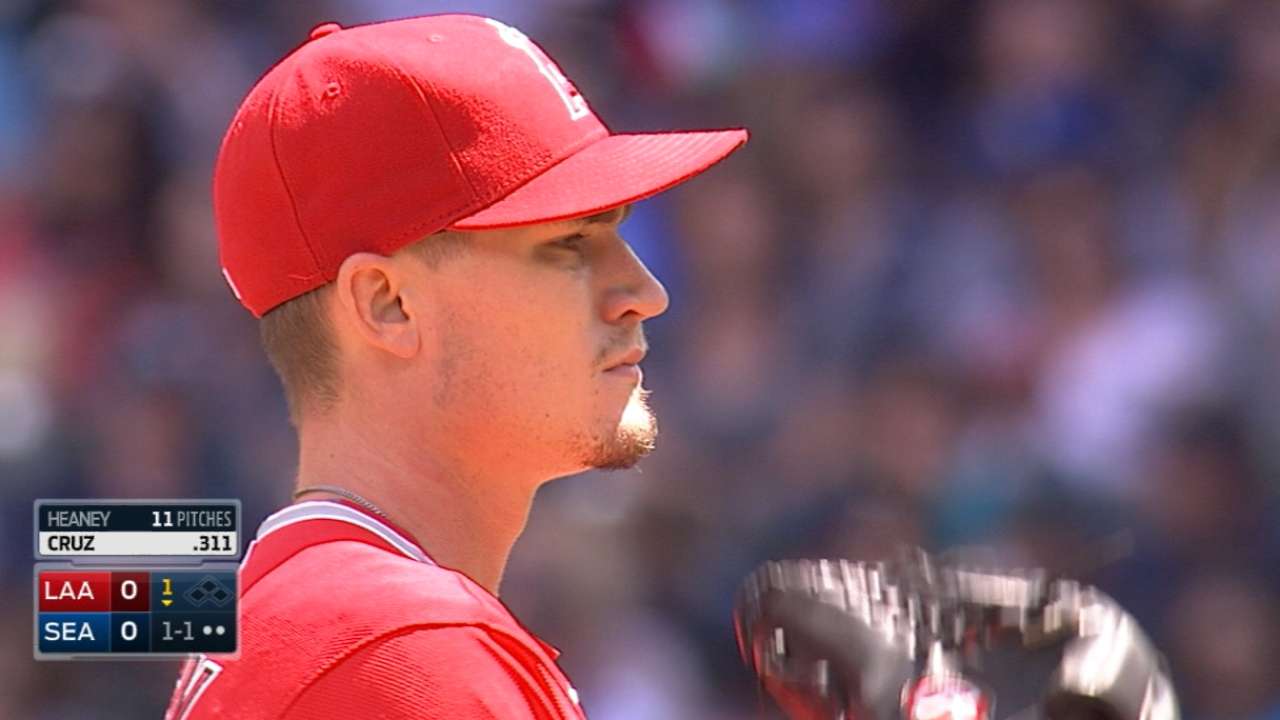 • Heaney makes case to stay in Angels' rotation
MOMENTS THAT MATTERED
Aybar's mad dash: Erick Aybar nearly rounded the bases in the third inning on what started as just a double down the left-field line. Mariners left fielder Mark Trumbo missed his cutoff man to allow Mike Trout to score and give the Angels a 3-0 lead, and Walker, backing up the throw behind the plate, missed his catcher to throw the ball into the infield. Aybar made a break for home in an attempt to score the second run of the inning, but was thrown out at home by Robinson Cano for the third out.
"It was a mental mistake on Walker's part. He should have been backing up [the throw home] and then he tried to make something happen out of nothing, really," said McClendon. "We caught a break because we got the guy out at the plate. But we just made too many errors, what you call unforced errors. We're a better club than that."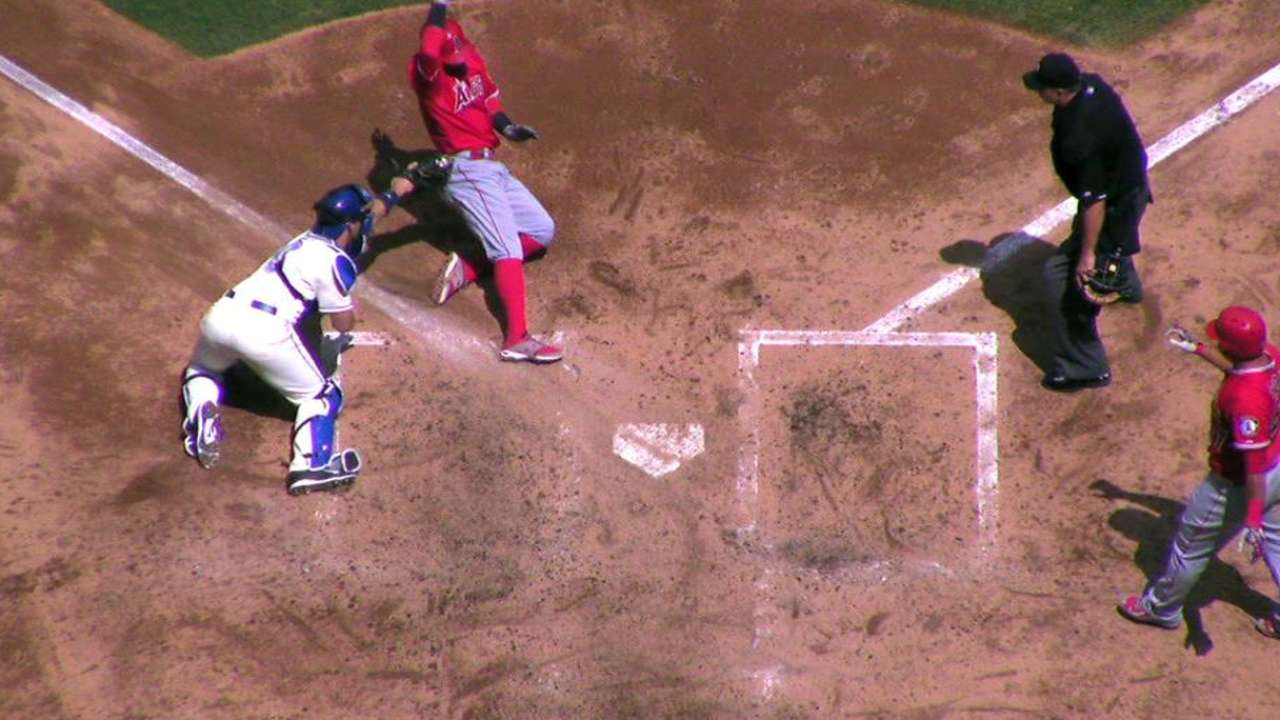 Getting defensive (or not): Trumbo's errant throw wasn't the Mariners' only miscue, as sloppy defense cost them early and often. Cano let a ground ball by Matt Joyce go under his glove with runners on second and third as the Angels scored their first run of the game in the second inning. And with runners on first and second in the sixth, Walker threw wide of third on a sacrifice bunt by Aybar, allowing Trout to score before Walker gave way to the bullpen.
"Trout was on second and he's a fast runner," Walker said. "I wanted to get that out at third and I rushed it. I just threw it away, trying to be too quick with it." More >
Sixth-inning spree: The Angels' offense didn't stop when Walker left the ballgame, adding two more hits off reliever David Rollins to finish the inning with six runs on five hits. C.J. Cron singled to right and David Robertson grounded into a fielder's choice for the first out of the inning before Chris Iannetta belted a two-run shot to left to give the Angels 9-0 lead.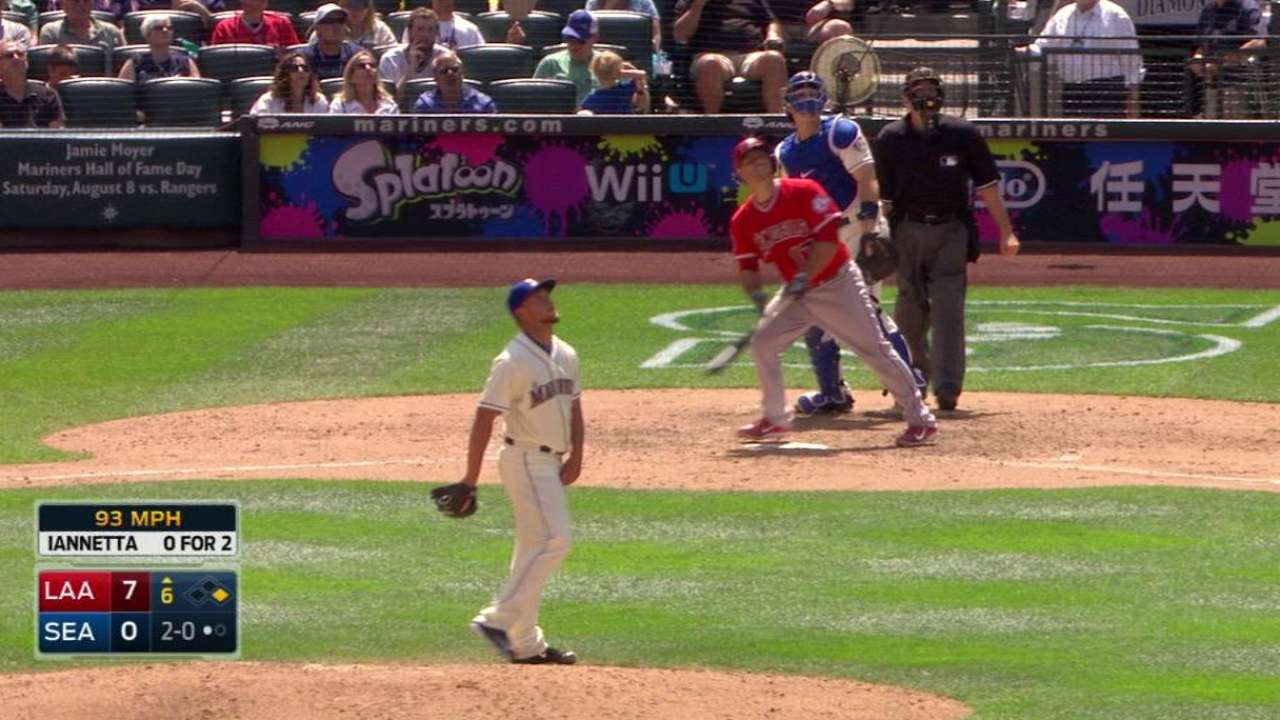 Seager swinging it: Mariners third baseman Kyle Seager finished his first half on a positive note, going 3-for-4 with a double and an RBI. He was 9-for-13 in the series to raise his average from .251 to .269. Seager's first two hits against the left-handed Heaney continued an impressive trend. He has batted .318 (28-for-88) with five home runs against southpaws and is the only left-handed hitter in the AL with 75 or more plate appearances vs. lefties to have an average above .300 against them.
QUOTABLE
"It's just kind of funny, listening to a lot of the questions we've had to field up to this point. It's early. A lot can happen. This could be a good thing, and it could turn out bad. We don't know. That's why you play 162. If we keep doing this, we keep playing hard, we have a good team, we have a good offense, we have a good pitching staff, we believe we'll be OK." -- Iannetta, on the Angels finishing the first half in first place
"We've got to get better and we've got to start stringing together wins. That's the message I'm going to send to my club starting the second half. I've given my club a lot of string and allowed them to do a lot of things, but it's not working and we've got to change things." -- McClendon, as his Mariners hit the break far below expectations
SOUND SMART WITH YOUR FRIENDS
The Mariners have won seven of their last 13 games, but have followed each of their last six wins with a loss.
UPON FURTHER REVIEW
Scioscia challenged the out call on Aybar at the plate in the third inning, but it was confirmed upon review.
Watch every out-of-market regular-season game live on MLB.TV.
Greg Johns is a reporter and Andrew Erickson is an associate reporter for MLB.com. This story was not subject to the approval of Major League Baseball or its clubs.