Wiffle ball tourney gets kids in the game
Marge Schott Boys & Girls Club team crowned winner of week-long Play Ball event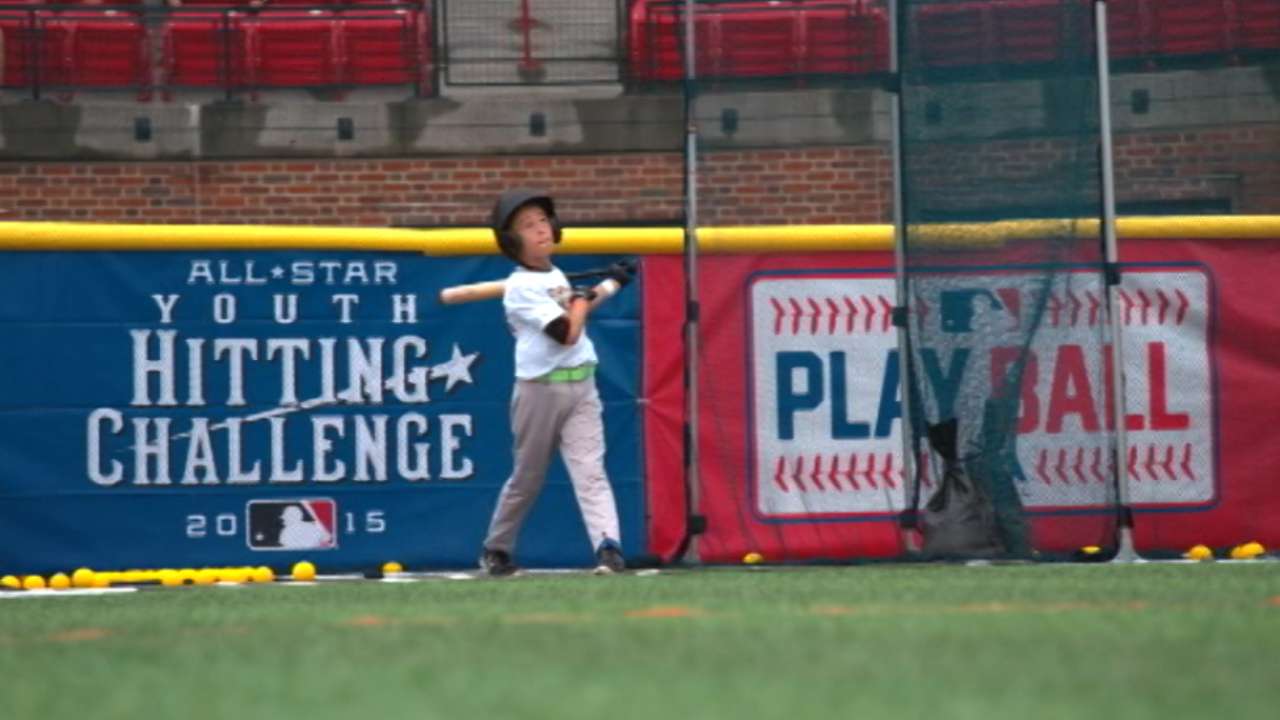 CINCINNATI -- The Marge Schott-Unnewehr Boys & Girls Club was crowned the Play Ball All-Star Game Wiffle Ball Tournament champions on Sunday, but based on the smiles and laughs, it appeared everyone participating was victorious.
The tournament came to a conclusion on Sunday at the Fanzone of Great American Ball Park, with the Marge Schott team besting the Clem and Ann Buenger Boys & Girls Club for the top prize. The tournament was an eight-team single-elimination competition, held throughout All-Star Week, with the teams made up of local chapters from the Greater Cincinnati Boys & Girls Clubs. The quarterfinals for the event were held at the P&G Cincinnati MLB Urban Youth Academy on Friday, and the semifinals were held at T-Mobile All-Star FanFest yesterday. All the kids in this tournament ranged from ages 9-12.
Ten-year-old Lauryn Dixon helped lead the Marge Schott team to the championship on Sunday, hitting a homer during the title match. She said her favorite part of the tournament was hitting that home run, and overall was happy she competed in the event.
"I thought it was pretty fun," Dixon said. "I liked how we got to play."
Launched just last month, Play Ball is a new initiative from Major League Baseball and USA Baseball, created to encourage participation in different forms of baseball for all ages, especially kids. It highlights that baseball can be played in non-traditional forms -- like stickball and Wiffle ball; skills competitions like Pitch, Hit and Run; or simply playing catch.
Despite coming up short in the championship game, 10-year-old Christian Smith of the Clem and Ann Buenger team was happy he got to be a part of the event.
"I thought it was OK," Smith said. "I liked that we got to play at the Wiffle ball field at [Great American Ball Park]."
Following the game, the players were able to stick around and attend the SirusXM All-Star Futures Game and All-Star Legends & Celebrity Softball Game at Great American Ball Park.
As the three-day tournament wrapped up on Sunday, Play Ball All-Star Wiffle Ball Tournament Coordinator Brian Blinn said he was pleased with the way the players conducted themselves. He said he thought all of the players were respectful of the umpires and coaches while still competing at a high level on the field.
"They are learning competition, a competitive spirit but they are keeping their heads about them," Blinn said. "They are 10 to 12 year old kids, and I've been super impressed with just their attitude. They haven't argued a call, they haven't yelled at an umpire, they haven't talked back to a coach and they are extremely competitive at the same time. It's been a lot of fun to watch them."
During the All-Star Game presented by T-Mobile in Cincinnati on Tuesday, July 14, fans can once again visit MLB.com to submit their choice for the Ted Williams Most Valuable Player Award presented by Chevrolet. Voting exclusively at MLB.com, online and via their mobile devices in the 2015 All-Star Game MVP Vote presented by Chevrolet, the fans' collective voice will represent 20 percent of the overall vote that determines the recipient of the Arch Ward Trophy.
MLB.TV Premium subscribers will be able to live stream the All-Star Game via MLB.TV through FOX's participating video providers. Access will be available across more than 400 supported MLB.TV platforms, including the award-winning MLB.com At Bat app. MLB.com will provide extensive online coverage of the All-Star Week festivities, including the 2015 Gillette Home Run Derby presented by Head & Shoulders, part of Gatorade All-Star Workout Day on Monday, July 13. The Derby will feature a new format with brackets and timed rounds and will be broadcast live by ESPN and MLB.com beginning at 8 p.m. ET.
The 86th Midsummer Classic will be televised nationally by FOX Sports (coverage begins 7 p.m. ET), in Canada by Rogers Sportsnet and RDS, and worldwide by partners in more than 160 countries. ESPN Radio and ESPN Radio Deportes will provide exclusive national radio coverage of the All-Star Game. MLB Network and SiriusXM will also provide comprehensive All-Star Week coverage. For more information, please visit allstargame.com.
Robert Bondy is an associate reporter for MLB.com. This story was not subject to the approval of Major League Baseball or its clubs.