Kids show off skills in Youth Hitting Challenge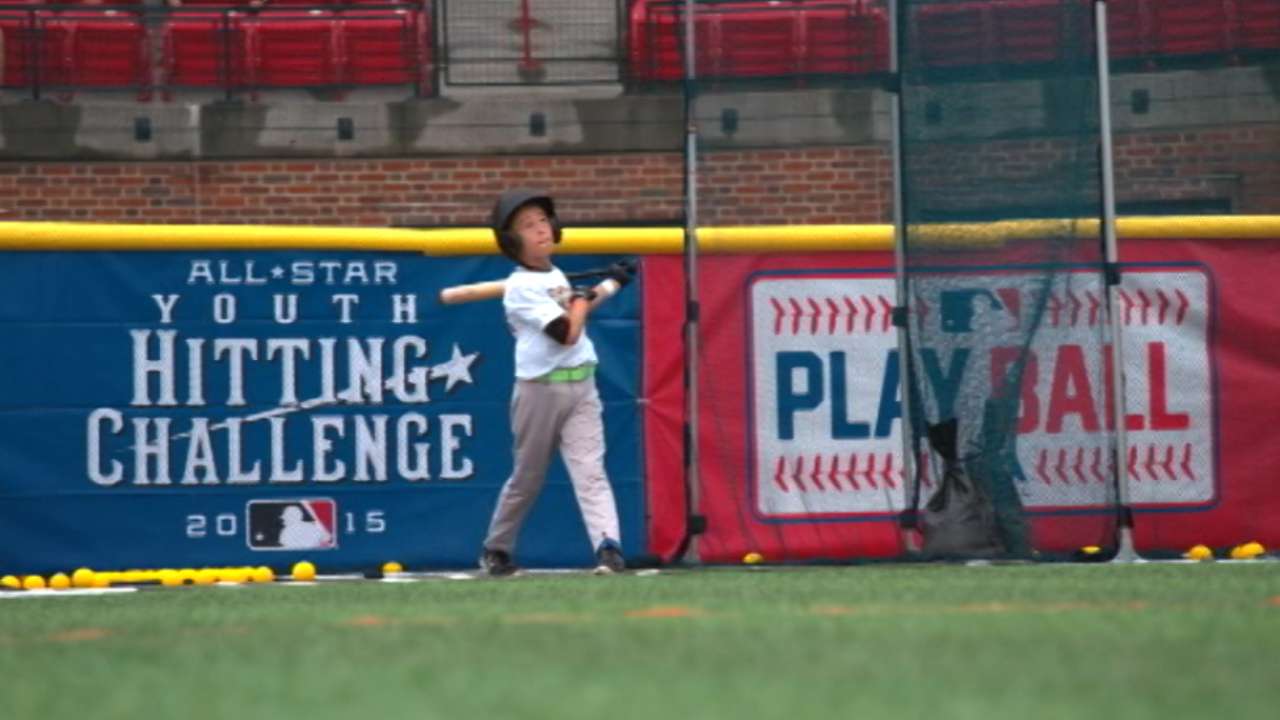 CINCINNATI -- Grady Root, 11, of Batavia, Ohio, was one of the seven age-group winners in the MLB All-Star Youth Hitting Challenge, a brand-new official All-Star Week even that brought 310 kids to Marge Schott Stadium at the University of Cincinnati on Sunday morning.
He was "already going" to the Gillette Home Run Derby presented by Head & Shoulders on the following night over at Great American Ball Park, but after slugging his way to a prize package that included a free pair of tickets to that event, he said with a smile, "Now I can bring two more people along."
"I thought that was really cool that they let us be a part of All-Star Week," said Root, who plays for the Triple Crown Tigers and attends Glen Este Middle School. "It was really fun. I was really nervous in the finals, but I liked coming here, and everybody was nice."
MLB and the Reds teamed up to host the Hitting Challenge, which was open to participants ages 10-16 and free of charge. It consisted of two scoring stations: one for bunting and one for hitting. Participants attempted to score as many points as possible by hitting various targets laid out on a scoring grid. They competed by age, with the two best scores in each group facing off in the finals. In each of the seven age groups, the participant with the most points was named the winner.
"I think it's important that at [in] all of our major events we have an opportunity for kids to interact with the game on a hands-on basis," said Commissioner Rob Manfred, who attended the event with other MLB and Reds officials. "I think the Hitting Challenge is an example of the type of event that is important to the future of our game."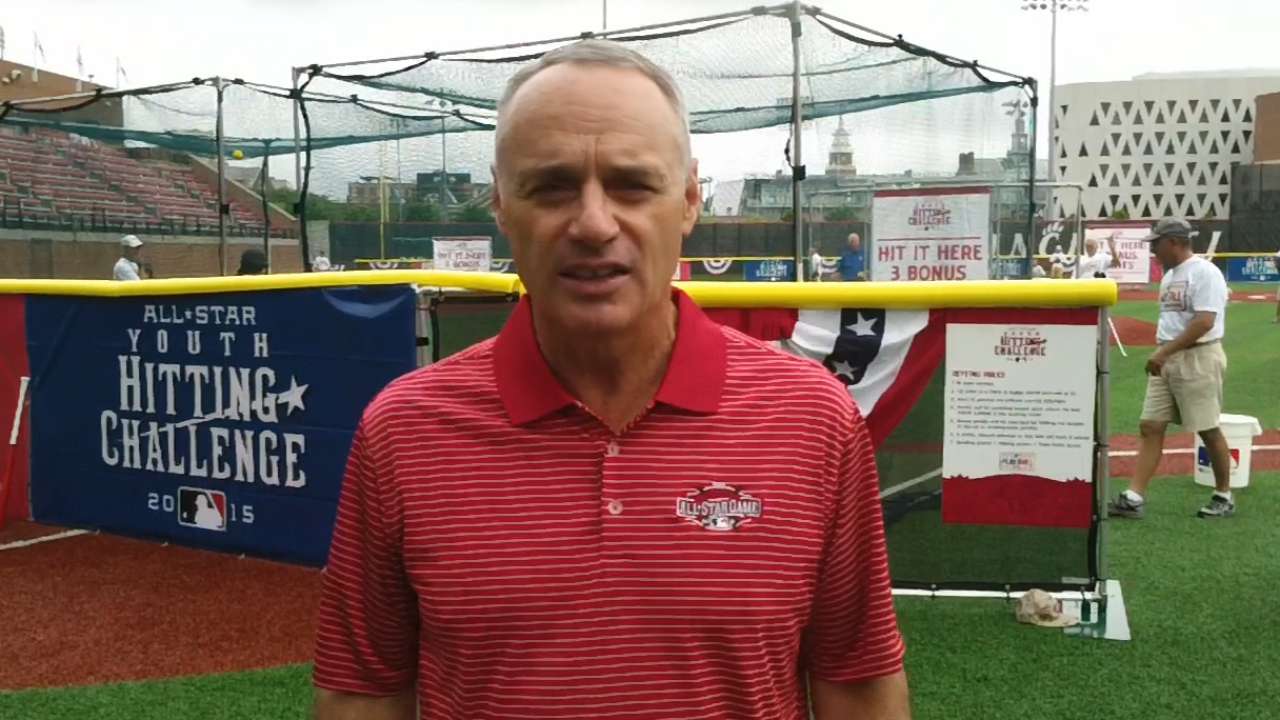 MLB and USA Baseball are introducing the significant new Play Ball initiative this summer, and the Hitting Challenge was one of four specific Play Ball-affiliated events taking place throughout Cincinnati during All-Star Week. Others have included Thursday's successful attempt to set the Guinness World Records title for the Largest Game of Catch, and the All-Star Wiffle Ball Tournament.
"Play Ball is an across-the-board, grassroots initiative designed to allow kids to play our game without all of the formalities of 18 players and an umpire," Manfred said. "I think the Hitting Challenge, which is a skills-based game, is an example of the type of things we want kids doing."
The Hitting Challenge lasted from 9 a.m. until 1 p.m. ET, fortunately starting just after a long night of heavy rain subsided. "Let's hope that we survive the rain all week long," Manfred said, echoing a sentiment expressed by a lot of people at the various All-Star community events.
After all contestants in an individual age group batted in side-by-side cages, the top two scores were compiled. Those two kids then were taken down the right-field line to a bunting area, where they had to lay down bunts and stop the ball on numbered areas. Then they returned to the side-by-side cages and alternately hit balls from a machine.
Each winner was presented with a special red Louisville Slugger bat featuring the logo of Tuesday's 86th All-Star Game presented by T-Mobile. By registering and competing in the Hitting Challenge, all participants received at no charge two T-Mobile All-Star FanFest tickets, two tickets to a future Reds game and a Play Ball T-shirt.
"I think it's a fantastic opportunity for kids to be part of the All-Star Week," Manfred said. "One of the things we try to do during All-Star Week is provide opportunities for all sorts of fans -- young and old -- to interact with our game, and this is a great opportunity for kids."
During the All-Star Game presented by T-Mobile in Cincinnati on Tuesday, fans can once again visit MLB.com to submit their choice for the Ted Williams Most Valuable Player Award presented by Chevrolet. Voting exclusively at MLB.com, online and via their mobile devices in the 2015 All-Star Game MVP Vote presented by Chevrolet, the fans' collective voice will represent 20 percent of the overall vote that determines the recipient of the Arch Ward Trophy.
MLB.TV Premium subscribers will be able to live stream the All-Star Game via MLB.TV through FOX's participating video providers. Access will be available across more than 400 supported MLB.TV platforms, including the award-winning MLB.com At Bat app. MLB.com will provide extensive online coverage of the All-Star Week festivities, including the 2015 Gillette Home Run Derby presented by Head & Shoulders, part of Gatorade All-Star Workout Day on Monday. The Derby will feature a new format with brackets and timed rounds and will be broadcast live by ESPN and MLB.com beginning at 8 p.m. ET.
The 86th Midsummer Classic will be televised nationally by FOX Sports (coverage begins 7 p.m. ET), in Canada by Rogers Sportsnet and RDS, and worldwide by partners in more than 160 countries. ESPN Radio and ESPN Radio Deportes will provide exclusive national radio coverage of the All-Star Game. MLB Network and SiriusXM will also provide comprehensive All-Star Week coverage. For more information, please visit allstargame.com.
Mark Newman is enterprise editor of MLB.com. Read and join other baseball fans on his MLB.com community blog. This story was not subject to the approval of Major League Baseball or its clubs.