Beede escapes jam in Futures Game
Giants' No. 3 prospect joins Mella in prospect showcase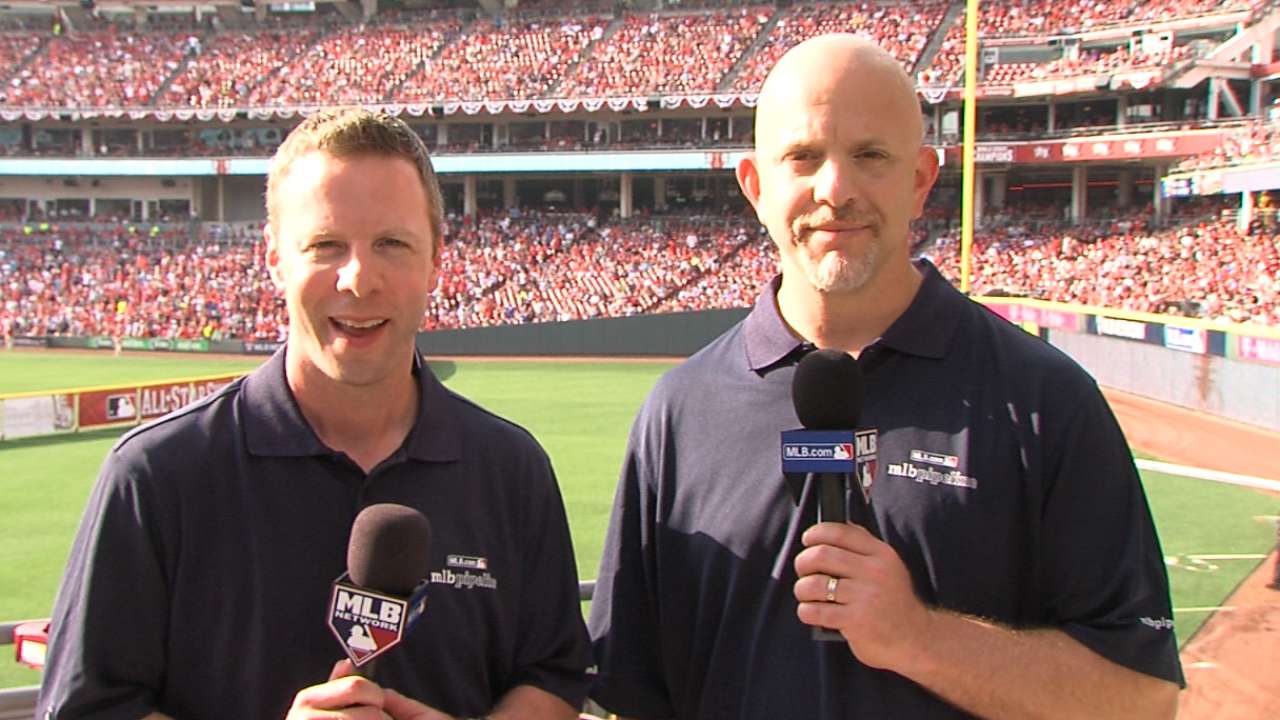 CINCINNATI -- Tyler Beede didn't flinch or buckle Sunday when he found himself in a tough spot during the SiriusXM Futures Game at the Great American Ball Park, which the U.S. won, 10-1, over the World squad.
Beede, the right-handed pitching prospect for the Giants did, however, sweat. Hello, humidity.
After he got two quick outs in the fourth inning, Beede yielded a double to Gary Sanchez of the World team in a game the U.S. was leading, 3-1.
But Beede, the No. 3 prospect in the Giants' system, according to MLB.com, didn't let it get to him.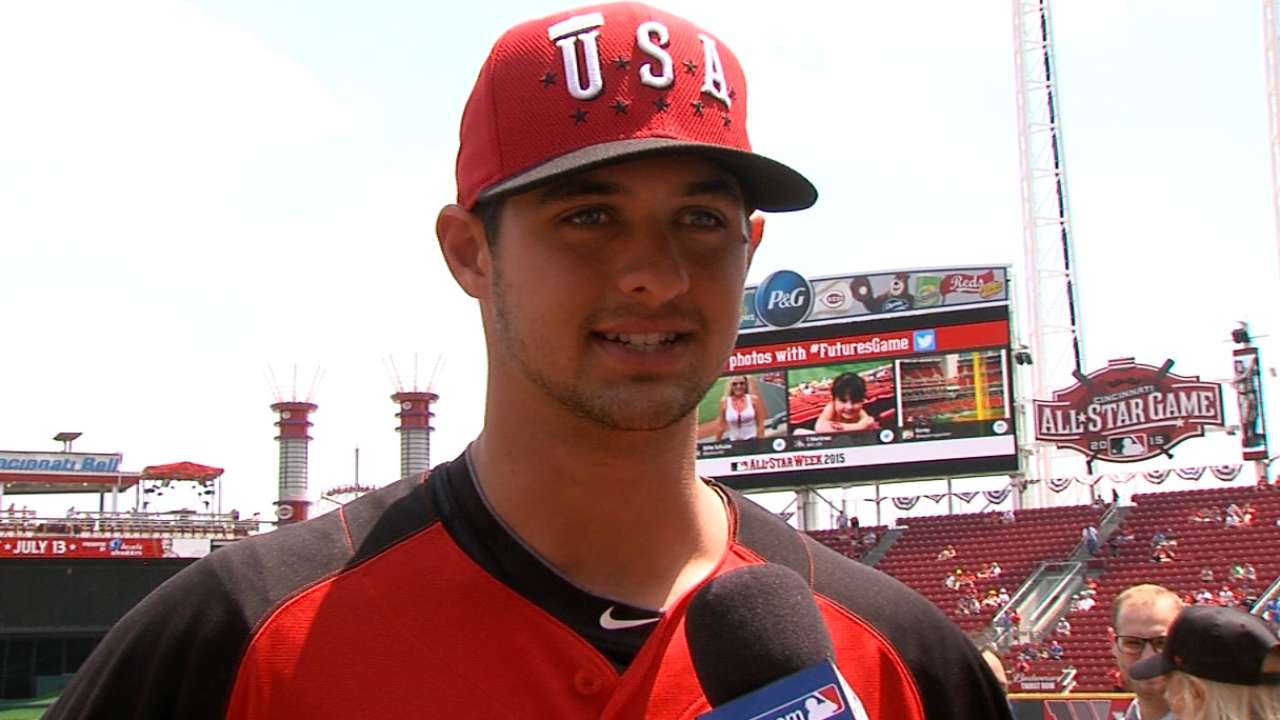 Instead, Beede got Renato Nunez to fly out to end his only inning.
"At that point, we had gained a lot of momentum and all I was thinking about was putting up a zero," Beede said. "I didn't want to do too much. I just wanted to make quality pitches."
Fellow Giants prospect, 21-year-old right-handed pitcher Keury Mella, allowed two runs on two hits for the World team and got one out before being pulled with one out in the sixth inning.
As for Beede, he continues to impress the Giants with his poise and his ability to move fast in his young professional career. Beede -- the 14th overall pick from 2014 - has shown in a small sample-size as a professional for not wilting under pressure.
If anything, the 22-year-old righty actually covets it.
Not long after he earned a promotion last month from the Class A Advanced California League to Double-A Richmond, Beede allowed seven runs in 5 2/3 innings in a start on June 24.
"I think I needed that. I think I needed a little bit of humbling, just to let me know what level I was at and the type of talent I was facing. I think adversity and challenges are blessings, in a way. I know it's difficult as a baseball player to think that way," Beede said.
"You can sit on a bad start for a couple of weeks and let it linger. And I think that's where guys struggle. But for me, I think it helped looking at an outing, either has it was happening or after and see why guys were hitting them, what I was throwing, pitch sequences. It helps you work on things in the bullpen and improve instead of just being on cruise control."
Beede began the season in the hitter-friendly California League, posting a 2.24 ERA over nine starts before he was promoted to Richmond early last month. Since he arrived in Richmond, Beede has a 3.86 ERA in six starts.
It was in the California League where Beede learned to use his sinker more, a pitched that he developed last fall in instructional league.
"You obviously need to focus on keeping the ball down playing there," Beede said. "I think I did a decent job of that."
Corey Brock is a reporter for MLB.com. Keep track of @FollowThePadres on Twitter and listen to his podcast. This story was not subject to the approval of Major League Baseball or its clubs.