Futures Game is 'fuel to the fire' for Edwards
Cubs top-ranked prospect avoids trouble in eighth, relishes experience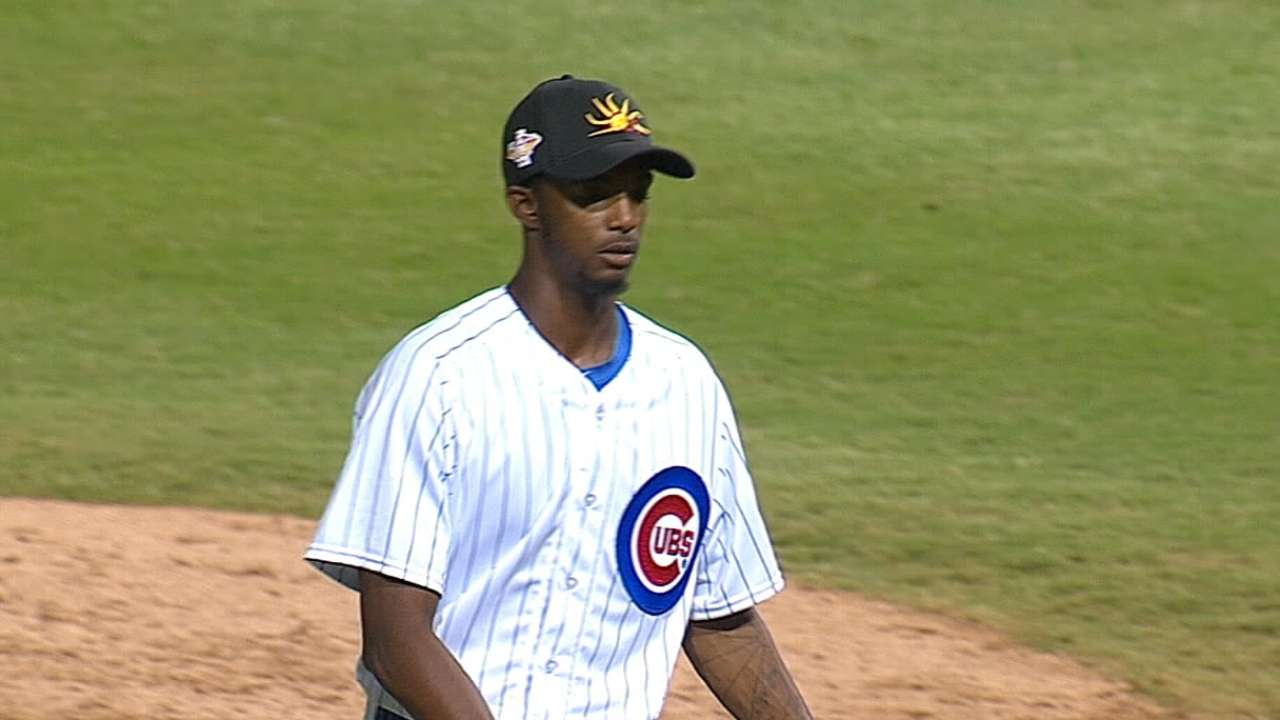 CINCINNATI -- All told, things could have worked out far worse for Carl Edwards Jr.
Entering the 2015 SiriusXM All-Star Futures Game in the eighth inning with a nine-run lead, the Cubs' top-ranked prospect recorded a quick out before giving up an infield single. And then another infield single. One batter later, Edwards was out of the game, confined to the bench as Orioles prospect Zach Davies gave up ... an infield single, of course, loading the bases.
Davies eventually wriggled out of the jam in a 10-1 U.S. victory, allowing Edwards to escape the Futures Game without a run on his final line. For him, it was all about the experience, anyway.
"Just being here, this atmosphere is adding fuel to the fire," Edwards said.
The fire, of course, being the big league ambition that burns within him. If Futures Game Most Valuable Player Kyle Schwarber stole the headlines on Sunday, that's hardly a disrespect to Edwards.
The Cubs acquired Edwards, along with three others, in a five-player deal for Matt Garza two years ago. Since then, they've been trying to help him bulk up his 170-pound frame, even if Edwards' power game doesn't seem to need it; he's struck out 11.7 batters per nine innings this season and 11.4 per nine over his four-year Minor League career.
This year, Edwards has pitched strictly out of the bullpen, recently moving up to Triple-A Iowa. The Cubs aren't saying he'll stick there for good, but they want to protect his arm and build up arm strength for now.
In any event, it may not be long before he and Schwarber man the same big league field again.
"Like I say all the time, it's not my decision," Edwards said. "It's the guys upstairs. When they give me the phone call, I'll be ready."
Anthony DiComo is a reporter for MLB.com. Follow him on Twitter @AnthonyDiComo and Facebook, and listen to his podcast. This story was not subject to the approval of Major League Baseball or its clubs.