Braun added to NL roster for sixth time
Brewers right fielder named to All-Star team as replacement
LOS ANGELES -- For the first time in three years, Brewers right fielder Ryan Braun is going to the All-Star Game presented by T-Mobile.
Braun was named a National League reserve on Sunday as a replacement for injured Cardinals outfielder Matt Holliday, joining closer Francisco Rodriguez as Milwaukee's All-Star representatives. Braun learned that NL manager Bruce Bochy had added him to the squad barely an hour before the first pitch of Sunday's game at Dodger Stadium, and quickly altered plans for a quiet week at home in neighboring Malibu, where Braun and wife Larisa were planning to host a family gathering during the break.
"It's a good problem to have," said Braun. "I think logistically, it makes things a little more challenging with a 10-month-old baby, but a good problem to have. It's a tremendous honor to go to the All-Star Game again. It's something I'm really proud of, something that's extremely difficult to do, and I'm really looking forward to it."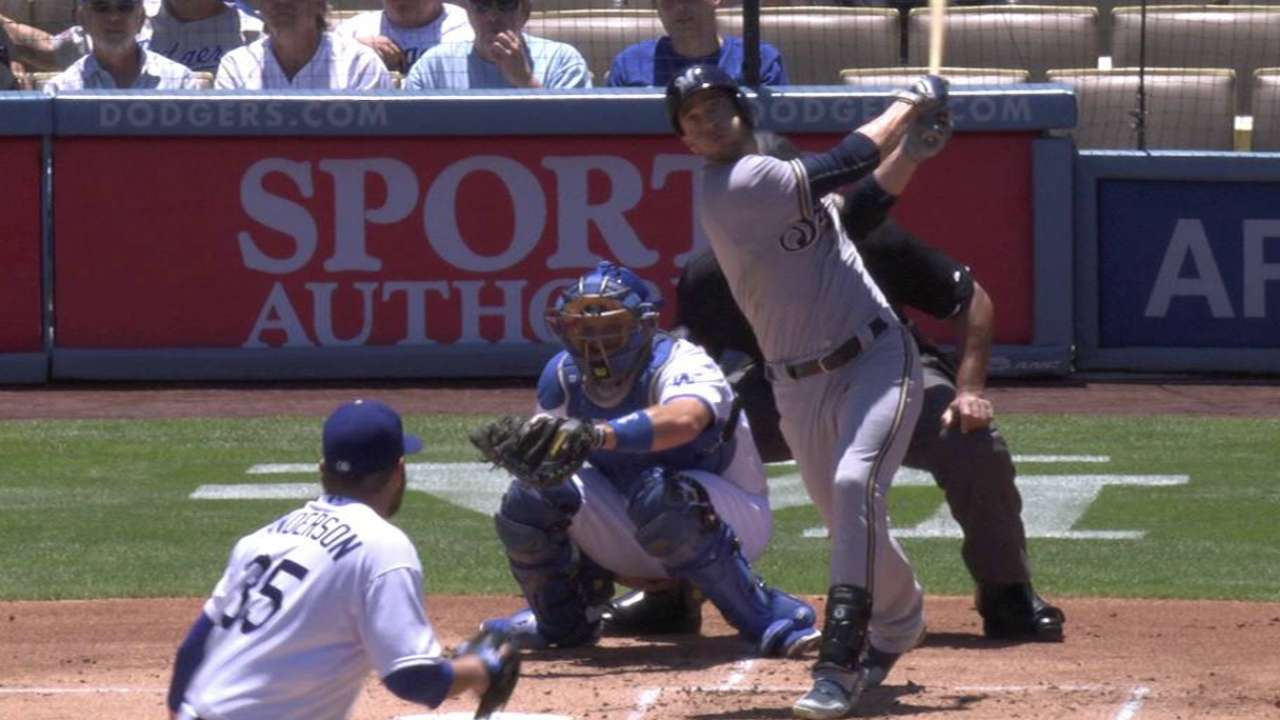 This is the third straight season and the ninth time in 10 years that the Brewers have multiple All-Stars.
"It's late notice, but any time you're an All-Star, you earned it," Brewers manager Craig Counsell said. "I'm thrilled for him. Six All-Star Games is pretty incredible, and I know it means a lot to him."
Braun celebrated by smacking a first-inning solo home run Sunday against Dodgers left-hander Brett Anderson, Braun's 16th homer this season and his 35th extra-base hit, albeit in a 4-3 loss. It's been a return to form for a player who won the NL Most Valuable Player Award in 2011 and was runner-up to the Giants' Buster Posey in 2012, but was dogged in 2013 and '14 by persistent pain in his right thumb.
Braun and the Brewers found a solution to that problem last October, when he underwent a cryotherapy procedure to freeze a troublesome nerve. Braun repeated that procedure in early June.
"It's been a little challenging, getting back to a consistent place mechanically," Braun said. "Obviously, I've dealt with the thumb a lot over the last year and a half, so just trying to consistently get my swing and bat path back to where I expect them to be. But over the past couple of months I feel I've been a lot better, a lot more consistent. There's certainly a lot of room for growth, a lot of room for improvement, and I expect to be better moving forward."
Of Braun's six All-Star nods, this is his first since he was suspended in 2013 for violations of Major League Baseball's performance-enhancing drug policy.
"I recognize how difficult it is to get an opportunity to go to the All-Star Game ever," Braun said, "and the fact I get to go to another one is definitely special. But as you guys know, I just found out a little while ago, and I haven't had too much time to reflect on it yet."
Adam McCalvy is a reporter for MLB.com. Follow him on Twitter @AdamMcCalvy, like him on Facebook and listen to his podcast. This story was not subject to the approval of Major League Baseball or its clubs.