Santiago tapped for AL All-Star team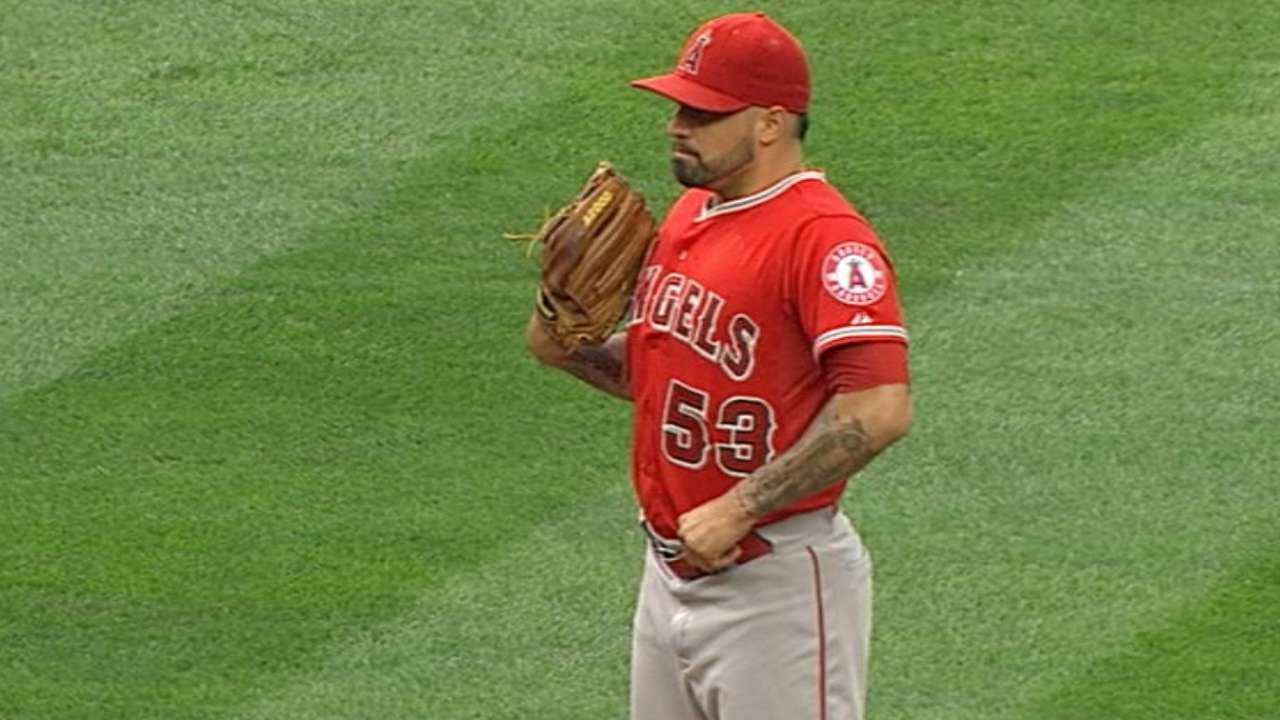 SEATTLE -- Hector Santiago said on Friday night he planned to spend his All-Star break tanning in the Arizona sun unless he received a phone call telling him he had made the All-Star Game presented by T-Mobile. The tanning will have to wait.
On Sunday, he got that call. Santiago has been named to the American League squad, by virtue of A's pitcher Sonny Gray starting on Sunday and thus being unavailable to pitch in the Midsummer Classic.
"I'll take four days in the offseason to go tanning somewhere," Santiago said. "[The All-Star Game] will be fun. I'll definitely take it in. This could be once in a lifetime."
Santiago entered Spring Training in competition for the fifth spot in the rotation, but was the Angels' best starter in the first half of the season. The 27-year-old left-hander ranks third in the AL with a 2.33 ERA, while going 6-4 with a 1.10 WHIP and a 2.88 strikeout-to-walk ratio in 108 1/3 innings.
"I don't know if I've ever been more excited to just to tell a player that he's been selected," said Angels manager Mike Scioscia. "He's elevated himself through hard work to pitch at a level with anybody that's in our league, and it makes you feel good he's getting rewarded with this. "
Santiago will join teammates Albert Pujols and Mike Trout at his first All-Star Game, which will take place from Great American Ball Park in Cincinnati on Tuesday. Trout and Pujols will both be in the AL starting lineup, and Pujols will participate in the Gillette Home Run Derby presented by Head and Shoulders on Monday.
Santiago has allowed more than three earned runs in just two of his 17 starts this season. On Friday, he allowed one run over seven innings while striking out seven in the Angels' 7-3 win over the Mariners.
Scioscia said he has enjoyed watching Santiago's transformation from a fringe rotation guy to one of the most consistent starters in the AL.
"I think you're seeing a guy who's just evolved as a pitcher, and it's been fun to watch," Scioscia said. "He's been really important to us."
The 86th Midsummer Classic will be televised nationally by FOX Sports (coverage begins 4 p.m. PT), in Canada by Rogers Sportsnet and RDS, and worldwide by partners in more than 160 countries. ESPN Radio and ESPN Radio Deportes will provide exclusive national radio coverage of the All-Star Game. MLB Network and SiriusXM will also provide comprehensive All-Star Week coverage. For more information, please visit allstargame.com.
Worth noting
• Scioscia declined to announce his rotation coming out of the All-Star break or whether that rotation will include Jered Weaver, who will throw another simulated game on Thursday, but said he does have another one planned.
• Closer Huston Street, who injured his right groin on his final pitch in the Angels' Wednesday night win over the Rockies, will work toward making a Thursday bullpen session, Scioscia said. Street played catch on Sunday, but Scioscia said it was more for arm activation as opposed to testing his groin.
Andrew Erickson is an associate reporter for MLB.com. This story was not subject to the approval of Major League Baseball or its clubs.