Nieuwenhuis makes Mets history with 3 HRs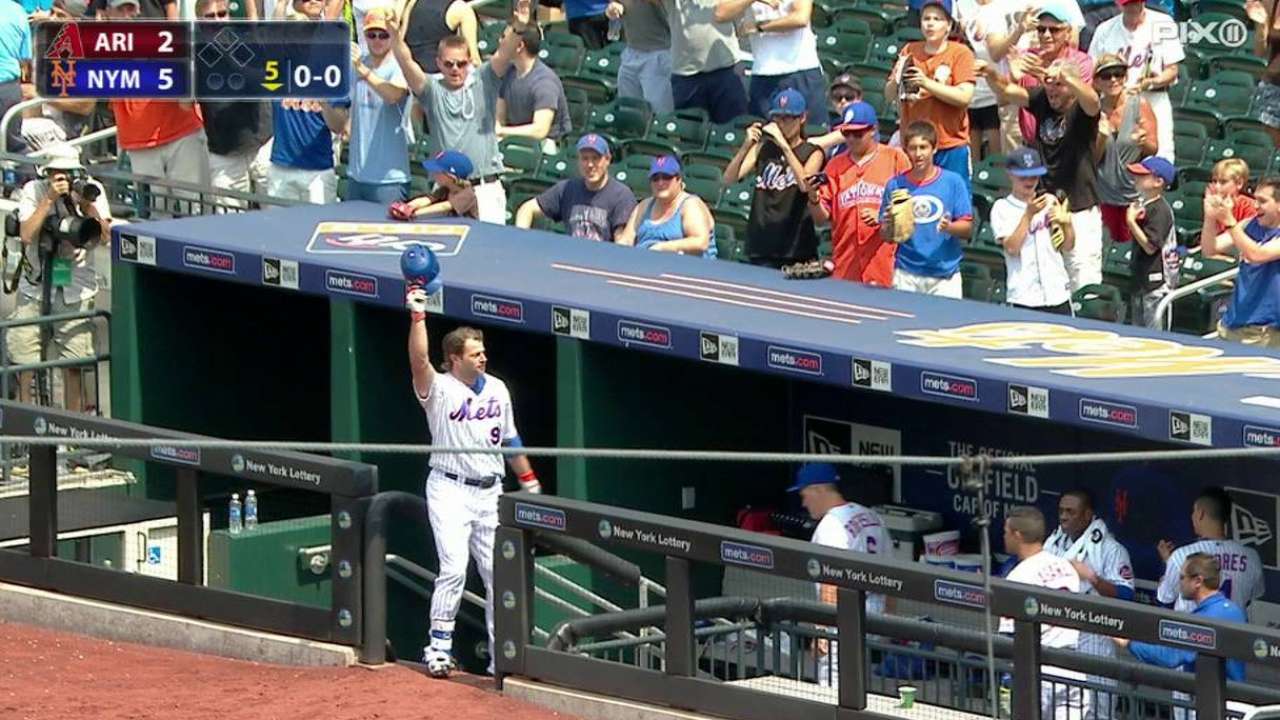 NEW YORK -- Sometimes when speaking of mundane days that suddenly turned into extraordinary ones, people may remember a horrible morning moment that made them think, "Maybe I'll just wait until tomorrow." That wasn't the case for Kirk Nieuwenhuis on Sunday, who turned an unremarkable morning into a career afternoon by belting three home runs in the Mets' 5-3 win over the D-backs, swinging his way into Mets history in the process.
After entering the day with a .091 batting average, Nieuwenhuis hit homers in each of his first three at-bats, signaling an unlikely yet triumphant return for a player who had been demoted and traded earlier in the season. "It was a little bit surreal," Nieuwenhuis said. "But after the last month I think I'm used to surreal now."
Designated for assignment after a rough 3-for-38 start, Nieuwenhuis was traded to the Angels for cash on May 27. He didn't fare much better in his native California, hitting .136 in 10 games before the Angels released him. The Mets then re-signed Nieuwenhuis and assigned him to Triple-A Las Vegas, where he hit .293 in 15 games before being recalled July 6.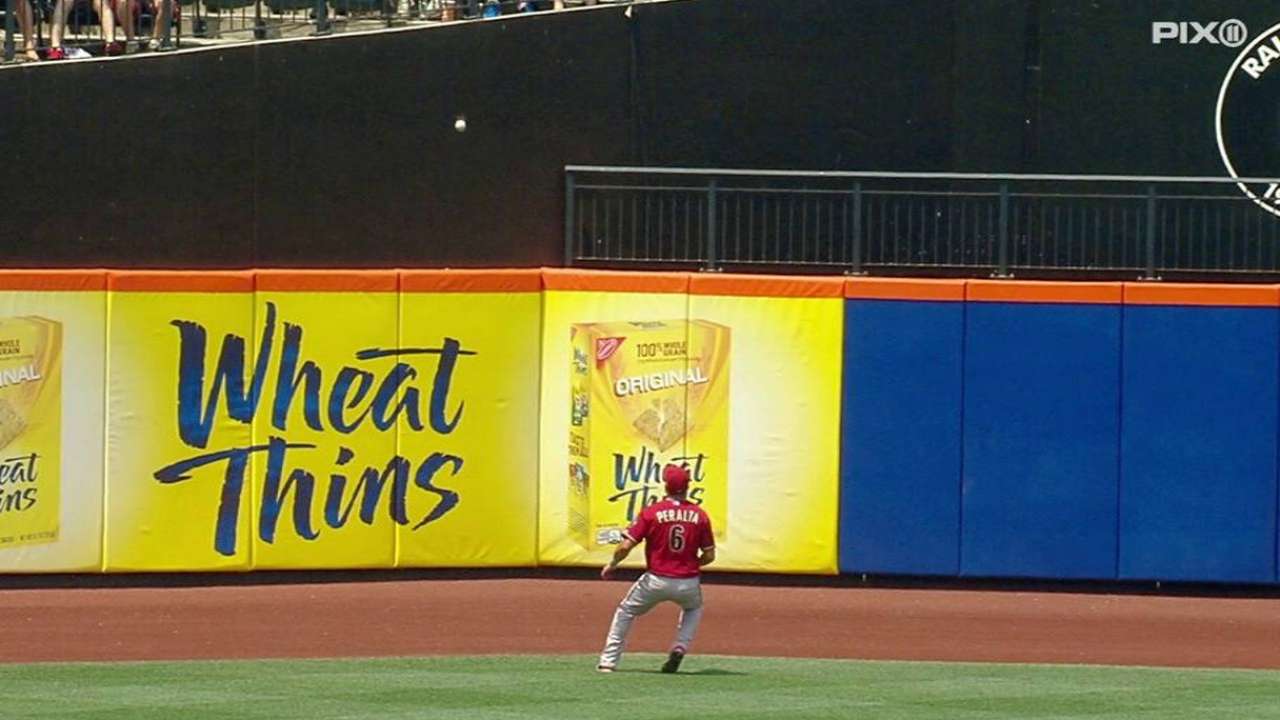 "That was interesting," he said about the turn of events. "It's been a journey. It's taught me a lot. It's kind of put baseball in perspective a little bit for me, where it is on my priority list and stuff like that."
Nieuwenhuis, who rejoined the Mets on the road, hasn't even had time to restart the electricity and plumbing in his New York apartment. He woke up Sunday in a hotel bed a fifth outfielder with a batting average half his weight. By the time his day ended, his name appeared on a list of just 10 players in franchise history to homer three times in a game. He became the first Mets player to accomplish the feat at home, and he received a standing ovation from the crowd of 28,259 at Citi Field -- for striking out in his final at bat.
"I wish that happened more often," Nieuwenhuis said with a grin.
"That's why it's a great game," manager Terry Collins added. "You don't have any answers for it. Nobody knows what's going to happen on a daily basis. It's great because he's a tremendous kid who plays the game the way you want to play it."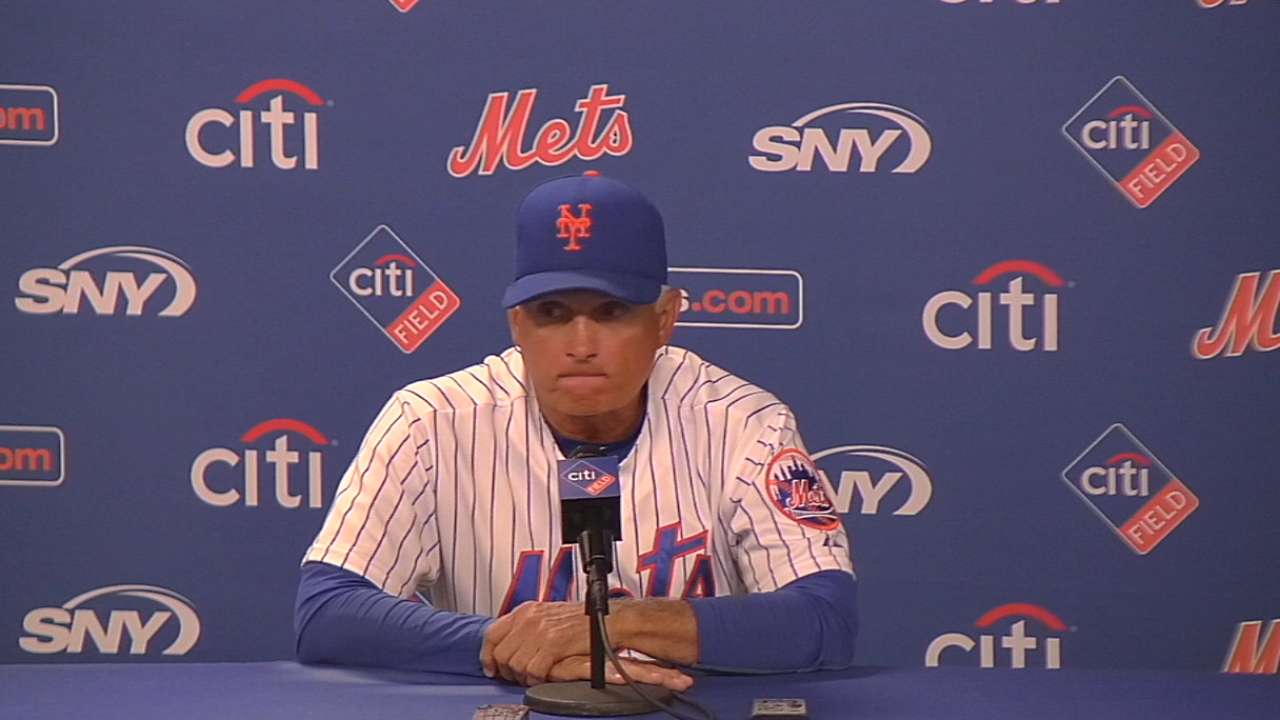 Collins started Nieuwenhuis on Sunday because starting left fielder Michael Cuddyer is dealing with a balky knee and due to the fact that lefties entered play hitting .298 against D-backs starter Rubby De La Rosa. That's who Nieuwenhuis hit his first two homers off, one a solo line drive that needed a review to ensure it snuck over the left-field wall, the other a two-run blast over the Party Deck in left-center. Nieuwenhuis added a rainbow blast off the right-field foul pole off reliever Randall Delgado in the fifth.
'Unbelievable," Mets starter Jon Niese said. "I guess there are no other words to describe it."
Niese was a Met in 2010, the last time New York entered the All-Star break with at least 47 wins. He and Nieuwenhuis were consistent presences on most of next four teams, none of which finished the year above .500. Nieuwenhuis' big day Sunday lifted the New York to their seventh win in nine games. While they enter the break with just one All-Star -- Jacob deGrom -- the Mets also have just a two-game deficit in the National League East.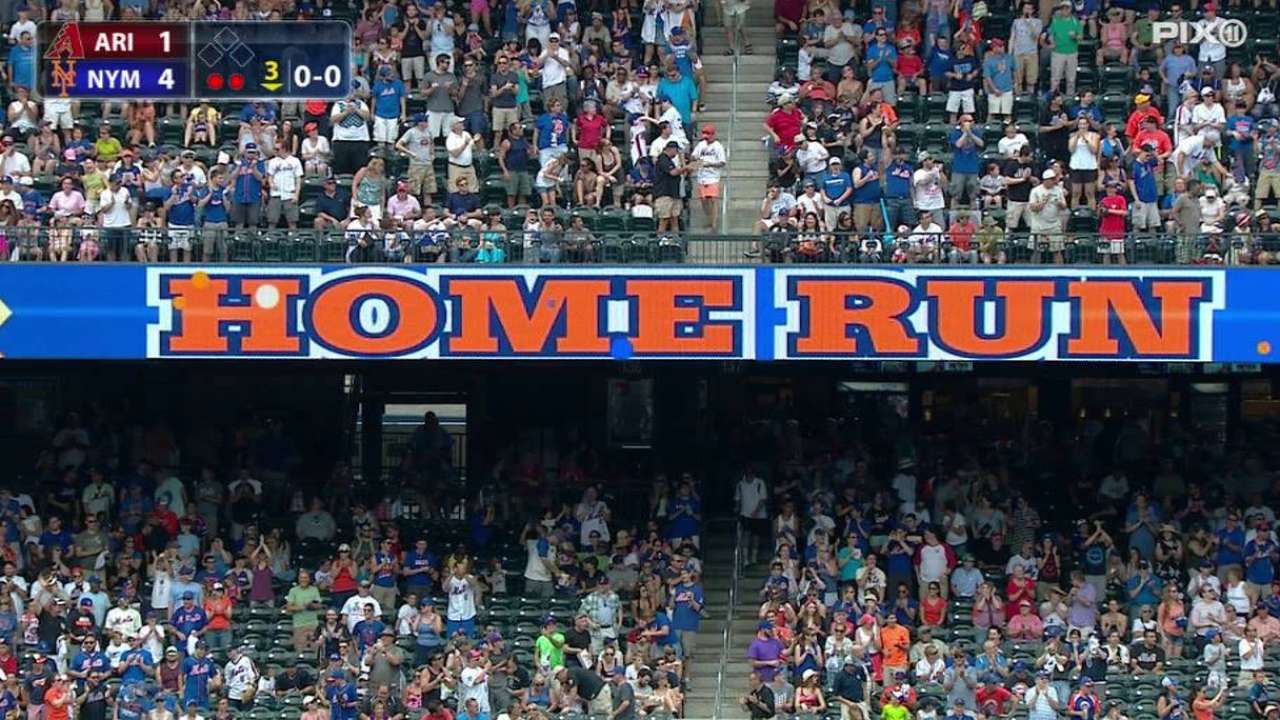 The Mets have survived basically the entire first half without third baseman David Wright and with just sprinkles of catcher Travis d'Arnaud. Overall, 13 players have missed time on either the disabled or restricted lists, and even including their recent power surge -- New York's last 15 runs have come via the home run -- the Mets have still scored the second-fewest runs in the NL. But New York remains in the thick of things despite a 34-39 record since its early 11-game winning streak, due to its group of young starters every night seeming to out-do one another.
Nieuwenhuis' historic afternoon put a happy, shake-your-head bow on that first half in Queens.
"It was a huge day for us," he said. "To finish up the first half like this for us is really cool."
Joe Trezza is an associate reporter for MLB.com. This story was not subject to the approval of Major League Baseball or its clubs.