Padres carry some momentum into break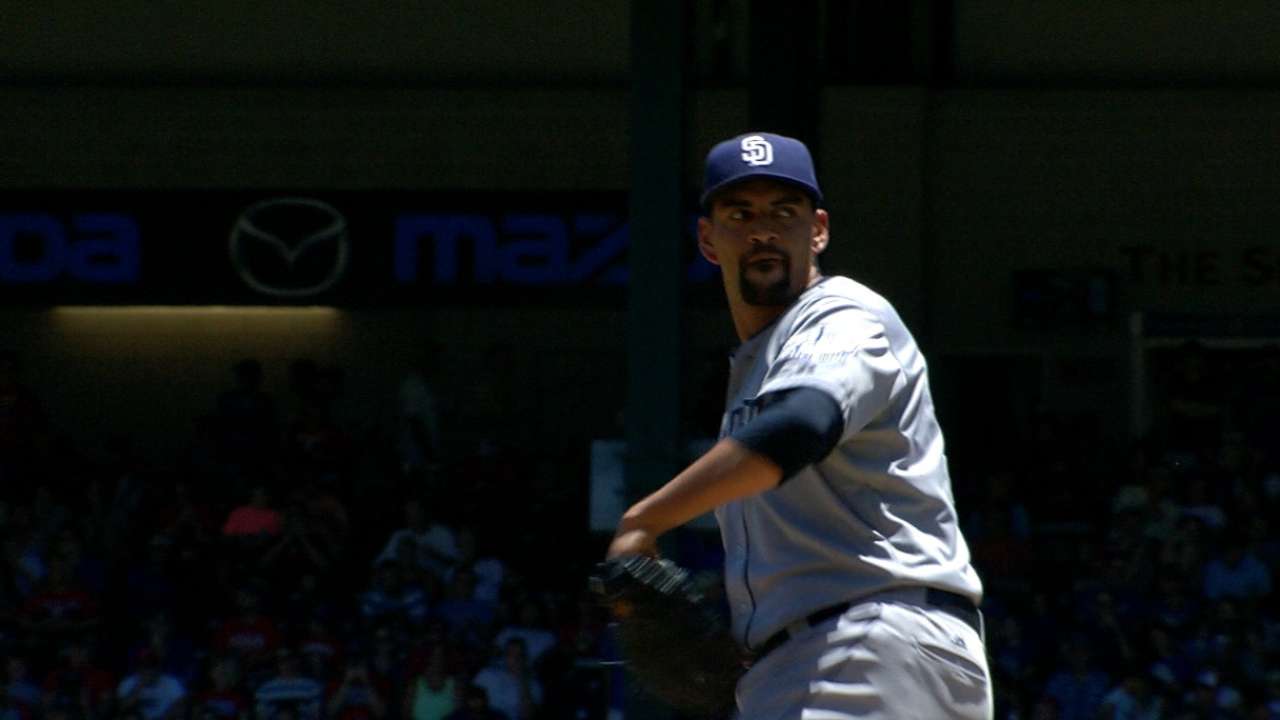 ARLINGTON -- As the Padres enter the All-Star break in fourth place in the National League West coming off a 2-1 win against the Rangers on Sunday, interim manager Pat Murphy is trying to create relentless optimism.
But he's also not naïve.
"We've got a huge, monumental task to get back in this," Murphy said.
Right-hander Tyson Ross sent the Padres into the break on a high note, throwing 6 2/3 shutout innings Sunday. Ross struck out six and walked two while extending his league-leading homerless streak to 86 2/3 innings.
"I've been pounding the zone a little bit better as of late, and I'm feeling a little bit better out there with the tempo of my leg kick," Ross said. "I feel like things are just a little more connected." The Rangers made it close after scoring one and putting the tying run on second with two outs in the ninth against closer Craig Kimbrel, but San Diego walked away the winner.
Ross' gem cleared the path for the Padres to win their second in a row, putting a positive ending on an otherwise disappointing first half.
Before the past two games, the Padres had lost six straight, though it was by a combined nine runs. "I don't think the demeanor is much different," Murphy said. "I think they reached down a little deeper the last couple of days, stayed resilient, believed and made things happened."
The Padres' roster is imperfect, and with the July 31 non-waiver Trade Deadline approaching, who knows what the club could look like in the near future.
The only constant might be Murphy's attitude -- the same one that helped him win 1,000 games as a college coach.
"Pat, he's a guy that has had success," general manager A.J. Preller said. "I think he's kind of been trying to see what we have here. You're coming in in the middle of the season. You're not coming in to Spring Training, where you get a long preparation period. You're thrown into the fire with real, big league games going on, so that's been a learning process for him."
Murphy said he will spend the All-Star break in San Diego, where his family will fly in to see him. He's looking forward to holding his 9-month-old. But he'll also be working, looking to make up for prep time he didn't have.
The future in San Diego is full of uncertainty, and Murphy is part of it. The Padres have said they will reevaluate their manager situation at the end of the season.
The first 24 games of Murphy's tenure haven't gone the way he wanted. But he enters the second half full of hope.
"We didn't make the run," Murphy said. "Even though we played well, we lost the games. Now, we've got to get momentum to get back in this thing. That's what great stories are written about."
Cody Stavenhagen is an associate reporter for MLB.com. This story was not subject to the approval of Major League Baseball or its clubs.